Attack On Titan PS4's Key Features Have Been Revealed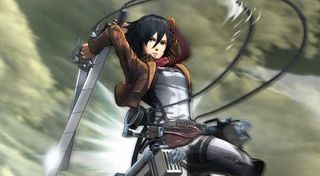 Some new details have arrived for Koei Tecmo's upcoming PlayStation exclusive, Attack on Titan. The game will be a skilled-based action title where the tactical decisions of a player will determine how the action unfolds.
Gematsu rolled out the very detailed press release that explains exactly how Attack on Titan is played.
So basically players will be able to choose how they approach titans in the game. They can either go all in and just attack them outright or they can be smart about it and attempt to use the environment to sneak up on the titans. Environments can also be destroyed where roofs can collapse and buildings can plummet, so players have to be careful how they traverse the sandbox-style levels.
In the actual combat the game will see players rely a lot on the 3D maneuver gear, which allows players to jet-pack and grapple around the environment to battle the titans. According to the press release the game will be similar to the Attack on Titan show or some of the Monster Hunter games where you can attack specific parts of the enemy in order to weaken them before going in for the kill.
In order to facilitate some intense battles between players and the giant titans, Koei Tecmo has made it where you can cut and maim the body parts of the titans. Dismembering them will make it easier to get to the "nape" on the back of their neck where the human "hosts" are located.
Some gamers weren't entirely pleased about the dismemberment feature if it becomes a requirement for taking down titans because some want to play the game like Feng Lee's Attack on Titan Tribute Game, where you can slash the nape on the titans at any point if you're good enough. It's very rare for players to kill more than three or four titans at a time just because of how difficult it is in Feng Lee's game, which is pretty close to a 1:1 behavioral representation of the animated cartoon. The titans are fast, relentless and don't give an inch.
Gamers in the comment section of the Gematsu article are hoping that Koei Tecmo leaves the options open so that players can exercise the play-style that they want. Given Koei Tecmo's history with hardcore hack-and-slash titles and usually allowing for a variety of tactics to be employed in their Dynasty Warriors, Orochi Warriors and Toukiden series I tend to doubt that they would restrict players to a casual play-style like the Attack on Titan: The Last Wings of Mankind Nintendo 3DS game from Spike Chunsoft.
This game could easily make its way into YouTube's top 10 most played games if it has a solid multiplayer component and the death scenes don't pull any punches. Can you imagine getting grabbed out of the air and nearly eaten in half by a titan only to be saved by another player? That would make for some thrilling matches to both play and watch.
Attack on Titan is prepping for release on the PlayStation 3, PS Vita and the PlayStation 4 in 2016. With Omega Force at the development helm I'm sure it'll turn out decently enough.
Your Daily Blend of Entertainment News
Staff Writer at CinemaBlend.