Orlando Bloom Gets Real About 'Challenging' Relationship With Katy Perry
Orlando Bloom and Katy Perry's "challenging" relationship.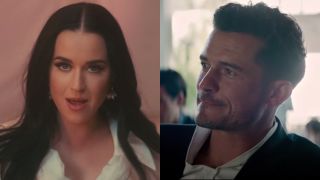 (Image credit: Big Machine Label Group, LLC/Lionsgate)
Orlando Bloom has been in a loving relationship with Katy Perry for the past 7 years. After his marriage with supermodel Miranda Kerr ended, he met the American Idol judge three years later. While he and Perry are still going strong, the Pirates of the Caribbean actor spoke honestly about why their relationship can be so "challenging" at times.
No matter how much two people love each other and how long they've been together, there are always going to be hurdles to jump over. Orlando Bloom has faced this challenge, and he opened up to Flaunt Magazine (via People) about his "baby mama and life partner" Katy Perry, and the ongoing obstacles they deal with in their relationship.
Opposites really do attract. While it's great to find someone who you share common ground with, it's also nice to have someone who is different and challenges you in your life. The profile on Bloom explained that another challenge this loving pair has gone through is the distance caused by the actor's work with UNICEF which has had him traveling as far as the Ukrainian border, and he shoots one of Amazon Prime's original shows Carnival Row in Europe. However, confronting these challenges head-on has only made this power couple stronger.
Perry and Bloom first met at the Golden Globes afterparty back in 2016. When her security guard picked up 10 In-N-Out burgers for her table, the Lord of the Rings star tried to snag her burger when he wasn't even sitting at her table! From there, it was romantic bliss until the couple broke up a year later. However, despite being broken up, the British star expressed that the two of them were still on good terms with no room for hate.
Their separation didn't last long as it was reported these two A-listers spent some time together away from the public eye to give their love "a second chance." They got back together in 2018 with a beautiful engagement one year later. Apparently, Bloom's proposal to Perry involved a helicopter where the "Firework" singer thought they were going to see some art after they had dinner. However, the airlift was actually to a Los Angeles rooftop where they were welcomed by her friends and family. How romantic! The fun didn't stop there for the engaged couple as they felt full-on excitement over the news that they would have a baby girl, Daisy Dove, who was born in 2020.
Now that Orlando Bloom has two loves of his life and a successful acting career, you may be wondering what's coming next for him. Other than his upcoming role in the adaptation of Gran Turismo and the final season of Carnival Row premiering on February 17, Bloom plans to explore himself, and evolve personally. He plans on continuing his journey to have a constant, whole life ahead of him. You can read the action/fantasy star's Flaunt interview down below:
Orlando Bloom and Katy Perry may have a "challenging" relationship, but it is essential to work hard at it every day and find solutions to those challenges together. Their wedding might take a little longer than expected due to their focus on establishing a family, but you better believe their wedding day will be a momentous occasion.
Be sure to check out our 2023 movie releases so you'll know when Orlando Bloom is expected to appear on the big screen next, and make sure to check out Carnival Row later this month with an Amazon Prime subscription.
Your Daily Blend of Entertainment News
Just your average South Floridian cinephile who believes the pen is mightier than the sword.