Anna Kendrick Ruins The Holidays For Melanie Lynskey In Happy Christmas Trailer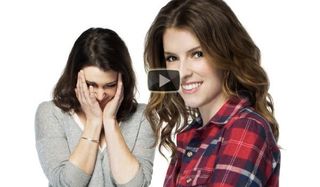 Giving us all a dose of the holidays this summer is Anna Kendrick in Happy Christmas, an indie dramedy about the ways family can drive us crazy, but also push us to be better people. Check out the trailer now.
Written and directed by mumblecore auteur Joe Swanberg, Happy Christmas stars Anna Kendrick as Jenny, a reckless and aimless 20-something who crashes the holidays and home of her older filmmaker brother Jeff (Swanberg) and his loving novelist wife Kelly (Melanie Lynskey). Jenny is meant to help out by playing babysitter to their toddler when need be. When her hard-partying ways prove she's unreliable, a manny (a male nanny played by indie darling Mark Webber) is called in. But amidst all the waves she's causing, Jenny also sparks a creative evolution for Kelly.
Though a prolific filmmaker with titles like Hannah Takes the Stairs, Alexander The Last and Nights and Weekends to his credit, Swanberg's movies aren't typically known for being especially accessible. However, this black sheep yuletide tale seems a solid and winsome follow-up to his star-studded and charming rom-com Drinking Buddies, which had Kendrick in a supporting role. This time round, she's stepped into the spotlight and embraced her inner hot mess, and we're totally on board. Having Webber and Lynskey filling out the cast is just gravy. And Lynskey getting to use her God-given New Zealand accent in an American film for once? That's--not the cherry on top--let's say bacon!
Even Joss Whedon is a fan.
Happy Christmas opens on iTunes (opens in new tab) June 26th, and in theaters July 25th.
In the meantime, you can enjoy the romantic comedy Putzel now on VOD, and read our interview with Melanie Lynskey about its creation.
Staff writer at CinemaBlend.
Your Daily Blend of Entertainment News
Thank you for signing up to CinemaBlend. You will receive a verification email shortly.
There was a problem. Please refresh the page and try again.