Daisy Ridley Needs Only 3 Words To Describe The Rise Of Skywalker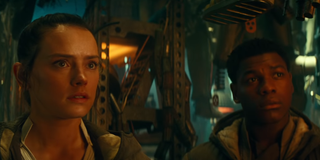 There have been many theories written about how the Skywalker Saga might conclude when Star Wars: The Rise of Skywalker finally wraps up this part of long-running series in just a few weeks. Whether you're on board with fans' ideas about what might happen or not, or even if you're trying to keep all rumors, teases and supposition out of your head to go in as fresh as possible, there is one thing we know is true: we know very little about The Rise of Skywalker.
And, as with any highly anticipated film that's managed to hold so many of its secrets back, many fans are clamoring for any tidbit of info they can get on what, exactly, will be in store for them when they actually get the chance to sit down in a theater and feast their eyes on it. Even though she really enjoyed filming this movie, Daisy Ridley feels your pain, people, and she has three intriguing words for you that she believes perfectly describe Star Wars: The Rise of Skywalker. Steel yourselves!
Oooh. OK, I don't know about you, but when I hear that a movie is dark, scary and sad, I tend to think that it might not be the most pleasant movie-going experience. For all the bad things that have happened over the course of the eight main films so far, I have never finished watching any Star Wars movie for the first time and even considered describing it in such ominous terms.
Could that much big, bad stuff happen in The Rise of Skywalker? Will we need to prepare ourselves for endless tears and chills along with all the necessary space-bound thrills that are certain to be found within it? It sounds like Daisy Ridley thinks so, and if she doesn't know, who would? Although, when she spoke about the movie to Entertainment Weekly, she did also call it "joyful," so who knows what anything even means anymore?
It's pretty easy to see where the sadness might come from in The Rise of Skywalker. Seeing as how the franchise (and everyone) lost Carrie Fisher in late December 2016, without her being able to film any of her part in what had been planned for this last chapter, it's a good bet that General Leia will have her swan song in this movie. This might have happened anyway, but with director J.J. Abrams having to use a bit of movie magic to give her even a limited role, it's almost certain that she won't get the kind of grand send-off that they were originally creating.
Of course, there will also be sadness just from the fact that, dudes, the Skywalker Saga will be over once we see this movie. Obviously, the world of Star Wars will live on in other planned movies, television shows, video games, etc., but, unless they've been lying to us about the finality of this ending for the Skywalkers, this will be it for the folks at the center of the story for 42 years. Hold on...I need a minute...
Really, it's pretty easy to imagine this whole thing getting pretty dark when you factor in how we will likely have to watch Leia leave us on-screen. Plus, there is the little matter of all that dark energy that comes wafting through the screen at us anytime Kylo Ren is around (odd Reylo smolderings notwithstanding).
To be honest, I don't even want to think too much about how The Rise of Skywalker might scare me. But, I can tell you right now that if a clown with a red balloon and a nasty smile shows up I will be leaving and requesting a refund, post-haste!
What do you say, Star Wars fam? Shall we just hold on for dear life to the thought of The Rise of Skywalker being joyful when it all comes to an end? Agreed! We can see how it all shakes out when Star Wars: The Rise of Skywalker drops on December 20.
Bachelor Nation, Gilmore Girl; will Vulcan nerve pinch pretty much anyone if prompted with cheese...Yes, even Jamie Fraser.
Your Daily Blend of Entertainment News
Thank you for signing up to CinemaBlend. You will receive a verification email shortly.
There was a problem. Please refresh the page and try again.