What To Watch On Streaming If You Like Karen Gillan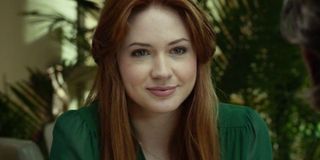 CinemaBlend participates in affiliate programs with various companies. We may earn a commission when you click on or make purchases via links.
By now, no moviegoer or frequent TV consumer should have any trouble identifying who Karen Gillan is, even if she is almost entirely unrecognizable in her, arguably, best known role. Speaking of which, you can stream Guardians of the Galaxy, and her other MCU appearances as Nebula, right now, along with her breakout role in Doctor Who, and pretty much anything else the actress is known for.
The 32-year-old Scottish native has proven herself to be one of Hollywood's most versatile artists, from saving the world(s) again and again in high-concept science fiction stories, saving herself again and again in a virtual jungle setting, or falling victim to some very possessive common household items (and I am not just referring to her social media obsessed character on the ABC comedy Selfie). Beyond her acting career, fewer people know that Karen Gillan has also moonlighted as a writer and director of several short films and one feature-length project thus.
If you are curious about about Karen Gillan's feature-length directorial debut, which she also stars in, read further to learn what it is and where to stream it, as well as nine other notable roles of hers available now of various streaming platforms. Well, to be clear, it should be mentioned that the ninth item is really four movies, but for now, we will start with a beloved British import that first introduced this talented redhead to American audiences.
Doctor Who (HBO Max)
The sole survivor of an alien race called Time Lords (currently played by Jodie Whittaker) travels to different planets, time periods, and alternate realities in a vessel that resembles an old Police Call Box, encountering bizarre and dangerous adventures along the way, and often joined by an earthly companion.
Why It's A Good Option for Karen Gillan Fans: If most things starring Karen Gillan are already your cup of tea, you will probably dig all 11 seasons of Doctor Who's 21st century reboot currently available on HBO Max, but you are still welcome to skip over to Season 5 when she joins The Doctor (then played by Matt Smith) as Amy Pond, a favorite companion among many Whovians.
Stream Doctor Who on HBO Max here (opens in new tab).
Oculus (Hulu)
A young woman (Karen Gillan) convinces her reluctant brother (Brenton Thwaites), recently released from a mental institution, to help her prove that an antique mirror is responsible for the tragic events of their childhood.
Why It's A Good Option for Karen Gillan Fans: As a huge fan of horror movies, Karen Gillan was game to star in Oculus, a terrifying and deliciously clever supernatural Blumhouse classic from Doctor Sleep director Mike Flanagan, which, on a deeper level, is a moving analysis of the differing ways people people process trauma and the troubling discourse that may ensue.
Stream Oculus on Hulu here (opens in new tab).
Not Another Happy Ending (Amazon Prime)
A best-selling novel and new romance has given Jane Lockhart (Karen Gillan) more happiness than ever, as well as a bad case of writer's block, which inspires her petty, struggling editor (Stanley Weber) to make her life a living hell so she can finish a new book for him.
Why It's A Good Option for Karen Gillan Fans: While it may seem odd to see someone best known for action-packed blockbusters like Karen Gillan as the female lead of a romantic comedy, her surprisingly impressive comedic timing is key to why Not Another Happy Ending, a Scottish-based 2013 film proves to be as dark as it is funny, is worth a watch.
Stream Not Another Happy Ending on Amazon Prime here.
Alex & The List (Amazon Prime)
A lovesick dog trainer (Patrick Fugit) plans to propose to his girlfriend (Jennifer Morrison) when she presents him with a list of requests which he must be willing to adhere to before he can spend the rest of his life with her.
Why It's A Good Option for Karen Gillan Fans: In keeping up with the topic of rom-coms, we have Alex & the List, a quirky, low brow feature about how far men will go for love, starring a scene-stealing Karen Gillan in the supporting role of the title character's female best friend, Lily.
Stream Alex & the list on Amazon Prime here.
In A Valley Of Violence (HBO Max)
When a drifter (Ethan Hawke) retaliates against the unwarranted harassment of a random bar patron (James Ransone), he unwittingly incites a war between him, the local marshal (John Travolta), and practically the entire populace of a hostile town in the Wild West.
Why It's A Good Option for Karen Gillan Fans: Ironically, In a Valley of Violence, Karen Gillan's second role in a Blumhouse production directed by a notable horror auteur, is far from anything in the vein of Oculus, but could be described as Ti West's western reimagining of First Blood, in which the actress plays the hot-headed wife of the man who antagonizes Ethan Hawke's innocent stranger.
Stream In A Valley of Violence on HBO Max here (opens in new tab).
The Circle (Amazon Prime)
After landing a dream opportunity to work with a prolific tech and social media guru (Tom Hanks), a young woman (Emma Watson) soon encounters an ethical dilemma when the company's more sinister agenda becomes apparent.
Why It's A Good Option for Karen Gillan Fans: Karen Gillan gives a standout performance as Annie, Emma Watson's friend, then co-worker, then former co-worker in director James Ponsoldt's The Circle, a technophobic drama based on the novel by Dave Eggers.
Stream The Circle on Amazon Prime here.
The Party's Just Beginning (Hulu)
A young Scottish woman (Karen Gillan) goes on a downward spiral of one night stands, alcohol, and narcotics after her best friend takes his own life.
Why It's A Good Option for Karen Gillan Fans: In addition to her breathtaking lead performance, Karen Gillan's deeply moving and darkly comic feature-length debut as a writer and director, The Party's Just Beginning (also starring her Guardians of the Galaxy partner in crime Lee Pace), makes it clear that her career behind the camera is just beginning as well.
Stream The Party's Just Beginning on Hulu here (opens in new tab).
Stuber (HBO Max)
A lowly Uber driver named Stu (Kumail Nanjiani) is forced into a violent hunt for a terrorist after a vengeful detective (Dave Bautista), fresh out of laser eye surgery, makes him his chauffeur.
Why It's A Good Option for Karen Gillan Fans: Karen Gillan had another Guardians of the Galaxy reunion with her brief, ill-fated appearance as Officer Morris, Dave Bautista's partner, in Stuber, a high-octane, comedic take on Taxi for the ride sharing era.
Stream Stuber on HBO Max here (opens in new tab).
Jumanji: The Next Level (Starz)
Having once survived an adventurous video game that gives "immersive" a new meaning, three collegians must venture through unfamiliar "levels" of terrain to rescue their friend, but accidentally take his ailing grandfather (Danny DeVito) and friend (Danny Glover) inside the game with them.
Why It's A Good Option for Karen Gillan Fans: While her co-stars Dwayne Johnson, Jack Black, and Kevin Hart become the lifelike video game avatars for a different set of characters, Karen Gillan once again stars as Martha's (Morgan Turner) avatar Ruby Roundhouse in Jumanji: The Next Level, the sequel to the surprise hit, digital reboot of the 1995 classic about a mystical board game.
Stream Jumanji: The Next Level on Starz here (opens in new tab).
All Of Karen Gillan's Marvel Movies (Disney+)
After witnessing a group of space misfits become a family in Guardians of the Galaxy and then struggle to stay a family in Guardians of the Galaxy Vol. 2, watch them team up with the Avengers to defeat Thanos (Josh Brolin) in Avengers: Infinity War and then attempt to reverse his devastating victory in Avengers: Endgame.
Why They Are A Good Option For Karen Gillan Fans: The unrecognizable Karen Gillan is strikingly brilliant as the partially mechanical Nebula, whose evolution from a burdened Kree ally who has it out for her adoptive sister Gamora (Zoe Saldana) to a fierce warrior for good is one of the strongest character arcs the Marvel Cinematic Universe has ever told.
Stream Karen Gillan's Marvel movies on Disney+ here (opens in new tab).
What do you think? Have we covered all of the best films and TV shows from Karen Gillan's resume, or should we take a deeper look in the mirror to realize that the party really is just beginning? Let us know in the comments and be sure to check back for additional information and updates on the badass MCU actress, as well as even more recommendations for movies and TV shows now available for you to stream, here on CinemaBlend.
Your Daily Blend of Entertainment News
Jason has been writing since he was able to pick up a washable marker, with which he wrote his debut illustrated children's story, later transitioning to a short-lived comic book series and (very) amateur filmmaking before finally settling on pursuing a career in writing about movies in lieu of making them. Look for his name in just about any article related to Batman.
Your Daily Blend of Entertainment News
Thank you for signing up to CinemaBlend. You will receive a verification email shortly.
There was a problem. Please refresh the page and try again.