6 Marvel Characters Millie Bobby Brown Would Be Perfect To Play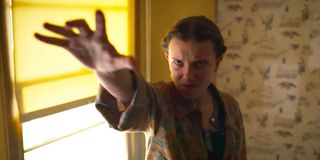 It would not be wrong to say that Millie Bobby Brown has delved into comic book movie territory already. I mean, the telepathic and telekinetic youth Eleven, her breakout role on the sci-fi '80s throwback Stranger Things, is essentially a superhero. Of course, the only things missing are a cool costume and a flashy name, which a role in the Marvel movies would earn her.
Some fans actually thought that the Emmy-nominated, 16-year-old British actress (who recently played the younger sister of Sir Arthur Conan Doyle's literary detective in the Netflix original film Enola Holmes) was about to have her Marvel Cinematic Universe debut when reports of her casting in the upcoming Eternals movie surfaced in July of 2019. Millie Bobby Brown debunked those rumors just days later, which is frustrating for a couple of reasons. For one, that would not be the first or last time that a superhero casting lie was assumed as truth, and furthermore, it would mean an even longer wait to see the young talent breathe life into a genuine comic book character role.
Well, the good news is that we can, at least for the time being, have fun imagining Millie Bobby Brown in an MCU movie by picturing her as any of the beloved Marvel Comics characters whom she would most likely given an 11/10 performance as. Five heroes and one villain come to mind, starting with one could probably contact the Upside Down if she tried.
Blindfold
You know that trick that Millie Bobby Brown as Eleven pulls in Stranger Things when she wraps a bandana around her eyes and uses astral projection to spy on people? Ruth Aldine is a student at Professor Xavier's School for Gifted Youngsters who does not require a blindfold to perform this same talent, as well as various other psychokinetic abilities, but wears one anyway to hide the fact that she was born without eyes, hence her X-Men alias. Blindfold is easily one of the most powerful psychic mutants in the Marvel Universe, enough so that she maintained immunity to Scarlet Witch's reality-warping effects in the House of M storyline, which is rumored to be adapted for the MCU as a means to finally bring the X-Men into the continuity.
Kitty Pryde
Speaking of the X-Men in the MCU, Millie Bobby Brown has actually been among fans' top choices among to play Shadowcat, the best-known alter ego of the intangible Katherine "Kitty" Pryde, in a future reboot. In addition to her most famous mutant power to walk through walls, Academy Award nominee Ellen Page's iteration of the beloved character in X-Men: Days of Future Past depicted a loose demonstration of her ability to phase her mind, and even her physical self, across alternate planes of existence. This makes two female X-Men characters in the Marvel Universe (whom I have discovered so far, at least) who share a skill in telepathy with Brown's best-known character, and thus, two whom the actress would be perfect to play.
Kate Bishop
Another character who has been the subject of casting rumors since her MCU debut was first announced is Kate Bishop, who would inherit the Hawkeye alias from Clint Barton. The Avengers' retired master archer (played in the movies by Academy Award nominee Jeremy Renner) passing his moniker to a new young successor is the basis for the upcoming Disney+ exclusive series Hawkeye, which some reports have suggested will star Oscar nominee Hailee Steinfeld as the Manhattan-born heiress and archery prodigy. Considering the still unconfirmed nature of this news, I recommend the alternative choice of Millie Bobby Brown, who gave Netflix subscribers a taste of what she can do with a bow and arrow in Enola Holmes.
Elsa Bloodstone
The actress would also prove to have a unique connection to large, otherworldly creatures (beyond her psychic ties to the Demagorgon, of course) in Godzilla: King of the Monsters, Trick 'r Treat director Michael Dougherty's 2019 monster movie extravaganza. Elsa Bloodstone also has a unique connection to monsters - particularly the hunting and killing of them as a frequent bonding activity between she and her family, led by notoriously ruthless monster hunter Ulysses Bloodstone - before eventually going off on her own as a vigilante and even teaming up with Deadpool for a time. Using modern, manmade weaponry against monstrous creatures would be a bit of a departure for Millie Bobby Brown if given the chance to play Bloodstone, but the character's British ancestry might allow her the typically rare chance to use her natural accent, which is a nice thought.
White Rabbit
Even more of a stretch for the actress would be the chance to play a comic book villain, but there does exist one Marvel baddie (especially well-known as an enemy to Spider-Man) whom she does have an interesting connection to. Millie Bobby Brown's first-ever role was as a younger Alice in Once Upon a Time in Wonderland - a spinoff of the ABC fairytale drama inspired by the Lewis Carroll story, which Lorina Dodson was absolutely enamored with as a child and eventually inspired her to adopt a criminal as the "White Rabbit." It is an absolutely bananas concept of character, but then again, so is the conceit of one of Marvel Comics' most unstoppable heroes.
Squirrel Girl
In an interesting, coincidental twist of fate, we go from one comic book character designed after a furry woodland creature to the next - the biggest difference, however, being that this far more heroic young woman actually has powers. In fact, Squirrel Girl (real name Doreen Green) not only has abilities similar her namesake animal (tree climbing, retractable claws, big bushy tail, etc.), but also superhuman healing, strengt, and agility that has helped her come out on top against even Thanos, and maintain a victorious fighting record that is unparalleled by anyone else in the Marvel universe. Perhaps her unbeatable nature is what has kept from a securing a spot in the MCU thus far, but when she does, I think Brown has the bubbly personality and experience in playing badasses to make it work.
What do you think? Is Millie Bobby Brown the right actress to make a character as powerful as Squirrel Girl work in the Marvel Cinematic Universe, or do you feel that her heroic duties have already been properly fulfilled by playing Eleven on Stranger Things? Let us know in the comments, and be sure to check back for additional information and updates on the teen icon, as well as even more hypothetical comic book movie casting sessions, here on CinemaBlend.
Your Daily Blend of Entertainment News
Jason has been writing since he was able to pick up a washable marker, with which he wrote his debut illustrated children's story, later transitioning to a short-lived comic book series and (very) amateur filmmaking before finally settling on pursuing a career in writing about movies in lieu of making them. Look for his name in just about any article related to Batman.
Your Daily Blend of Entertainment News
Thank you for signing up to CinemaBlend. You will receive a verification email shortly.
There was a problem. Please refresh the page and try again.