Netflix's The Gray Man: An Updated Cast List, Including Chris Evans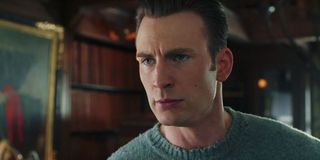 As Netflix has grown, the streaming service has shown increased willingness to spend big bucks on its most high-profile original movies. Just look at how much it cost to make The Irishman, 6 Underground and the upcoming Red Notice, to name a few. Well, Netflix is now in the midst of putting together its most expensive movie yet: The Gray Man, which comes with a $200 million budget and was supposed to star Brad Pitt many years ago.
Based on the same-named novel by Mark Greaney, The Gray Man will follow a skilled operative who's embarked on a journey across the globe to eliminate his former co-worker from the CIA, who's now a mercenary. Directors Joe and Anthony Russo are helming The Gray Man, and their Avengers: Infinity War and Endgame collaborators, Christopher Markus and Stephen McFeely, came in to polish the script that Joe Russo penned. But that's not the only way The Gray Man is serving as a Marvel Cinematic Universe reunion, as Chris Evans is among the many actors who have boarded the action thriller. With that in mind, let's go over who all is taking part in this ambitious Netflix movie.
Chris Evans
Four of Chris Evans' 11 movies as Captain America (including the cameo appearances) were directed by the Russo brothers, but for The Gray Man, the actor's playing a drastically different kind of character than the Star-Spangled Avenger. Evans was brought aboard to play Lloyd Hansen, the operative who's hunting down Court Gentry (more on him soon). However, don't go thinking that Lloyd is the hero of this story. Joe Russo described Evans' character as the villain who gets to wear "some crazy shit." Evans has experience playing antagonistic characters, from Scott Pilgrim vs. The World to Knives Out, so it'll be interesting to see how his version of Lloyd Hansen compares to those other baddies.
Ryan Gosling
The protagonist of The Gray Man is Court Gentry, who may be on the run, but has a noble cause in the story, as he's determined to rescue his family and handler from nefarious forces who feel he's a threat to their interests and have hired Lloyd Hansen to take him out. Ryan Gosling will bring Court to life in Netflix's adaptation; he's most recently appeared in Blade Runner 2049 and First Man, and he's also starring in a reboot of The Wolf Man. The Gray Man is the first of Mark Greaney's novels starring Court Gentry, so if the movie performs well on Netflix, there's a good chance we could see Gosling reprise the role in at least one sequel, if not many more.
Ana De Armas
Although Ana de Armas has been professionally acting since 2006, her profile has grown in recent years thanks to being present in movies like Blade Runner 2049, The Informer and Knives Out. In addition to her upcoming turn as Marilyn Monroe in Blonde, de Armas also got some action experience under her belt from playing Paloma in the next James Bond movie, No Time to Die. That should come in handy for The Gray Man, and while it hasn't been revealed yet who she's playing, the Netflix feature is giving her the opportunity to reunite with both Chris Evans and Ryan Gosling.
Jessica Henwick
Jessica Henwick is no stranger to the world of action, as she played skilled martial artist and swordswoman Colleen Wing in the Marvel Netflix shows Iron Fist, The Defenders and Luke Cage. Her other notable credits include Star Wars: The Force Awakens, Underwater and Blood of Zeus, and she'll soon be seen in Godzilla vs. Kong and The Matrix 4. So yeah, Henwick has shown up in a lot of major projects in recent years, and it'll be interesting to see how she factors into The Gray Man.
Wagner Moura
If you're a fan of the Netflix series Narcos, you'll obviously recognize Wagner Moura as the man who played drug lord Pablo Escobar (who he briefly reprised in an episode of the companion series Narcos: Mexico). As for movies, Moura is an acclaimed actor within the world of Brazilian cinema, while American film fans might recognize him from recent movies like Wasp Network and Sergio. But if you haven't watched any of these projects, then you'll have the opportunities to see his acting talents when The Gray Man comes out.
Dhanush
The actor known as Dhanush has been active in Tamil cinema for nearly two decades now, and he made his Bollywood debut in 2013's Raanjhanaa. But if you primarily stick to American movies, then you're likely not familiar with Dhanush, although The Gray Man will certainly change that. It's unclear how big of a role he has in the story, but perhaps the Netflix production will pave the way for him to appear in more Hollywood fare.
Julia Butters
You may not know her by name, but if you saw Quentin Tarantino's Once Upon a Time in Hollywood, then you'll definitely remember Julia Butters for playing Trudi Fraser, the young actress who performed opposite Leonardo DiCaprio's Rick Dalton in the Lancer pilot. You might also recognize Butters from her role as Anna-Kat Otto on the ABC sitcom American Housewife, although she departed the series ahead of Season 5. While we don't officially know yet who Butters in The Gray Man, I suspect it'll be one of Court Gentry's daughters.
Billy Bob Thornton
If you're reading this, chances are I don't need to tell you who Billy Bob Thornton is or do a deep dive on his resume, which includes Armageddon, Monster's Ball and Bad Santa. That said, The Gray Man will mark Thornton's first movie since 2018, when he appeared in both London Fields and A Million Little Pieces. He's also starred as Billy McBride in the Amazon series Goliath, which premiered its third season back in 2019 and has been renewed for a fourth and final season. If I had to guess, I'd say that Thornton will play one of The Gray Man's villains, but don't hold me to that.
Alfre Woodard
Like Billy Bob Thornton, there's no need to go over all the movie and TV shows Alfre Woodard is well known for, but it is worth mentioning that she's a veteran in the Netflix space, having previously popped up in Luke Cage, A Series of Unfortunate Events, Juanita and the upcoming Fatherhood. Now she's returning to the platform as part of The Gray Man's cast; fingers crossed she'll share some scenes with Chris Evans, as she only acted opposite Robert Downey Jr. in Captain America: Civil War.
Regé-Jean Page
Before December 2020, you might have seen Regé-Jean Page in projects like Mortal Engines, For the People and The History Channel's Roots miniseries, but now he's been catapulted to new levels of fame thanks to his role as Simon Basset in the hit Netflix series Bridgerton. As if being cast in the new Dungeons & Dragons movie wasn't exciting enough, now Page is getting to leave his mark on the film side of the Netflix empire by starring in The Gray Man. Clearly his popularity boost is only just getting started.
Eme Ikwuakor
Eme Ikwuakor is staying familiar territory by joining The Gray Man, as in recent years, he's recurred on the Netflix teen comedy-drama series On My Block as Dwayne Turner, the father of Brett Gray's Jamal Warner. Some of you might also remember Ikwuakor from his time as Gorgon in the short-lived Marvel series Inhumans, while his other notable film and TV credits include Extant, NCIS: Los Angeles, How to Get Away with Murder and the upcoming Roland Emmerich flick Moonfall.
Scott Haze
Following his breakout performance as Lester Ballard in Child of God, Scott Haze has appeared in movies like Midnight Special, Thank You for Your Service, Only the Brave, Zeroville and Minari. However, comic book movie fans might recognize him from 2018's Venom as Roland Treece, the head of security for Carlton Drake, the man who later bonded with the Riot symbiote. Haze also has a role in the upcoming Jurassic World: Dominion, and now he gets to be involved in the ambitious production that is The Gray Man.
With The Gray Man expected to begin filming later this year, it'll be a while until Netflix (opens in new tab) announces its premiere date. While we wait for that information and other updates on The Gray Man's progress, find out what the streaming service is delivering later this month with our handy guide.
Connoisseur of Marvel, DC, Star Wars, John Wick, MonsterVerse and Doctor Who lore. He's aware he looks like Harry Potter and Clark Kent.
Your Daily Blend of Entertainment News
Thank you for signing up to CinemaBlend. You will receive a verification email shortly.
There was a problem. Please refresh the page and try again.