Channing Tatum Posted A Stunning, Slightly NSFW Nude Photo Of Jenna Dewan Tatum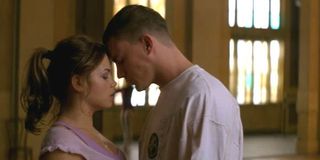 Just in case you somehow forgot that Channing Tatum and Jenna Dewan Tatum are two of the most ridiculously attractive people in the world, Channing took it upon himself to give you a little reminder. The actor posted a nude photo of his wife napping on their bed on Monday that had his followers' eyes wide open. Check out the black-and-white photo below.
It looks like Channing Tatum just narrowly avoided Instagram's nudity ban thanks to his wife's perfectly positioned comforter.
Though many enjoyed the photo, it also raised a pretty unsettling question for some of Channing Tatum's followers: was Jenna Dewan Tatum aware that this photo of her nearly naked body was being posted online? Given that Jenna is asleep in the picture and the exposed nature of the shot, a number of fans began tweeting at Channing asking whether his wife had given her consent for the photo to be shared.
Other fans responded to those questions by saying that the photo is just another example of Channing and Jenna Dewan Tatum's exuberant and loving relationship, and that the couple has already proven through their ten years together that they respect one another.
Thankfully, one peek into Jenna Dewan Tatum's list of favorited tweets puts the controversy to bed. Although she doesn't reveal whether or not she knew about the photo before her hubby posted it, she seems to be a fan of the shot. Jenna favorited a tweet that reposted the picture, and another one from a fan joking that she take a similar pic of her husband.
After all, what else would you expect from a couple that both have amazing bodies aren't afraid to show them off? I mean, they did meet on the set of Step Up back in 2005, and that movie had them both wearing some pretty revealing dancewear. Not to mention that the Tatums are probably pretty desensitized to nudity after Channing starred into two Magic Mike movies.
Now I'd suggest that Channing Tatum fans keep Jenna Dewan Tatum's Instagram up and refresh it every so often --- you never know when she might post pay him back by posting a photo of him!
Your Daily Blend of Entertainment News
Your Daily Blend of Entertainment News
Thank you for signing up to CinemaBlend. You will receive a verification email shortly.
There was a problem. Please refresh the page and try again.