Kylie Jenner Is Pregnant With Her First Child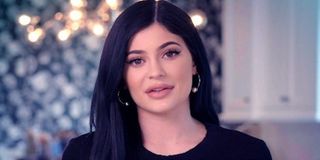 Reportedly, Kylie Jenner is pregnant with her first child, and rapper Travis Scott is the father. The 20-year-old reality television personality and Scott began dating this spring. Jenner apparently began telling friends about her pregnancy this month, and someone spilled the beans to the press.
Reports say Kylie Jenner is four months along, and the baby is due sometime in February. Some people are dissecting her recent social media photos and saying they can see a baby bump. Furthermore, Jenner has been posting old pictures of herself and photos from the neck up on social media, which some fans say is out of character and could support the rumor she is pregnant.
Also, there are rumors Kylie Jenner and Travis Scott got hitched in a secret celebration without E! cameras; however, Jenner allegedly let attendees record the supposed ceremony on their smartphones. Still, there have been no confirmations or denials from the Kardashian-Jenner camp regarding the pregnancy or the marriage. But the story sure has people talking. In fact, TMZ reported Kylie Jenner's ex-rapper ex-boyfriend Tyga even hopped on Snapchat to post a screenshot of a headline about Jenner being pregnant. On top of the picture, Tyga wrote,
Tyga added devil face emojis, perhaps to show he was joking. The 29-year-old rapper has a four-year-old son with Blac Chyna, who also has a one-year-old daughter with Kylie's half-brother Rob Kardashian. Therefore, if Tyga were the father of Kylie Jenner's baby, the situation would be a family affair. Nevertheless, it sounds like the dad is Travis Scott, whom Jenner began dating not long after she and Tyga called off their two-year relationship.
Speaking of family, if Kylie Jenner has a baby next year, her little one will have a cousin born around the same time. Kim Kardashian and Kanye West's surrogate supposedly is following a similar timeline, and she is due to give birth to Kimye's third child early next year.
It seems much has changed since last year. Back in October, during a Q&A session on Snapchat, Kylie Jenner said she was not interested in having kids until later. She said,
Plus, on Keeping Up with the Kardashians, Kylie Jenner and her father Caitlyn Jenner talked about kids. Kylie Jenner said she liked the idea of starting a family at 25, but Caitlyn Jenner suggested waiting until 30. Kylie Jenner said that was too late, and she revealed a psychic told her she would have two children.
At 20 years old, Kylie Jenner has become a multimillionaire thanks to her reality television shows Keeping Up with the Kardashians and Life of Kylie. Kylie Jenner is the owner of Kylie Cosmetics, whose line of lip kits and other makeup accessories rake in millions of dollars. She and her sister, Kendall Jenner, also have a fashion line together.
Kylie Jenner reportedly made $41 million last year, which earned her the spot as the youngest person on the Forbes list of the highest-paid celebrities last year. She owns a $12 million home in Hidden Hills, near Beverly Hills, and she recently rented a $35 million house for a few months because, you know, she could.
So, Kylie Jenner certainly has the financial means to support a family on her own. Hopefully, she is happy whether she is married, pregnant, or both (or neither). We'll stay tuned for details.
Your Daily Blend of Entertainment News
Your Daily Blend of Entertainment News
Thank you for signing up to CinemaBlend. You will receive a verification email shortly.
There was a problem. Please refresh the page and try again.