Heidi Klum And Her Boyfriend Have Called It Quits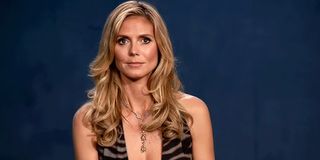 Heidi Klum has said "Auf Wiedersehen" to Vito Schnabel, her 30-year-old boyfriend of the past three years. From the sounds of it, Klum is ready to catch her breath after the on-and-off relationship with Schnabel and her prior long-term relationships from before. The 44-year-old supermodel and mom of four kids told reporters,
As People tells it, Heidi Klum and Vito Schnabel had trouble making the relationship work as they live on opposite coasts. Plus, they both are busy bees. Klum has a hectic schedule balancing mom duties for her four kids---13-year-old daughter Leni, 12-year-old son Henry, 10-year-old son Johan, and 7-year-old daughter Lou. Additionally, Klum's work schedule keeps her moving as a judge on America's Got Talent and a host of Project Runway. And you can bet Klum is also working on whatever fantastic Halloween costume she will have this year. Meanwhile, Schnabel is a curator and art dealer whose work calendar is full like Klum's.
Therefore, it makes sense that Heidi Klum might want to press pause on romantic relationships. Still, Klum appears to be single and ready to mingle. The former Victoria's Secret Angel did not let the breakup get her down last week and instead flew to Las Vegas for the iHeartRadio Musical Festival, where she introduced Jared Leto and Thirty Seconds to Mars. While there, Klum went to Jennifer Lopez's All I Have show and even managed to get a photo with J. Lo. Check it out:
It is possible Heidi Klum and Vito Schnabel have been moving toward Splitsville for a while. This year, Klum took her kids on vacation in the islands off the coast of Cuba, and there were mixed reports about whether or not Schnabel joined them. Furthermore, there were rumors about a kiss Schnabel shared with another woman in June. Supposedly, the paparazzi caught him locking lips with someone other than Klum. However, Schnabel told reporters the situation was a "misinterpretation of an entirely innocent situation" as he was "simply saying goodnight to a family friend."
Heidi Klum began dating Vito Schnabel in 2014, two years after she finalized her divorce from singer Seal, the father of Henry, Johan, and Lou. (Italian businessman Flavio Briatore is Leni's dad.) Meanwhile, Vito Schnabel is the son of critically-acclaimed director Julian Schnabel, who directed The Diving Bell and the Butterfly. Before connecting with Heidi Klum, Vito Schnabel dated Demi Moore, and he had ties to Elle Macpherson and Liv Tyler before then. Hopefully, the breakup will end up being a positive change for everyone involved, including Heidi Klum's four kids.
Your Daily Blend of Entertainment News
Your Daily Blend of Entertainment News
Thank you for signing up to CinemaBlend. You will receive a verification email shortly.
There was a problem. Please refresh the page and try again.