What We Know So Far About The 3 Kardashian Pregnancies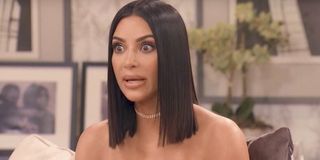 It appears there is a baby boom in the Kardashian-Jenner family. Kim Kardashian is expecting a third child thanks to surrogacy. Khloe Kardashian and her NBA player boyfriend, Tristan Thompson, are getting ready to welcome their first child. Plus, Kylie Jenner reportedly is about to welcome a bundle of joy with her rapper boyfriend, Travis Scott. Let's run through everything we know so far about the Kardashian and Jenner pregnancies, starting with Mrs. Kanye West.
Kim Kardashian and Kanye West
On season 13 of Keeping Up with the Kardashians, Kim Kardashian announced she wanted to have a third child with her rapper husband, Kanye West. The 36-year-old reality television personality experienced extreme complications in her two pregnancies with her daughter, North West, and her son, Saint West. In fact, Kardashian needed surgeries after giving birth, and after everything was said and done, her doctor said she could not carry a third child.
So, Kim Kardashian began exploring surrogacy as a workaround. At first, Khloe Kardashian and Kourtney Kardashian considered being the surrogate. On KUWTK, Khloe Kardashian went with Kim Kardashian to a doctor's office (where Khloe Kardashian inadvertently revealed that she faked trying to get pregnant with her ex-husband, Lamar Odom). Moreover, Kris Jenner's doctor told the 61-year-old matriarch of the family she could still carry a baby, so she would have offered to be the surrogate if she could have guaranteed a safe pregnancy.
In the end, Kim Kardashian and Kanye West reportedly went through a surrogacy agency. The fee they supposedly paid was expensive but pretty standard for surrogacy in the United States. Similarly, the contract set forth standard regulations for the surrogate and included monetary bonuses for twins.
Now the news is Kim Kardashian and Kanye West's surrogate is pregnant and doing well. However, breaking reports say the paparazzi identified the surrogate and tracked her down. A similar situation happened to Sarah Jessica Parker when she and Mathew Broderick hired a surrogate to grow their family, and SJP made it sound like that aspect was a nightmare. Hopefully, the paparazzi will give the newly pregnant couple--and their surrogate--a break.
Khloe Kardashian and Tristan Thompson
Reports of Khloe Kardashian's pregnancy surfaced after the world had already learned about Kim Kardashian's surrogacy journey and Kylie Jenner's pregnancy. However, Khloe Kardashian has long talked about how much she wants to be the matriarch of a big family much like her mom, Kris Jenner, and she went through the saga of "trying" to have kids with her ex-husband, Lamar Odom. Therefore, it was more exciting than shocking to find out Khloe Kardashian and her Cleveland Cavaliers boyfriend, Tristan Thompson, are expecting a child.
After all, many of Khloe Kardashian's fans have been rooting for her along the way, and she received an outpouring of love when she began dating Tristan Thompson this year. It seems like she is truly in love with someone who treats her well, and earlier this year, she even said she would marry him if he proposed. She has even talked about how much she loves being a role model to her boyfriend's young son. So, it is great to see her in love, and it will be fun to watch her become a mom.
Kylie Jenner and Travis Scott
News about Kylie Jenner's pregnancy continues trickling in. Recent reports say her doctor reportedly will not give her lip injections until after she gives birth, which could compromise her brand as the queen of plumped up lips. Other stories say Jenner has already been prepping her baby's room with a closet of designer clothes. For example, In Touch says Jenner has already spent upwards of $70,000 on baby clothes from online stores and shops in California.
Of course, Kylie Jenner has yet to address the pregnancy rumors head-on. Technically, she could still get away with saying the baby clothes are for her two elder sisters' new babies or even her brother Rob Kardashian's one-year-old daughter with Blac Chyna. However, $70,000 is a pricy sum to spend on gifts. Therefore, it seems to be reasonable to think the rumors are true that she and Travis Scott are having a baby girl, even if Kim Kardashian has hinted that people ought not to believe everything they read in the press.
Right now, the pregnancies and all of the other drama happening behind the scenes in the Kardashian-Jenner family are but speculation. But it will all come to light sooner than later because the new season of KUWTK starts soon.
This poll is no longer available.
Your Daily Blend of Entertainment News
Your Daily Blend of Entertainment News
Thank you for signing up to CinemaBlend. You will receive a verification email shortly.
There was a problem. Please refresh the page and try again.