Ewan McGregor Separates From Wife After 22 Years As Mary Elizabeth Winstead Rumors Swirl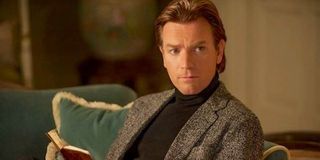 Scottish movie star Ewan McGregor and French costume designer Eve Mavrakis have separated after 22 years of marriage. Incidentally, the paparazzi spotted the Trainspotting star getting cozy with American actress Mary Elizabeth Winstead the other day at a London coffee shop and the two were even reportedly caught kissing. The cause of McGregor and Mavrakis' split is yet a mystery, but new details keep coming to light.
In fact, Ewan McGregor and Eve Mavrakis met on the courtroom drama Kavanagh QC in 1995 and share four daughters together. Allegedly, friends of McGregor and Mavrakis have been seen to be updating their respective public social media accounts with pictures of themselves not wearing their wedding rings. Moreover, the paparazzi caught up with Mavrakis out and about in Santa Monica, California, as she was running some errands this week, and she was not wearing her wedding band. Neither McGregor or Mavrakis have publicly confirmed the split, but an unnamed source told People that the split has happened.
Which leads us to Ewan McGregor hanging out with Mary Elizabeth Winstead at a coffee shop in London, where snapshots of them kissing one another were taken. After the pair spent time at the coffee shop, they got on McGregor's motorcycle and drove off into the distance, with Winstead on the back of McGregor's bike.
Ewan McGregor and Mary Elizabeth Winstead played lovers in the third season of the FX drama Fargo. Now it appears life could be imitating art for the two actors, as a photographer for the Sun did capture pictures of the co-stars embracing and sharing a kiss at one point during their meet up at The Good Life Eatery in St. John's Wood. Still, nobody knows if McGregor and Winstead were spending private time together before he and Mavrakis separated in May. We'll keep you updated as more news breaks.
Regarding the Fargo actress, it turns out Mary Elizabeth Winstead and her husband, Riley Stearns, split up in May of this year after seven years of marriage. Winstead had originally met Riley Stearns, a director, on a cruise.
Although we don't know what, if anything, is going on with the Mary Elizabeth Winstead kiss, it would not be the first time the rumor mill has circulated stories about Ewan McGregor having extramarital dalliances. Back when he and Nicole Kidman were working on Moulin Rouge, rumor had it the two co-stars covered up a secret off-screen fling. About ten years later, McGregor was tied to French actress Melanie Laurent, with whom he starred in the film Beginners. However, neither of those reports were ever confirmed, and the notion McGregor and Mary Elizabeth Winstead are anything more than friends could be an unfair assumption. Perhaps we will get more clarity concerning the situation in due time. Regardless, we'll keep you updated regarding what is going on between Ewan McGregor and Eve Mavrakis.
Your Daily Blend of Entertainment News