The Funny Christmas Gift Jennifer Lawrence Bought Kris Jenner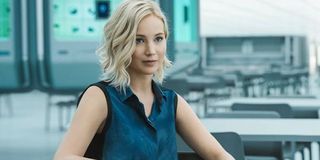 Academy Award-winning actress Jennifer Lawrence and Keeping Up with the Kardashians matriarch Kris Jenner have become two of the most unlikely friends, and apparently, the friendship even includes funny Christmas gifts. Jenner hopped on social media over the holiday to share how the Silver Linings Playbook actress made her holiday special with a clever present. Take a look:
From the explanation, we can see Kris Jenner told Jennifer Lawrence she wanted a Porsche for Christmas, so J. Law made that wish come true--just not the way Jenner most likely expected. This particular Porsche is the 2018 Porsche Boxster Style 12V Ride-On-Car, a toy car that runs on battery power. Granted, the toy actually sounds pretty sweet. According to E!, the toy car has a dining table, LED lights, a leather seat, and Bluetooth capabilities.
Still, while Lawrence "didn't disappoint," as Jenner points out in the caption of her Instagram photo, the ride the famous momager probably wanted would not have fit so snugly in her foyer. Regardless, there should be plenty of kids around to play with the toy car. After all, Jenner is the grandmother of Kourtney Kardashian's Reign, Mason, and Penelope; Kim Kardashian's North and Saint; and Rob Kardashian's Dream. Plus, Kris Jenner is getting ready to welcome three more kiddos, as Khloe Kardashian is pregnant, Kylie Jenner most likely is pregnant, and Kim Kardashian is expecting via surrogate.
Jennifer Lawrence has long loved KUWTK and admired Kris Jenner. Previously, Lawrence told reporters her friends arranged for Jenner to surprise her on her birthday, and ever since then, the Oscar winner and the mom of the Kardashian-Jenner crew have been Hollywood pals. In fact, Jenner also talked about that first interaction. Jenner said she and Lawrence have a had "this little texting friendship" ever since.
Plus, they have get-togethers. When Jennifer Lawrence filled in for Jimmy Kimmel on Jimmy Kimmel Live!, she interviewed Kim Kardashian and talked about all of the fun she apparently had one night when she, Kardashian, and Kris Jenner had dinner at the famous house in Calabasas. Evidently, Kardashian enjoyed tea the whole night, but Jenner and Lawrence split some wine and had a goofy time together like they did on this night:
Previously, Jennifer Lawrence dished about how she loved KUWTK so much that she had an exclusive KUWTK zone on the set of mother! where she could go to get some space and clear her head. Lawrence said the film's director, Darren Aronofsky, who happened to be her boyfriend until recently, did not entirely understand why she loved the reality television program as much as she did.
But clearly, Jennifer Lawrence did not let anyone's judgments about her KUWTK love faze her because in recent months her friendship with Kris Jenner and other KUWTK personalities has been fun to watch. We'll have to stay tuned to see if any of Jenner's grandkids put Lawrence's Christmas gift to good use sometime soon.
Your Daily Blend of Entertainment News