Now That The Blacklist Is Returning, Here's What I'm Red-y To See Happen In Season 7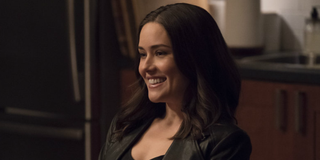 (Image credit: Virginia Sherwood / NBC)
The Blacklist is returning on March 20 with a double dose of episodes! It is safe to say that after such a long break, fans (myself included) are "red-y" to get this show and Season 7 back in gear. The renewed drama left viewers with a lot to contemplate while it was on break, including what they want to see happen.
When you think about all of the game-changing updates that took place in the midseason finale, you know that The Blacklist will not be messing around. After years of hearing about her, Liz finally met her apparently trustworthy mother, Katarina Rostova. The legendary shadowy figure wasted no time calling Red into question. Thus, Season 7 is a powder keg, and the midseason premiere should be explosive.
Without further ado, this is what I want to see happen when The Blacklist returns for the second half of Season 7!
Red To Get His Game Back
The Blacklist showed viewers a side of Red that they have not quite seen before the midseason hiatus. Red was being outfoxed by Katarina Rostova, who hid in plain sight as Liz's next-door neighbor-turned-Agnes' nanny. Now, Katarina has successfully convinced Red of her death by assassination.
I do not like seeing Red outmaneuvered like this. He is best when his edge is in full and sharp effect. The Blacklist definitely wants viewers to know that Katarina is his equal, which is fine. However, up to this point in Season 7, the score has not felt even.
Red needs to come back stronger and more suspicious than ever. Hopefully, he will find the seeming assassination of Katarina in broad daylight a bit too convenient and start to put the pieces together. He has been playing this game far too long to get caught off-guard now, especially after Liz's grievous betrayal last season.
Liz To Tell Red The Truth About Katarina
While on the subject of Red figuring out the truth about Katarina, let's flip over to Liz's handiwork in this con. The Blacklist left off with Liz knowing her mom's not-so-deadly secret. Liz is well-aware that Katarina is alive and is keeping it a secret from Red. Not good, Liz.
I will still defend Liz due to understanding where she is coming from to a point. Red is not who he let her believe he was (Ilya Koslov). That lie is not cause enough for Liz to keep the fact Katarina is alive and well from Red, in my opinion. Katarina is essentially Red's enemy at the moment and, as such, poses a threat to him.
She made little effort to hide that fact. The Blacklist has teased a familial fight breaking out in the second half of Season 7. I just hope Liz is on the right side of the battle lines. Red has been there for her more than her mother. Like she said, he is family.
For Aram To Break Up With His "Girlfriend"
Let me start by saying this. I adore Aram and want him to be happy. He deserves it, and it is clear he is still somewhat spiraling in the heartbreaking aftermath of his relationship with Samar. Elodie Radcliffe is just not anywhere near Samar's league.
Is she a rebound? Most assuredly. Elodie is not the right person for Aram to rebound with, in my humble opinion. She is still legally married and has dragged Aram into dangerous situations without considering his feelings. It does not help her case that Aram met her while trying to bring down a Blacklister that she and her husband got involved with.
There are a lot of questions still lingering about Elodie. The truth is that she seems entirely untrustworthy, and I keep waiting for The Blacklist to reveal she is a spy of some sort. Amir Arison is loving Season 7, and I am too. I just want him to break up with Elodie long before it finishes.
To Learn Agent Park's Secret
When The Blacklist introduced the newest member of the Task Force, Agent Alina Park, the show was quick to reveal something. Like many of those around her, Alina has a secret, which has been left to viewers' imagination. There is one thing that viewers do know.
Alina is a formidable fighter, as seen during a scene of hand-to-hand combat. I am curious if her secret has anything to do with how she acquired those skills. The Blacklist is good about keeping its characters' secrets. Viewers are still waiting to learn many of Red's. I am hoping that Alina's mystery does not take as long to reveal.
It would be neat to know someone's secret early for a change. Alina's secret seems primed to open the door to many more stories as opposed to closing one. She is still relatively new to the Task Force and already fits in perfectly. It will be interesting to learn what she is hiding and if it will endear her even further to Red.
For Red To Get A Genuine Love Interest
When The Blacklist returns, the show will introduce viewers to one of Red's ex-girlfriends. At least, I am hoping she is Red's and not the real Raymond Reddington's. Played by Joely Richardson, Cassandra is said to plunge Red into an "intense" episode, and I am here for it. I am ready for Red to find long-term romantic love.
While going through his and other character's relationship statuses recently, it occurred to me that now is the time. Fans have seen Red flirt up a storm throughout The Blacklist's history. Would it not be neat for that to manifest into something more than flirtatious conversation and sultry looks?
Red being single has long been part of his character. I had thought he was leaving his heart solely devoted to Katarina Rostova, a woman that no one else could compare too. Recent events have cast doubt on that notion being the reason he has remained single. Either way, I am ready for him to start mingling!
Liz To Get A Russian Brother
The Blacklist revealed that Katarina was married to a man named Pyotr. They may or may not have had children together. Something that Katarina said made me think they did. I am ready for Liz to get a Russian brother and for Russian actor Pavel Priluchny (pictured above) to play the role.
For reference, Pavel Priluchny plays Igor on the outstanding Russian-language series Silver Spoon (opens in new tab), which is streaming on Netflix. Priluchny is equally skilled as a comic and dramatic actor. He has deft comic timing and the emotional range to convey the depths of any scenario. Imagining him going opposite Liz is electrifying.
I love the idea of Liz having a Russian brother, who is funny, charming, and also fearsome when he has to be. These are all aspects Pavel Priluchny plays as Igor on Silver Spoon. A brother would add another layer to Liz's family and give her someone fun to bounce off of. I could also see Pavel Priluchny striking up major buddy chemistry on the series, which is a must for any new Blacklist recruit!
These are just some of the things I want to see happen. Of course, I am always "red-y" for The Blacklist to go ahead and reveal Red's real identity. Per Blacklist creator Jon Bokenkamp's advice, I have been indefatigably looking between the lines for answers about Red's life. I have also rewound and scrutinized every bit of dialogue that I can.
The Blacklist returns during the midseason on Friday, March 20, at 8 p.m. ET with a two-hour premiere on NBC. You can watch the fantastic previous seasons of The Blacklist on Netflix alongside content arriving in 2020.
Like a contented Hallmark movie character, Britt happily lives in the same city she grew up in. Along with movies and television, she is passionate about competitive figure skating. She has been writing about entertainment for 5 years, and as you may suspect, still finds it as entertaining to do as when she began.
Your Daily Blend of Entertainment News
Thank you for signing up to CinemaBlend. You will receive a verification email shortly.
There was a problem. Please refresh the page and try again.