How To Watch The Stand Streaming: Everything To Know About The Stephen King Limited Series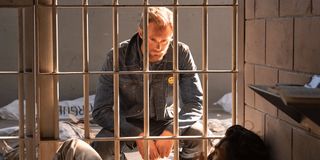 CinemaBlend participates in affiliate programs with various companies. We may earn a commission when you click on or make purchases via links.
At long last, the CBS All-Access adaptation of Stephen King's 1978 dark fantasy novel, The Stand, is finally upon us. Before you know it, we will all be glued to our television screens and other devices as we follow the nine-episode story about a group of survivors trying to save what's left of the world following a devastating plague and seemingly endless battles between the forces of good and evil. But before we see how James Marsden, Whoopi Goldberg, and Alexander Skarsgård's characters translate to the screen, it might be best to go over just how we will be able to watch The Stand streaming.
With not much time between now and the show's release, there's not much time to waste before it's too late. That being said, here's a quick rundown on how to watch The Stand streaming and everything else to know about watching the latest Stephen King miniseries.
How To Watch The Stand Streaming
Once The Stand premieres on CBS All-Access on December 17, all you will have to do is log in to your account to start streaming. Since this is one of the streaming platform's major programs, it will be likely featured on the home screen of the app or website (depending on which method you use to enjoy the show). If you don't find it there, all you need to do is search for the show in the search bar on the top of the screen and you'll be watching Josh Boone and Benjamin Cavell's version of Stephen King's iconic novel in no time at all. A subscription to CBS All Access (opens in new tab) is required.
How Will The Stand Episodes Be Released
It should be noted that only the first episode of The Stand will be available when the show premieres on December 17. Following the show's launch, new episodes will be released every Thursday until the finale becomes available on CBS All Access on February 11, 2021. This traditional release schedule could help build the tension for the audience as they have to wait seven days between new episodes, unlike shows on streaming services like Netflix that give everything to you in one giant drop. If you come to the show any time after the airing of the limited series' finale, you will be able to watch everything in one go, but that does mean you have to wait two months to do so.
Will The Stand Limited Series Be Available To Purchase
There is currently no information out there about purchasing a copy (both physical and digital) of The Stand, but CBS All Access originals like Star Trek: Picard, Star Trek: Discovery, and The Twilight Zone are available for purchase at places like Amazon. This opens the door for The Stand, so don't be surprised if you see the Stephen King miniseries on the online retailer and streamer at some point in the future.
Well, all of that should help you figure out everything you need to know about watching The Stand streaming when it premieres on CBS All Access later this week. If you want to know what else is coming out on television and streaming services in the next few weeks and months, check out CinemaBlend's Fall 2020 and Spring/Winter 2021 release guides.
Have you considered using a VPN? You may already use one as a way to keep your internet access secure when using public wi-fi, but did you know you can use a VPN to watch your favorite streaming content when you're traveling out of region? If you're traveling out of the U.S. area and still want to catch The Stand on CBS All Access, consider using a VPN (opens in new tab).
Philip grew up in Louisiana (not New Orleans) before moving to St. Louis after graduating from Louisiana State University-Shreveport. When he's not writing about movies or television, Philip can be found being chased by his three kids, telling his dogs to stop yelling at the mailman, or yelling about professional wrestling to his wife. If the stars properly align, he will talk about For Love Of The Game being the best baseball movie of all time.
Your Daily Blend of Entertainment News
Thank you for signing up to CinemaBlend. You will receive a verification email shortly.
There was a problem. Please refresh the page and try again.