Call Of Duty: Black Ops 3 Will Have Modding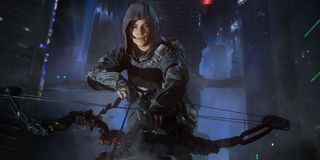 The Call of Duty series hasn't always been welcoming to modders. However, that's going to change with Call of Duty: Black Ops 3.
Director of development Cesar Stastny announced on Treyarch's website that owners of the PC version will be able to create mods for Black Ops 3. This means you'll be able to play maps, game modes and other content developed by fellow players. The files necessary to run Unranked Dedicated Servers will be included with this toolset so you can host games running these mods. Treyarch will also provide a browser for these unranked servers so you can more easily find matches running the mods you want.
Unfortunately, this feature won't be ready for Black Ops 3's launch this week. Instead, Treyarch is targeting a March 2016 release for the closed alpha version of the toolset. Stastny cautions that their exact plans could change over time, too.
In spite of the extended wait, I imagine the news of modding tools makes a lot of PC gamers very happy. Player-made maps and modes will dramatically extend the shelf life of Black Ops 3. On top of that, this custom content is free so you won't need to buy map packs once you get bored with the base game.
I guess Activision has realized what many other publishers have come to appreciate over time: an active modding community can provide a serious lift to a game. It can keep fans playing for years after launch. In some cases, players will buy a game primarily for the mods. For example, DayZ gave a huge boost to Arma 2's sales. Half-Life became an even more attractive game thanks to free mods Counter-Strike and Team Fortress Classic.
It's a shame that the console versions of Black Ops 3 won't get access to player-create mods. However, cross-platform mod support is a very rare thing. Fallout 4 is one of very few games to promise that feature.
Black Ops 3 will launch worldwide on November 6th for PS4, Xbox One, PC, Xbox 360 and PS3. Stores will be holding midnight openings on release day. If you're an Amazon Prime member, you can get the game delivered to your door at that hour as well.
Staff Writer at CinemaBlend.
Your Daily Blend of Entertainment News
Thank you for signing up to CinemaBlend. You will receive a verification email shortly.
There was a problem. Please refresh the page and try again.