15 Upcoming Horror Movies We're Dying To See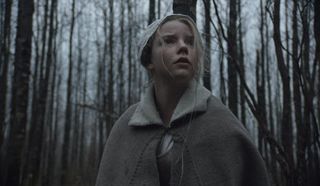 As a genre, horror often gets a bad rap. Even though it's my favorite cinematic subset, you admittedly have to wade through a lot of dreck to get to the gems, but part of why we participate in this slog is because of how great the good stuff can truly be. And every year, without fail, there are some fantastic horror movies that are well worth your time and investment.
There are sure to be some absolute bombs in the genre, but now that we're firmly ensconced in 2016—we're only a few weeks into the new calendar, but two of the wide released have already been horror joints (The Forrest and The Boy)—we thought we'd take a look at some of the upcoming genre titles we're stoked for. Sure, not all of these are going to pan out like we hope (they never do), but all of these have the potential to be a lot of fun and maybe even scare the shit out of you.
Pride And Prejudice And Zombies (February 5)
When Seth Grahame-Smith's literary horror mash up Pride and Prejudice and Zombies hit in 2009, it sparked a craze. The book takes Jane Austen's novel of manners and, as the title suggests, inserts scenes of zombie carnage, setting the story in an alternate universe where the dead walk the Earth. Burr Steers' film of the same name follows heroine Elizabeth Bennett, who, in this version, has been trained to become proficient in various forms of weapons and martial arts, as she discovers love and dispatches swarms of the undead. This could turn out to be fantastic, or it could totally suck, but if they pull it off, Pride and Prejudice and Zombies may very well be a lot of fun.
The Witch (February 19)
It's been more than a year since Robert Eggers' feature directorial debut premiered at Sundance, but we've waiting for The Witch like few other films ever since. The story revolves around a 17th century Puritan family who live alone on the edge of the New England wilderness. Their infant son disappears, the daughter is suspected of witchcraft, and the family has to face an unknown evil while they break apart and descend into hysteria and madness. And there's a creepy goat. The film has been praised as a tense, harrowing, unsettling tale that slowly builds up the pressure and horror, and it has been hailed as one of scariest movies in recent years.
The Other Side Of The Door (March 11)
When you use supernatural means that you don't quite understand to talk to a deceased loved one, those endeavors, cinematically speaking, never go particularly well for the people involved. In The Other Side of the Door, when a grieving mother (The Walking Dead's Sarah Wayne Callies) employs an ancient ritual to say a final goodbye to her young son who died in a traffic accident, she opens a door that is a portal between the worlds of the living and the dead, and as you probably guessed, it has disastrous results. While the plot doesn't break any new ground, it's fertile territory for a creepy story, and you just know there are going to be spooky dead kids to send shivers up your spine.
Midnight Special (March 18)
Maybe more science fiction than straight up horror, Jeff Nichols' upcoming Midnight Special looks to have plenty to recommend it to horror aficionados. A father heads out on the run to protect his young son, who has unique powers, from a religious sect and a government task force who want to use him for their own ends. That sounds like more than enough to get us interested, but with a cast that includes Michael Shannon, Kirsten Dunst, Joel Edgerton, Sam Shepard as a cult leader, and Adam Driver as the head of the government task force on their trail, not to mention potentially world-altering impact, Midnight Special could be awesome. In the can for almost two years, this has been delayed a number of times, but will debut at SXSW this year and finally hit theaters shortly after.
The Disappointments Room (March 25)
Over the course of his career, DJ Caruso (Disturbia) has had some misses, but his upcoming The Disappointments Room has a ton of potential. Wentworth Miller, most know for acting in the likes of The Flash and Prison Break, wrote the script, and his last outing, the quiet, unsettling Stoker, was one my favorite movie of 2013. This time out, he tells the story of a mother (Kate Beckinsale) and son (Lucas Till) who think they found their dream home in the country, only to discover, and then release, unspeakable horrors in the attic. Not exactly new territory, but there are enough intriguing pieces in place that this is one I'm keen to check out.
Rings (April 1)
It's been almost a decade since we've seen an entry from the J-horror adapted The Ring series, but 2016 will bring us the third installment, Rings. Set 13 years after the original, the only returning player is Samara, who once again, via videotape, returns to wreak havoc and rack up a body count. When a group of unlucky teens are unfortunate enough to watch the tape and have to find someone else to watch it and take their place. (Haven't these teens gone digital yet? Wouldn't YouTube be a much more efficient way to disseminate this footage? What teen even has a VCR anymore?) We'll have to wait and see how this turns out, but hopefully this will finally be a sequel that lives up to the 2002 original, and the Japanese version before that.
Green Room (April 1)
A throwback to tense, economic standoff movies where a group of heroes has to defend themselves against invaders, Jeremy Saulnier's follow up to Blue Ruin, Green Room, is a grim, violent time. A young punk band on tour witnesses a murder find themselves trapped in the venue, besieged by a group of vicious white supremacists led by none other than Patrick Stewart, who I can't wait to see play against type—he looks positively terrifying. Green Room made the festival rounds in 2015—and just screened at Sundance—but it's almost here for the rest of us. Brutal and savage, this is not one for the faint of heart.
The Conjuring 2: The Enfield Poltergeist (June 10)
James Wan may have helmed the billion-dollar-plus-earning Furious 7, but he's still a horror fiend at heart, and he's back in the saddle for The Conjuring 2: The Enfield Poltergeist. He's not the only one back, as Patrick Wilson and Vera Farmiga reprise their roles as real life paranormal investigators Ed and Lorraine Warren as they embark on one of their most infamous cases. This time around they travel to London to help a single mother who lives in a house besieged by evil spirits and some of the kids are possessed. There isn't much more than that known in terms of specific, but based on that and the cold creepiness of the original, it's enough to get us excited. And it has to be better than the spinoff Annabelle, right?
The Purge 3 (July 1)
I wasn't a huge fan of the low-budget home invasion The Purge, but the sequel, The Purge: Anarchy, was more of a gritty, exploitation style throwback actioner than straight up horror, and it I totally dug it. The plot for The Purge 3 is being kept under wraps—except, you know, for the part where all crime, including murder, is legal for one night—but an alternate title is The Purge: Beginnings, and with Frank Grillo back, the implication is that perhaps we'll learn more about his gruff, near-mute character, Sergeant. It's also been said that part of the story revolves around an anti-Purge presidential candidate targeted for assassination. There is room for a lot of interesting social commentary that the previous two films have touched on, but never truly explored, so hopefully The Purge 3 will get in on that. But even if they don't, if it's even close to as badass as the last one, I'm all in.
Lights Out (July 22)
The premise of Lights Out is simple: there's a sinister creature that only appears when the lights go out. Shocking, I know. David F. Sandberg directs the feature length adaptation of his own viral short film, and there must be something to it as it earned a prime summer release date (though it is up against Star Trek Beyond). James Wan also produced the picture, so he could have a big, horrific summer. Starring Teresa Palmer, there's not a ton to know about this at the moment, but the original short was creepy as hell, so if Lights Out lives up to that, we're in for one hell of a good, not to mention terrifying, time.
A Man In The Dark (August 26)
In A Man in the Dark, when a group of teens who have gotten away with a string of robberies breaks into a blind man's house thinking it'll make for an easy score, they get way more than they bargained for. The reclusive man (Stephen Lang) turns the tables and they find themselves fighting for survival against a vengeful psychopath with a secret past—sounds kind of like an angry Home Alone. That sounds like gold to me. Fede Alvarez, who directed the Evil Dead remake, has moved on from hopes of expanding that franchise and landed here, and from the description I'm going to guess that he'll have ample opportunity to showcase the same cinematic vicious streak he showed off last time (that scene with the nail gun, yeesh).
Leatherface (2016)
For the most part, I wish people would just leave classics like The Texas Chainsaw Massacre alone, but that hasn't happened yet, as it's been rebooted and sequelized ad nauseam to diminishing returns each time. Still, the latest attempt at reimagining, Leatherface, sounds just strange enough that it might be worth a look. First, Stephen Dorff has been cast at the iconic villain who usually spends the entire movie behind a mask and is played by a giant dude (Gunnar Hansen must be rolling in his grave). In this version the cannibal murderer abducts a nurse while a revenge-minded cop is hot on his tail. Will this be enough to revive the franchise? Who knows, but it sounds like it might be entertaining.
31 (2016)
Cards on the table, I'm not a huge fan of Rob Zombie's movies—Lords of Salem probably my favorite of his directorial output—but there's no denying the man's enthusiasm for horror, which shines through in everything from casting unsung genre icons to the exploitation style stories he often chooses to tell. His latest, 31, just debuted at the Sundance Film Festival, and it sounds right in his cult-horror wheelhouse. The plot revolves around five carnival workers held hostage and forced to play a deadly game called 31, all while being terrorized by a gang of evil clowns. This sounds like something that would have played as the back end of a grindhouse double feature, and like a damn fine time to me.
Get Out (2016)
Though he's most widely known for his comedy chops, Jordan Peele is taking a dip in the horror pool in 2016, writing and directing Get Out. There isn't much known about the plot except that it revolves around a black man who accompanies his white girlfriend to her family's estate, which is, of course, haunted or cursed, but there is a ton of upside here. Peele has a sharp, clever wit, and a penchant for toying with genre conventions, so this is sure to be much more than your standard, run of the mill horror flick. We're not sure when it will drop, but Get Out also has a great cast in place, with Allison Jones, Daniel Kaluuya, and Caleb Landry Jones.
The Neon Demon (2016)
Anytime Nicolas Winding Refn, the mastermind behind Drive, Only God Forgives, and Bronson, among others, makes a movie, that's a notable occurrence. But with The Neon Demon, he brings his unique vision, deliberate pacing, and brutally tense atmosphere to horror, and that's enough to make me giddy. When an aspiring young model (Elle Fanning) moves to Los Angeles, she falls in with a group of beauty-obsessed women who want to devour her youth and vitality for their own ends. That's a vague description to be sure, but with Refn at the helm, and a cast that includes Keanu Reeves, Christina Hendricks, Jena Malone, and more, The Neon Demon is something horror fans should be excited for.
Your Daily Blend of Entertainment News
Thank you for signing up to CinemaBlend. You will receive a verification email shortly.
There was a problem. Please refresh the page and try again.