Upcoming Horror Movies: Scary Movies And Thrillers Coming To Theaters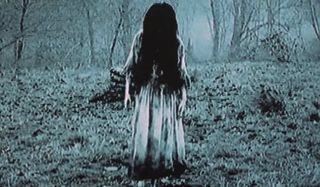 There's nothing better than sitting in a movie theater and getting the living daylights scared out of you. We absolutely love it. Over the last few years, horror has become one of the most consistently reliable genres at the box office as we've seen plenty of modern classics debut. From the supernatural threats of The Witch, to the visceral, realistic scares of Don't Breathe, to the otherworldly, and unexplainable terror of It Follows, there's been no shortage of scares for every preference and sensibility.
However, those examples only represent the beginning of a horror renaissance, and the terror won't stop any time soon. We've gone through the coming months and chronicled every worthwhile horror movie slated to hit theaters in the near future. If you consider yourself a fan of the horror genre, make sure to check out the following list and fill out your calendars accordingly.
Incarnate
Aaron Eckhart consistently brings A-list talent to B-grade genre flicks, and that beautiful combination appears to be on full display with Incarnate. Taking the best elements of The Exorcist and Inception, the film follows an exorcist as he delves into the mind of a young boy (Gotham's David Mazouz) to banish an evil spirit dwelling within him. Incarnate looks like an awesome balance of cerebral and supernatural, so we can reasonably expect plenty of trippy visuals and horrifying battles with the demonic force.
Release Date: December 2, 2016
Friend Request
The internet. Scarier, in the modern horror genre, than Freddy, Jason and Michael Myers combined. Movies like Unfriended and FearDotCom have turned the common digital tool of social media into a terrifying act that ends in our demise. We get it. Facebook is evil. In Friend Request, a college student starts being haunted when she unfriends a stranger. Admit it: You feel a little guilty when you unfriend someone. Well, now you may feel a little dead when you click that button.
Release Date: December 9, 2016
Amityville: The Awakening
Hollywood has been trying to turn the lights back on in America's most infamous haunted house, the Amityville horror, and Disney Channel breakout star Bella Thorne will be the one attempting to breathe new screams into the dormant franchise. The concept seems basic enough, with a single mom moving into a broken down house to save money... only to realize that it's the Amityville home that they have acquired. Jennifer Lason Leigh plays Bella Thorne's mom, which means, at the very least, this will be watchable just to see her performance.
Release Date: January 6, 2017
Underworld: Blood Wars
Yep. Another Underworld. Raise your hand if you are still riding along with this franchise, which stars Kate Beckinsale as Selene, the leather-clad warrior caught in a life-long battle between wolves and vampires. And by "life-long," I mean that this franchise likely will outlive all of us. We're on five and counting, with this one co-starring Theo James and Charles Dance, and centering around the fight for Selene's daughter.
Release Date: January 6, 2017
The Bye Bye Man
What compels us to commit acts of evil? Do we have a natural tendency towards violence, or does something force us to do these terrible things? The Bye Bye Man examines that idea by following a group of college students as they uncover the terrifying truth behind a supernatural entity known as The Bye Bye Man -- a demonic presence that possesses people and urges them to commit unspeakable acts.
Release Date: January 13, 2017
Split
M. Night Shyamalan started a comeback tour with The Visit in 2015, and Split already looks like it will keep that momentum going at least into 2017. The infamous director has gone back to his roots and crafted a chilling film about a man (James McAvoy) with severe split personality disorder who holds three young girls prisoner. There's a darkly humorous element to the entire affair (particularly McAvoy's childlike performance) and Split could very well reestablish Shyamalan as giant in the thriller genre.
Release Date: January 20, 2017
Resident Evil: The Final Chapter
Milla Jovovich's Alice will take the fight to The Umbrella Corporation one final time when the appropriately titled Resident Evil: The Final Chapter hits theaters. The sixth installment in the long-running video game series, The Final Chapter will follow Alice as she returns to The Hive from the original movie, and ends the battle once and for all. As this will be the last installment in the franchise, all bets are off, so expect plenty of bloodshed along the way.
Release Date: January 27, 2017
Rings
After over a decade of dormancy, the Ring franchise has returned to apply its unique Japanese-American horror sensibilities to the modern digital age. Rings takes the franchise's basic premise -- you will die seven days after watching a cursed video -- and delves deeper into the mythology by exploring another video hidden within the original tape. In the YouTube era where videos can go viral at a moment's notice, Rings marks a welcome return for the terrifying franchise. This was due out in 2016, but recently got bumped back, so stay tuned.
Release Date: February 3, 2017
Get Out
The title is Get Out. What other warning do you need? Get out. But one of the reasons why we are intrigued by Get Out is that fact that it is written and directed by Jordan Peele -- one half of Key and Peele. In this film, a young man visits his Caucasian girlfriend's family estate... which may or may not be cursed. Should he stay? Look at the title. Right, I know, but what if he... Nope. Look at the title. Get out.
Release Date: February 24, 2017
The Belko Experiment
When he isn't exploring galaxies with his beloved Guardians, James Gunn was busy penning this demented horror thriller, in which 80 Americans are locked in their high-rise office complex and ordered, by a mysterious voice, to participate in a "kill or be killed" experimental game. Sounds gruesome, and the movie generated some intense reviews after playing Midnight Madness at the Toronto International Film Festival. After a bit of a wait, audiences finally will be able to play along with the Experiment early in 2017.
Release Date: March 17, 2017
Friday the 13th
Jason Voorhees has spent the better part of the last decade at the bottom of Crystal Lake, but he will soon rise to once again terrorize campers and horny teens in grisly fashion. The upcoming Friday the 13th will take a deeper look at the Voorhees family history, and showcase the deep-seated issues lurking within Jason's mind. As always, we can likely expect hockey masks, machetes, and buckets of blood with this one. Welcome back, Jason; we've missed you.
Release Date: TBD
Your Daily Blend of Entertainment News
Originally from Connecticut, Conner grew up in San Diego and graduated from Chapman University in 2014. He now lives in Los Angeles working in and around the entertainment industry and can mostly be found binging horror movies and chugging coffee.