Lawyer Accused Of Illegally Shooting A Porn Movie Called Girls In Jail At A Real Jail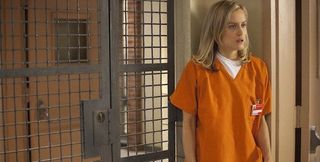 Here we have the latest instance of 'Florida Man' stories, where something crazy happens in Florida that would be insane anywhere else but is passé and almost expected in the Sunshine State. This latest story finds an attorney having sex with female inmates and recording it as a part of a porn video project he was making. What is the title of this video you wonder? I'm glad you asked. The attorney, Andrew Spark, favored succinctness and clarity, and being a creative savant, went with Girls in Jail.
According to Fox 13 News, the events took place at Pinellas County Jail in Clearwater, Florida because of course they did. The sheriff's office detectives received a tip (phrasing) that Andrew Spark was paying inmates at the county jail for sexual acts. A 25-year-old inmate, Shauna Boselli, says that Spark visited her in jail, even though he is not her attorney, and offered to put money into her commissary account in exchange for oral sex. While she wisely turned him down, he had already been meeting with another inmate, 28-year-old Antoinette Napolitano, who took him up on his offer. In fact Spark and Napolitano had met privately and had sex at the jail at least six times between June and December of this year. So either Spark needed plenty of coverage or he was aiming for a whole series of videos.
Sheriff Bob Gualtieri, explained that Andrew Spark would film the inmate while in her jail outfit, the establishing shot if you will. He would then have her narrate sexual fantasies (show don't tell, what is this amateur hour?) before moving on to the main event. Girls in Jail went into turnaround when detectives entered the attorney visitation room and caught the attorney literally with his pants down, as he and the inmate were getting ready for the Martini Shot. Andrew Spark was charged with exposure of sexual organs, introduction/possession of contraband into a county detention facility and soliciting for prostitution.
Maybe Andrew Spark can use the fact that he was videotaping the act in his defense, saying it was pornography and not prostitution. He was making a film, a film with an excellent title that's easy to spell. In addition to being an attorney, Mr. Spark is also clearly a businessman. Porn is more dangerous than it used to be and it takes a lot to stand out from the crowd. He recognized that what the discerning pornography fan really craves, is authenticity. All the make believe in modern porn must not have sat right with him. He's not really a pizza guy?! They aren't really sisters?! No sir, Girls in Jail would have actually starred girls in jail. The jail itself would have been legit too, because in addition to authenticity and a tight script, played straight, the key to a successful adult film is production design.
But alas, Girls in Jail is now in a development hell from which it will never return. For Andrew Spark, he may have to hope that he has a future as an adult filmmaker, because I'm not an expert, but there's a good chance he's going to get disbarred for this. For all the latest in True Hollywood, err Clearwater Stories, and any updates on the authenticity in porn movement keep it here on CinemaBlend.
Your Daily Blend of Entertainment News
Nick grew up in Maryland has degrees in Film Studies and Communications. His life goal is to walk the earth, meet people and get into adventures. He's also still looking for The Adventures of Pete and Pete season 3 on DVD if anyone has a lead.