Hugh Jackman's Latest Post For Ryan Reynolds Has Fans Talking About Canadian Star's Fashion Choices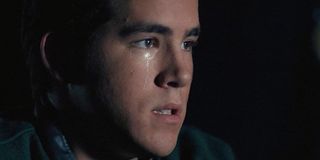 The faux feud between Hugh Jackman and Ryan Reynolds will never die, nor should it. It's just been too much fun to see them constantly go back and forth over the years. This time, Hugh Jackman's on the offensive with his latest post wishing Ryan Reynolds a happy birthday while simultaneously mocking his past attire. Now, fans can't stop talking about the Canadian star's fashion choices.
Ryan Reynolds recently celebrated his birthday, and Jackman, of course, sent a message. Yet instead of just posting a quick Happy Birthday and being done with it, Hugh Jackman decided to poke a little fun at his longtime fake nemesis on Twitter. Check it out:
No, your eyes are not deceiving you; that is a much younger Ryan Reynolds wearing a dated '90s collared shirt while playing the drums. Considering the time this was taken, Ryan Reynolds was likely around the age of 14 in this photo.
One of Ryan Reynolds' earliest gigs was playing Billy Simpson on Canadian-American TV show Fifteen (also called Hillside), which aired on YTV and Nickelodeon from 1991 to 1993. This photo, of course, is from one of the scenes on the show.
Ryan Reynolds was quick to reply to Hugh Jackman's slight but, instead of taking a crack at Hugh Jackman, he took a more self-deprecating route:
Of course, fans weren't about to let the past lie with this one. They also found some other very '90s styles that Ryan Reynolds chose. Like this little number:
If you haven't noticed yet, these things definitely resemble the fashion presented in Saved By The Bell. That's not really a mistake. Fifteen, after all, was very much the same kind of show and aired around the same time. It was inevitable they'd look similar:
Some other fans really came out swinging, saying his yellow shirt was so ugly it posed a threat to humanity:
Fair enough. That shirt was certainly a product of its time and should be left in the past where it belongs. However, Ryan Reynolds' fans were quick to shift gears, calling out some of his other not-so-great fashion choices. Some of which, I'll admit, are nigh-indefensible. Like Exhibit A:
Oof. That's a tough one. Ryan Reynolds looks pretty miserable in between Hugh Jackman and Jake Gyllenhaal in that photo. Surely this kept the feud between Jackman and Reynolds roaring. But then fans started bringing up other aspects of Reynolds' look, like his former hairstyle that looked an awful lot like Dane Cook's:
Well, Ryan Reynolds has certainly had an interesting fashion evolution over the years. Yet considering he's one of the most popular stars in Hollywood right now, that hasn't seemed to hamper him at all. Keep it tuned to CinemaBlend for more movie news.
Your Daily Blend of Entertainment News
Thank you for signing up to CinemaBlend. You will receive a verification email shortly.
There was a problem. Please refresh the page and try again.