Taylor Swift Looked Incredible On Stage This Weekend, Check Out The Pic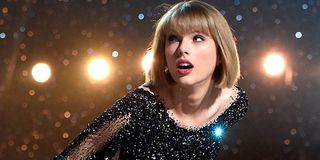 Though Taylor Swift has been in the news more for her personal life than her music this year, she proved that she is still an insanely talented force to be reckoned with on stage in Austin, Texas this weekend. The singer took to the stage in her only concert performance of 2016 on Saturday looking absolutely stunning in a sparkling black skirt with a matching top, paired with her signature straightened blonde bob and red lipstick.
The Austin show was Taylor Swift's first on-stage concert since 2015, when she toured all year in promotion of her late-2014 release 1989. Given that Swift has followed a consecutive schedule of releasing all of her five studio albums in the fall of even-numbered years, fans were speculating that Swift may premiere new music at the concert, but that wound up not happening. Instead, Swift treated the estimated eighty thousand attendees to a smattering of her hits, including recent smashes like "Blank Space" and "Shake It Off," along with some of her earlier songs like "You Belong To Me" and "Fifteen," Rolling Stone reports.
However, Taylor Swift did surprise the audience with one shocking cover that she's never sang before. The singer sat at a white grand piano to deliver an acoustic cover of her ex-boyfriend Calvin Harris' summer smash "This Is What You Came For." The performance comes after Taylor Swift's team revealed that Swift had co-written and provided some backing vocals to the track after it was released with Rihanna as the lead vocalist. Swift was credited under the pseudonym Nils Sjöberg on the track's credits, as Harris and Swift had reportedly wanted the song to not be overshadowed by their relationship.
After Calvin Harris and Taylor Swift very publicly split up over the summer and Swift quickly began dating actor Tom Hiddleston, Harris fired a string of tweets at his ex, accusing her team of trying to tear him down by revealing that she was Nils Sjöberg. Due to the controversy surrounding its writing, Swift's performance of the song this weekend raised quite a few eyebrows. Check out her cover below.
The concert served as a welcome reminder that though she's been absent from the stage and the radio waves throughout 2016, Taylor Swift is still an adept musician who is fired up to continue making hits. Unfortunately, since Swift wasn't cranking out music this year, the media instead focused on her personal life, which got her into a couple of feuds.
Aside from the messy breakup with Calvin Harris, Swift also found herself in the middle of a months-long beef with Kanye West and his wife Kim Kardashian. After the rapper included Swift's name in a lyric that she felt was derogatory, she publicly derided the song. Later on, Kim Kardashian revealed that West had called Swift on the phone before putting out the song and she had approved the line, and went on to release the recorded phone calls in a series of snapchat videos. Swift responded with a note saying that the calls never addressed the fact that West referred to her as "that bitch."
Anyway, that feud looks like it's dead now, and Taylor Swift can go back to making headlines for her musical talents instead of her breakups and beefs.
Your Daily Blend of Entertainment News
Thank you for signing up to CinemaBlend. You will receive a verification email shortly.
There was a problem. Please refresh the page and try again.