Kevin Hart Turned His Malibu Backyard Into A Winter Wonderland For His Kids, See It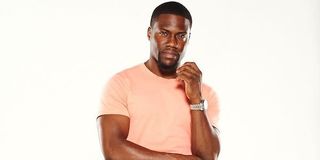 Kevin Hart is no stranger to throwing extravagant parties for holidays and special occasions. Now the 38-year-old comedic actor has once again demonstrated how much he loves first-rate celebrations by bringing Aspen, Colorado, to his home in Malibu. On December 24, Hart posted on social media he could not take his family to Aspen per tradition this year; so instead, he hired crews to pour truckloads of snow over his hilly SoCal backyard. Hart began the amusing video in front of an area of his house that easily could have been in the mountains of Aspen; he even was wearing a heavy winter coat. And after explaining, Hart spun the camera around to reveal he indeed was in sunny California, not Colorado:
Kevin Hart has yet to share the exact details of how he managed to cover his backyard in Malibu with snow. But from the Instagram video, it looks like everyone was having a blast. Hart gave his family Christmas gifts such as snow boots so that they could go outside and play in the faux winter wonderland with sleds. According to E!, there even was ice skating. Hart's wife, Eniko Parrish, also showed off the wintry occasion via Instagram:
What a beautiful Christmas Eve! Kevin Hart undoubtedly made his wife and three children very happy this year with the special white Christmas. If you can believe it, this snowy Christmas Eve event was not even the best event Hart planned in 2018. Hart and his wife Eniko Parrish welcomed a baby boy in the fall, but before the little guy made Hart a father of three, he threw a lavish baby shower with a Lion King theme with a celebrity guest list including Ludacris. Bring Aspen to California certainly gives the baby shower a run for its money. And speaking of money, the shower supposedly ran Hart six figures.
Kevin Hart also hit high notes this year by starting a crowdfunding campaign to raise funds to aid victims of Hurricane Harvey. He used social media to ask his celebrity friends to make donations, so stars like Jennifer Lopez and Alex Rodriguez sent money. Unfortunately, the positive deed met with scrutiny when the rumor mill got word of a conspiracy theory that said Hart was using the money to pay off an alleged blackmailer. This particular story opened up some Hart family drama concerning a video of the comedian in a questionable situation with another woman. Hart later apologized for his bad behavior, but he assured everyone the funds from the crowdfunding effort were going to the correct people.
Now Kevin Hart is finishing the year strong. He recently enjoyed the premiere of Jumanji: Welcome to the Jungle in which he stars opposite Dwayne Johnson, Karen Gillan, and Jack Black. And to top it all off, he gave his family a Christmas Eve gift they surely will not forget anytime soon. Here's hoping he shares the details of how he managed to pull off such incredible parties this year.
Your Daily Blend of Entertainment News