Ashton Kutcher Is The 500th Person To Join Virgin Galactic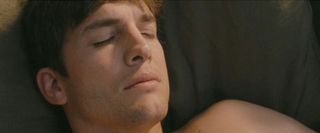 Richard Branson's Virgin Galactic flight has really been in the works since his team met to begin planning the building of the shuttles way back in 2002. In the time since, the privately commandeered space flight program has interested parties including celebrities, space buffs, and anyone else that can afford the steep $200,000 price ticket.
Today, Branson a announced momentous moment for the Virgin Galactic: the project has found its 500th astronaut, and he is none other than Ashton Kutcher. Branson hyped the news via his personal blog Monday, speaking out about what the event means to him.
While Kutcher himself has not spoken out about his reasons for joining the Virgin Galactic tour, he did retweet a message from Branson that welcomed him on board, so I guess we can take that to mean excitement.
While the flights have yet to take off and most of us can't afford them, it's still pretty exciting to see space travel move to the private sector, especially with a trip that seems as simple as a 2 ½ hour tour. We'll see if it happens soon enough, and when it does, we know one celebrity who will be on board.
Your Daily Blend of Entertainment News
Thank you for signing up to CinemaBlend. You will receive a verification email shortly.
There was a problem. Please refresh the page and try again.