How To Watch The Emmys 2019 Streaming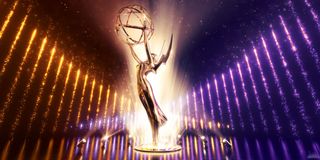 The Emmys air this year on Sunday, September 22 over at Fox. The whole shebang officially starts at 8 p.m. ET and, of course, there will be a pre-show beforehand talking up all of the projects celebrities have been nominated for. However, if you are one of those people who love TV and love the Emmys but won't be able to watch via a cable box, you may be looking for how to watch the program streaming.
The good news? There are multiple ways to stream the Emmys for those who both subscribe to a cable package and those who may have cut the cord. If you are looking to watch the Emmys in 2019, there are myriad ways to stay active and keep up with what's going on during the main event, from social to streaming -- and that's true both for the main event and the pre-shows that have been popularized over the years, thanks to their focus on fashion and celebrity interviews.
If you've been trying to figure out how exactly to stream the Emmys and the pre-show, we've put together a handy guide to give you a sense of the options that are out there. Given there is not going to be a host this year, things could get.. a little interesting. Or perhaps they'll be even more efficient than normal. Either way, I can't wait to see what happens.
How To Watch The Emmys 2019 Streaming
If you do have cable: Doing a little prep work in advance may be helpful. First, you'll need your cable account info. Then, you can go to Fox.com or, if you're mobile, the Fox Now App. You should be able to login ahead of time and be ready to stream the full show when it airs on the Sunday night in question.
How To Get The Fox Now app: head here. (opens in new tab)where you can download the app ahead of the big event later this month.
How To Watch On Fox: head here, where Fox already has an Emmys page set up ahead of the 71st Annual Awards ceremony.
If you don't have cable: Have no fear! In previous years, fans of the Emmys have been able to stream the popular awards ceremony through Hulu or services like DirecTV Now. Look at what you currently subscribe to to figure out what potential options you may personally have.
In addition, if none of these options are available to you, the Television Academy does its own video work, and will keep you abreast of everything going on backstage during the Emmys with its own behind-the-scenes live feed for free. Social media, such as Twitter, can also be a viable place to find commentary on some of the night's biggest moments, and celebrities will often share their looks on Instagram after their big walks down the red carpet. It's easier than ever to stay in the loop.
How To Watch The Emmys Pre-Show Streaming
The Emmys pre-show starts pretty early. While the main event won't begin airing until 8 p.m. ET, it's worth noting that's actually 5 p.m. PT. Which means the pre-show is happening even earlier on September 22. It starts at 5 p.m. ET or 2 p.m. PT, which is how it will still be bright and sunny when the cameras are rolling on the red carpet.
E!'s popular pre-show is usually available via the E! app streaming, but you need a cable login account or live TV streaming to access it. In previous years, however, People and EW have had a pre-show streaming for free online via People TV ahead of the big event. Yes, you'll be sacrificing watching the likes of Giuliana Rancic (although Ryan Seacrest is not yet confirmed and has missed before) talk to some of the biggest names in the industry, but if your goal is to catch a fashion fix, the pre-show is usually available on People.com as well as the People TV app and is a viable option for cord cutters. It's a nice option for anyone who doesn't have regular TV, actually.
What About Watching All Of The Emmy-Nominated Shows?
Of course, if you are wanting to catch shows ahead of the 2019 Emmy Awards, that's a horse of a different nature. A slew of shows nominated for this year's awards can be found on Netflix, including Russian Doll (a show so wild I really did binge it in one day), Ozark, and Betty Gilpin for GLOW.
HBO and Amazon both have gotten a lot of awards attention this year, with programs ranging from Game of Thrones to Barry on the subscription cabler to shows like The Marvelous Mrs. Maisel and Flea Bag – from Bond 25 writer Phoebe Waller-Bridge, all getting nominations. So, overall, I'd say it's been a pretty big year in regards to nominations for streaming services, with even CBS All Access' The Twilight Zone guest star Kumail Nanjiani nabbing a nod.
Some programs that earned nominations this year are, of course, more traditional cablers without a streaming component, like AMC's Better Caul Saul, FX's Pose or NBC's This Is Us. Sometimes these shows do show up on streaming services such as Netflix or Hulu, but that ultimately depends on overall carriage deals. If you'd like to take a look at the full list of 2019 Emmy nominations, we have you covered.
Full List Of 2019 Emmy Awards Feature A Lot Of Nods For HBO And Netflix
There's not really enough time to binge-watch all of these programs before the actual Emmys ceremony, but hopefully there are some in there you've already seen and some more that you feel may be worth checking out, particularly now they're getting a bit more buzz.
Please also note that some 2019 Emmy events actually do take place before the big ceremony at Microsoft Theater in Los Angeles. The Creative Emmy Awards will happen on September 14 and September 15, before the main event on September 22. FXX will actually air the Creative Emmys on regular TV on September 21, just ahead of the Fox airing of the 71st Primetime Emmy Awards. For more on what's coming, be sure to take a look out our fall TV premiere schedule. In the meantime, be sure to keep your fingers crossed for your personal favorites.
Your Daily Blend of Entertainment News
Reality TV fan with a pinch of Disney fairy dust thrown in. Theme park junkie. If you've created a rom-com I've probably watched it.
Your Daily Blend of Entertainment News
Thank you for signing up to CinemaBlend. You will receive a verification email shortly.
There was a problem. Please refresh the page and try again.