All American Cast: Where You've Seen Them Before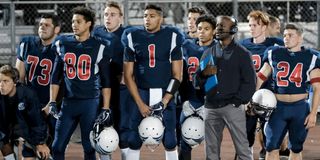 Since its debut in 2018, The CW's football drama All American has become one of the most popular and talked about shows on all of television thanks it part to its insanely deep and talented cast of actors from multiple generations. The All American cast, with Hollywood veterans like Taye Diggs and Casper Van Dien, and and up-and-coming stars in the making with Daniel Ezra and Chelsea Tavares, is one of them out diverse and unexpected on all of television.
But after binging the first two seasons of All American on Netflix and reading up on everything that's going down behind the scenes on Season 3, there may be some out there who are wondering where they've seen the All American cast before. If you are in those ranks then you have come to right place. From Starship Troopers to How Stella Got Her Groove Back, here's where you've seen the All American cast.
Daniel Ezra (Spencer James)
Daniel Ezra, who portrays the series lead Spencer James on All American, may seem like he was born and raised in the city of Los Angeles, but his appearance on The CW's football drama is from Birmingham, England, and didn't make his American acting debut until the show's freshman season. Before landing the role based on the life of Spencer Paysinger, Ezra made a name for himself on shows like A Discovery of Witches, The Missing, and Prime Suspect 1973, to name a few. Be on the lookout for this rising star in the years to come.
Taye Diggs (Billy Baker)
Taye Diggs is without a doubt the most notable actor in the All American cast, and brings decades of experience to his role as Beverly Hills High football coach Billy Baker. Diggs made his theatrical debut in the Angela Bassett-led 1998 romantic comedy How Stella Got Her Groove Back, which he followed up with leading roles in films like The Wood, House on Haunted Hill, and the big screen adaptation of the Broadway sensation Rent, where he reprised his role as Benny from the original stage production. Over on the TV side, Diggs has had some pretty long runs on shows like Murder in the First, Empire, and Private Practice, which netted the talented actor the NAACP Image Award for outstanding supporting actor in a drama series in 2009.
Bre-Z (Tamia "Coop" Cooper)
American actress and rapper Bre-Z (real name Calesha Murray) portrays Tamia "Coop" Cooper, Spencer James' friend from Crenshaw High School and eventual love interesest of Patience (Chelsea Tavares) later on. Bre-Z first entered the public spotlight with her gripping performance as Freda Gatz on Empire, which she followed up with bit roles on Tales, The New Edition Story, and Down for Whatever.
Chelsea Tavares (Patience)
Chelsea Tavares portrays Patience, Coop's love interest through much of the first two seasons of All American. In addition to appearing on The CW's high school drama, the Los Angeles native has been seen on Unfabulous and Queen of the South as well as in the 2011 remake of Fright Night. Video game fans will recognize her voice from her role as Glory in Fallout 4 and more recently in The Last of Us Part II, in which she served as the voice actress and motion capture model for Nora. Expect to see more of Tavares and her character on All American Season now that she has been promoted to series regular.
Greta Onieogou (Layla Keating)
Greta Onieogou is seen throughout the first two seasons of All American as Layla Keating, a wealthy student at Beverly Hills High School who has an interest in Spencer after he transfers over from Crenshaw. Besides her main role on the show, Onieogou has also appeared in movies like Fever Pitch and Miss Sloane as well as shows like Heartland and Degrassi: The Next Generation.
Samantha Logan (Olivia Baker)
Samantha Logan portrays Olivia Baker, the daughter of Coach Billy Baker and admirer of Spencer James in the first two seasons of All American. Outside of her performance as a high school student in one of the most affluent neighborhoods in Los Angeles, the actress has appeared in movies like Alexander and the Terrible, Horrible, No Good, Very Bad Day and the terrifying Polaroid and TV series such as Teen Wolf, General Hospital, and 13 Reasons Why.
Michael Evans Behling (Jordan Baker)
Michael Evans Behling is known to the fans of All American as Jordan Baker, the hotshot and reckless quarterback of Beverly Hills High School whose rivalry with Spencer James morphs into a close bond. Behring's role on All American is the actor's first big break, with his only previous credit coming from a 2017 episode of Empire. The Ohio native also appeared in a 2019 episode of Grey's Anatomy.
Cody Christian (Asher Adams)
Cody Christian plays Asher Adams, the star wide receiver from Beverly Hills High School whose life takes a turn for the worse following his parents' divorce and his father's fall from grace. Prior to showing up on All American, Christian appeared in a number of theatrical releases like Kill the Irishman, The Starving Games, and Assassination Nation, as well as a number of television projects like Pretty Little Liars, Teen Wolf, and True Blood. Fans of Final Fantasy VII Remake will notice Christian's voice from his performance as Cloud Strife, the game's main protagonist.
Karimah Westbrook (Grace James)
Karimah Westbrook appears throughout the first two seasons of All American as Grace James, the mother of the show's main character, Spencer James, and high school friend of Beverly Hills High School coach Billy Baker. Over the course of the past 20 years, Westbrook has taken on bit roles in a number of hit television series like ER, Without a Trace, Mad Men, and Shameless. She has also appeared in moves like Save the Last Dance, The Rum Diary, and George Clooney's 2017 dark comedy Suburbicon.
Monét Mazur (Laura Fine-Baker)
Monte Mazur portrays Laura Fine-Baker, the estranged wife of Coach Billy Baker and disciplinarian mother of Olivia and Jordan Baker in the first two seasons of All American. Over the years, Mazur has appeared in a number of successful feature films like Addams Family Values, Austin Powers: International Man of Mystery, Blow, and 40 Days and 40 Nights, as well as as various television shows like Days of our Lives, Castle, CSI, and Rizzoli & Isles.
Jalyn Hall (Dillon James)
Newcomer Jalyn Hall portrays Dillon James, the younger brother to main character Spencer James in All American. In addition to serving as a series regular starting with All American Season 2, Hall has made appearances in movies like The House with a Clock in Its Walls, Shaft, and All Day and a Night. The young actor has also appeared in a number of television programs like NCIS: Los Angeles, Atlanta, and Black-ish over the past few years.
Hunter Clowdus (JJ Parker)
Hunter Clowdus, while not in every episode of All American, does show up on a semi-regular basis as outside linebacker and tight end from Beverly Hills High School, but the party boy is mostly seen walking around shirtless and doing anything he can to organize the best party possible. Like a lot of his fellow cast members, Clowdus appeared on Teen Wolf on more than one occasion. In addition to appearing on the MTV series, Clowdus has also taken on smaller and uncredited roles in movies like 300: Rise of an Empire, The Internship, and La La Land.
Casper Van Dien (Harold Adams)
Casper Van Dien (yes, the one and only Casper Van Dien) shows up sporadically throughout the first two seasons of All American as Asher Adams' down-on-his-luck father, Harold Adams. Probably the most prolific actor (just by number of film and television appearances alone), Van Dien is without a doubt best known for his turn as Johnny Rico in 1997 statical science-fiction action thriller Starship Troopers and two of the film's direct-to-video sequels. The action star more recently appeared in Alita: Battle Angel, in which he played Amok, a cyborg responsible for the death of Dr. Dyson Ido's (Christoph Waltz) daughter.
Demetrius Shipp Jr. (Tyrone Morris)
Demetrius Shipp Jr. plays Tyrone Morris, the cutthroat gang leader in Crenshaw who is responsible for more than a few deaths throughout the first two seasons of All American. Shipp, a relative newcomer to acting, only has a few credits to his name, but the biggest one of the bunch, All Eyez on Me, in which he played slain rapper Tupac Shakur, is where most people remember seeing his face thanks to his striking resemblance to the late artist. The California native also recently appeared in Cut Throat City.
That about catches us up with the cast of All American and just about everywhere you could have seen them before appearing in The CW's high school sports drama. With the recent popularity in the show and talent exhibited by its main cast, it's only a matter of time before each of these young and talented actors become even more well-known.
Philip grew up in Louisiana (not New Orleans) before moving to St. Louis after graduating from Louisiana State University-Shreveport. When he's not writing about movies or television, Philip can be found being chased by his three kids, telling his dogs to stop yelling at the mailman, or yelling about professional wrestling to his wife. If the stars properly align, he will talk about For Love Of The Game being the best baseball movie of all time.
Your Daily Blend of Entertainment News
Thank you for signing up to CinemaBlend. You will receive a verification email shortly.
There was a problem. Please refresh the page and try again.