How To Watch 2021 March Madness Streaming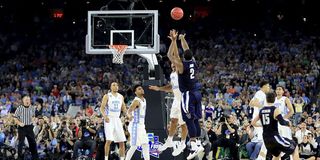 CinemaBlend participates in affiliate programs with various companies. We may earn a commission when you click on or make purchases via links.
College basketball fans rejoice — March Madness is here! After not getting to partake in the annual tradition of finding ways to get out of school, work, and other obligations to enjoy an entire weekend (and several subsequent weeks) doing nothing but watch the top teams square off in the NCAA Men's Basketball Tournament due to the 2020 event's cancellation, it's safe to say that everyone is a little more excited than in years past. But before all the excitement kicks in, you'll probably want to know where you can watch March Madness streaming since so many of us have cut the cord in recent years.
Below is a breakdown of when 2021 March Madness tips off, where you can watch it on services like Paramount+, YouTube TV, and more, as well as what you can expect from the rest of the NCAA Men's Basketball Tournament.
When Does March Madness Start And Where To Watch
Although there are four play-in games Thursday (March 18) afternoon and Thursday night, March Madness and the 2021 NCAA Men's Basketball Tournament doesn't really get going in full swing until noon Friday (March 19) when the first round gets underway in Indianapolis, Indiana (the location of the most of this year's games opposed to being held across the country as in previous years). That means you don't have long to finish your brackets before the big tournament starts later this week.
All of March Madness will be aired on various television networks throughout the duration of the tournament with the first two rounds being broadcast live on CBS, TBS, TNT, and truTV. Each of these broadcast channels are carried by most major cable and satellite companies, but if you don't have access to a traditional TV setup, you're not out of luck this year…
How To Watch March Madness Streaming
More so than ever before there are a ton of different ways to watch March Madness streaming. The best way to go about streaming the NCAA Tournament is use one of any major internet-based TV services as most carry each of the four channels (TBS, CBS, TNT, truTV) broadcasting this week's games and beyond.
Watch March Madness on YouTube TV
Watch March Madness on Hulu + Live TV
Watch March Madness on Sling TV (There's a $10-off promotion for new customers in that link)
Watch March Madness on Fubo TV
All of the games set to be broadcast on CBS can be streamed on the recently rebranded Paramount+ streaming platform, which gives subscribers access to live feeds from their local CBS affiliate as well as access to CBS Sports, which is perfect to check out all the postgame coverage and analysis throughout the tournament.
Watch March Madness on Paramount+
It should also be noted that CBS is the home to the most of the Sweet 16 and Elite Eight games as well as all Final Four games and the National Championship. Speaking of which…
What Is The Schedule For The Rest Of The NCAA Tournament
March Madness gets underway this weekend with the first two rounds of the NCAA Men's Basketball Tournament, with games essentially being played all day Friday through Sunday. But the fun doesn't stop there.
The next section of the tournament, known as the Sweet 16, will take place Saturday, March 27 and Sunday, March 28. The Elite Eight section of the tournament will take place Monday, March 29 and Tuesday, March 30 before the tournament takes a break until the following weekend.
The Final Four games tip off Saturday, April 3 with the National Championship game tipping off at 9 p.m. ET, Monday, April 5 on CBS.
Now that we know when March Madness starts, where we can watch it streaming, and when the rest of the NCAA Men's Basketball Tournament will be held, all that is left to do is fill out our brackets and clear our social calendars for the next few weekends. And if you're looking for something else to watch between games, there are a ton of new and returning tv shows this spring.
Philip grew up in Louisiana (not New Orleans) before moving to St. Louis after graduating from Louisiana State University-Shreveport. When he's not writing about movies or television, Philip can be found being chased by his three kids, telling his dogs to stop yelling at the mailman, or yelling about professional wrestling to his wife. If the stars properly align, he will talk about For Love Of The Game being the best baseball movie of all time.