The Mighty Ducks: Game Changers Cast: Where You've Seen The Disney+ Actors Before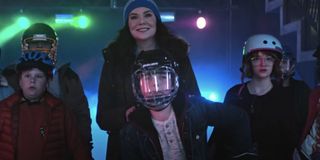 After almost three decades since the release of Disney's original, beloved family sports film, The Mighty Ducks still fly together. However, get ready to root for a whole new animal when Emilio Estevez is joined by Lauren Graham to lead a new team of young, misfit hockey players from The Mighty Ducks: Game Changers cast.
The new Disney+ original series (which you should have marked Friday, March 26, on your 2021 TV schedule for) sees Coach Gordon Bombay come out of retirement after an ambitious single mother asks the former hockey player to help her build their own child's league team after her son is cut from the latest generation of the legendary Mighty Ducks. Just like the original 1992 film, which spawned two sequels and inspired an unrelated animated series about alien/duck hybrids who also play hockey, the bulk of the cast is made up of aspiring athletes with their own fun quirks who are played by some of the brightest young talents today.
While you should not have as much of an issue recognizing Emilio Estevez and Lauren Graham, you may feel like you are on thin ice trying to remember where you have seen the aforementioned new, young talents on the series. Our goal is to help you figure that out by breaking down the career highlights of each of the main players of The Mighty Ducks: Game Changers here, starting with one actor whose whereabouts in recent years might have had you especially curious.
Emilio Estevez (Gordon Bombay)
He is one of the defining actors of his generation, known for the cult sci-fi flick Repo Man, the hit ensemble dramedy St. Elmo's Fire, or the John Hughes classic The Breakfast Club to name a few. However, The Mighty Ducks: Game Changers sees Emilio Estevez return to acting to play Coach Gordon Bombay after some time out of the public eye, despite most recently writing, directing, and starring in the ironically titled drama The Public just in 2018. Now, that the son of Martin Sheen and older brother of Charlie Sheen (both of whom he has directed and/or co-starred with numerous times) is back in the Mighty Ducks franchise, Estevez appears to be reprising another one of his best-known roles, Billy the Kid, in a recently announced third Young Guns movie.
Lauren Graham (Alex Morrow)
For inspiring Gordon Bombay's return to coaching, we can thank The Mighty Ducks: Game Changers' Alex Morrow - the latest of a few single mothers Lauren Graham has played, most famously Lorelai Gilmore on Gilmore Girls and more recently on the hit NBC dramedy Parenthood as Sarah Braverman. Even more recently, the Golden Globe nominee played Jane Levy's boss on Zoey's Extraordinary Playlist and has been voicing the mother of the titular vampire child of Disney's animated series Vampirina since 2017. Graham is also remembered on the big screen as a bartender with a Claus fetish in 2003's Bad Santa and the 2005 Disney family comedy The Pacifier as Vin Diesel's love interest and principal to the children his Navy Seal character has been assigned to take care of.
Brady Noon (Evan Morrow)
Playing Lauren Graham's 12-year-old on-screen son, Evan Morrow, on The Mighty Ducks: Game Changers, is Brady Noon. The 15-year-old became a child star to look out for with his star-making turn as the foul-mouthed Thor in the R-rated 2019 comedy Good Boys after previously making his debut on Boardwalk Empire as young Tommy Darmody - a role he shared with his twin brother, Connor, for the first three seasons of the HBO period drama. Noon will co-star with his sibling again in the musical romantic comedy Marry Me, which is led by Jennifer Lopez and Owen Wilson and currently set for a February 2022 release.
Taegen Burns (Maya)
Before starring as Maya on The Mighty Ducks: Game Changers, music had actually been a recurring trend in Taegen Burns' career, having made her acting debut as Paris Jackson in the 2017 Lifetime movie Michael Jackson: Searching for Neverland and appearing in I Can Only Imagine, based on the story behind Christian band MercyMe's titular hit song, the following year. That same year, she played a younger version of Odeya Rush's character in the Netflix pageant comedy Dumplin' and scored her first Disney+ series in 2020 with The Right Stuff as as Alan Shepard's daughter, Laura. Burns stars alongside Marvel's Frank Grillo and one-time X-Men star Olivia Munn in the upcoming crime thriller Gateway, which is now in post-production.
Maxwell Simkins (Nick)
The title for MVS ("Most Valuable Scene-stealer") on The Mighty Ducks: Game Changers goes to Maxwell Simkins as Evan Morrow's first teammate, Nick. The 15-year-old's first experience with acting was in director Rob Reiner's 2014 romantic comedy And So It Goes, followed the 2015 ensemble holiday comedy Love the Coopers, and Colin Trevorrow's dark family drama The Book of Henry in 2017. Simkins also had a starring role on the Disney Channel sitcom Bizaardvark and would re-team with his live-action Kim Possible movie co-star Sadie Stanley in another spy movie for children, Netflix's The Sleepover in 2020.
Swayam Bhatia (Sofi Hudson-Batra)
At just 12 years old, Swayam Bhatia has already led a career defined by highly acclaimed, inventive, and thought-provoking projects before starring on The Mighty Ducks: Game Changers. Her very first gig, in 2015, was the pilot episode of Emmy-winning comedy Master of None as the imaginary daughter of star and creator Aziz Ansari's character Dev before she was cast as Sophie Roy on the satirical family drama Succession for HBO. In 2020, Bhatia joined another ensemble cast of young actors for The Quaran-Teen(s), a nine-episode miniseries profiling life in the era of Covid-19 through the eyes for America's youth.
De'Jon "DJ" Watts (Sam)
Before he was cast as Sam on The Mighty Ducks: Game Changers, De'Jon Watts (who also goes by DJ) has also managed to achieve a pretty exciting career early on. He made his theatrical feature film debut in a relatively small appearance (credited as "Hot Dog Kid") in otherwise huge movie called Black Panther in 2018, followed by a role with a name ("Clark") in Eli Roth's family friendly fantasy The House with a Clock in Its Walls the same year. His next cinematic appearance is from an already highly anticipated and long-delayed film: The Many of Saints of Newark, a The Sopranos prequel from a point of view of a young Tony.
Bella Higginbotham (Lauren)
You know, while on the subject of Marvel movie actors, I think that Bella Higginbotham could make a great Squirrel Girl someday, which would easily be her biggest role to date after The Mighty Ducks: Game Changers. The 15-year-old has four other credits to her name, beginning with the 2014 Christian film The Good Book and ending, most recently, with the Amazon Prime original family comedy Troop Zero, which is directed by the female duo Bert and Bertie, who will next helm the pilot for Hawkeye - another big Disney+ series in the making. Perhaps they could put in a good word for Higginbotham over at Marvel Studios.
Luke Islam (Koob)
The Mighty Ducks: Game Changers is actually the very first and only acting credit so far for Luke Islam, who plays Koob. However, you might recognize the teenager from his participation in Season 14 of NBC's America's Got Talent, on which the then-12-year-old received a standing ovation and a Golden Buzzer from judge Julianne Hough for his performance of "She Used to Be Mine" from the Broadway musical Waitress.
Keifer O'Reilly (Logan)
Out of the entire cast of young cast of The Mighty Ducks: Game Changers, 13-year-old Canadian Keifer O'Reilly has the most acting experience with 34 credits to his name in only the past seven years, most notably a major character of the pilot for the Arrowverse hit DC's Legends of Tomorrow in 2016. He would later land a recurring role on Apple TV+'s detective drama Home Before Dark and voice the title character of animated films based on the Howard Lovecraft graphic novels.
Dylan Playfair (Coach T)
Another The Mighty Ducks: Game Changers cast member reigning from Canada is Dylan Playfair, who plays the very discouraging current coach of the Mighty Ducks in the new series. It is actually a perfect transition for the 28-year-old actor from his most famous role to date as hockey player Reilly (frequently paired with Andrew Herr as Jonesy) on Letterkenny - one of the most popular comedies to come from the Great White North, which is exclusively available to steam in the States from Hulu. What is really funny is how those are only two examples of the several times Playfair portrayed a hockey player, outside of playing Gaston's son, Gil, in the second and third installments of Disney Channel's Descendants movies franchise.
Outside of the return of Emilio Estevez to The Mighty Ducks franchise and the newcomers in the cast, the biggest source of buzz surrounding The Mighty Ducks: Game Changers is members of the original film series reportedly making a cameo, including Elden Henson, who would go onto star on Netflix's Daredevil series. No word yet on if Kenan Thompson or Joshua Jackson will ever make an appearance, but one can dream.