Agents Of S.H.I.E.L.D. Casts Drea De Matteo As This Comic Book Character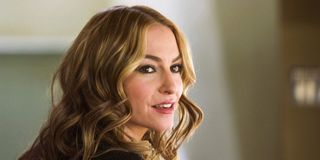 It's been a while since the events of the Agents of S.H.I.E.L.D. midseason finale, but with Agent Carter almost wrapped up, the series will be back on our TV screens soon. In addition to getting fans hyped up with new promos, they have also announced several high-profile guest stars appearing in the coming months, including Blair Underwood, Edward James Olmos and Jaime Alexander. Now added to this list is Sons of Anarchy's Drea de Matteo, who will be allying herself with one of the show's primary villains.
Marvel announced today that Matteo will play Karla Faye Gideon, who is described as "a gifted woman with a grudge to bear against S.H.I.E.L.D. who joins forces with Skye's father, Cal." Kyle MacLachlan has been a recurring villain this season, but it was only in the midseason finale that he was named as Cal, setting him up as the MCU's version of super villain Calvin Zabo, a.k.a. Mr. Hyde. Working against both S.H.I.E.L.D. and Hydra, his main goal is to see his daughter Daisy, who we all know as Skye, reach her true potential, part of which is being an Inhuman with earthquake powers. Oh, and much like the Hulk, the man has breathtaking anger management issues. Sounds like just the kind of people for Karla to tag along with.
In the comics, Karla is a minor Daredevil character that appeared in the miniseries Daredevil: Redemption. While investigating the murder of her son Bradley, the Man Without Fear attempted to stop her husband Howard from beating her, but she continued to stay by Howard's side, and Daredevil saved her again years later from this domestic abuse, putting Howard in jail. Although Daredevil is premiering on Netflix in April, it remains to be seen whether the MCU Karla will have any connection to that series or if she'll appear in any of the other Netflix shows. For now, S.H.I.E.L.D. it is.
Although S.H.I.E.L.D. primarily works to protect people, they've made their fair share of enemies, and it sounds like they inadvertently pissed Karla off. Not to look to deeply into the word "gifted," but given that the Inhumans are set to be deeply explored in the latter half of the season, it's possible that Karla may also have a special ability. The show hasn't revealed whether Cal's super strength is an Inhuman ability or something derived from science, but given his vast knowledge, he could certainly help her out on that front. On the other hand, perhaps she's just a normal human who has talents that Cal can use to his advantage. Either way, any person that allies themselves with that man either doesn't know what they're getting into, or is extremely dangerous. Or maybe both.
Matteo has previously appeared on shows like The Sopranos and Desperate Housewives. She recently concluded her role as Wendy Case on Sons of Anarchy, which wrapped up after seven seasons. She'll be seen later this year in the Gillian Flynn adaptation Dark Places.
Agents of S.H.I.E.L.D. returns to ABC on March 3 at 9/8c.
Your Daily Blend of Entertainment News
Connoisseur of Marvel, DC, Star Wars, John Wick, MonsterVerse and Doctor Who lore. He's aware he looks like Harry Potter and Clark Kent.
Your Daily Blend of Entertainment News
Thank you for signing up to CinemaBlend. You will receive a verification email shortly.
There was a problem. Please refresh the page and try again.