Win Assassin's Creed 3 And A Free Season Pass With Uplay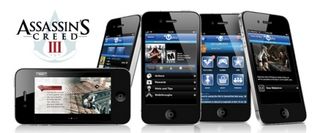 Ubisoft is giving away a free copy of Assassin's Creed III and an entire season pass to a lucky gamer who uses Uplay. Yes, it's a bit of a contest held at ransom for getting gamers to use Uplay, but hey, at least it's a free copy of one of the most popular games of 2012, am I right? Am I right?!
So how does the whole thing work? Well, it's quite simple: Simply download the Uplay app for your mobile smartphone. Load up Uplay and login with your account or create an account and link it up for a chance to win Assassin's Creed III plus a free season pass to the latest and upcoming DLC for Assassin's Creed III.
That's not that bad of a deal considering that all you have to do is pledge your allegiance to yet another digital service operated by a big AAA publisher who wants to dominate the digital gaming space.
Uplay is Ubisoft's version of Origin but it's a lot better, far more intuitive and isn't anywhere near as restrictive or totalitarian by comparison. It also runs in cohesion with other digital services so even if you do register for a Uplay account you can still access your Ubisoft titles through services like Steam, Impulse or GamersGate.
Assassin's Creed III launched just before the holiday rush in 2012 and is currently available for PS3, Xbox 360 and PC. You can learn more about the free giveaway and the rules by visiting the official website.
Staff Writer at CinemaBlend.
Your Daily Blend of Entertainment News
Thank you for signing up to CinemaBlend. You will receive a verification email shortly.
There was a problem. Please refresh the page and try again.