13 Adam Driver Movies Worth Streaming, Including Netflix's Marriage Story (But Not Star Wars)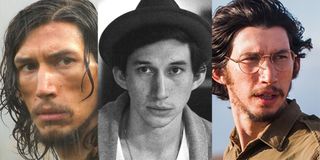 I love Star Wars too, but there's much more to Adam Driver than Kylo Ren. Driver is returning for the final film in the Skywalker Saga, Star Wars: The Rise of Skywalker, which opens December 20. It's a huge deal. But most of the time, Driver stars in smaller films, like Marriage Story, which is now breaking hearts on Netflix and may end up giving him his second Oscar nomination.
Adam Driver was in the Marines before turning to acting, finding fame in his breakout role on HBO's Girls. He still tends to get the lead in indies and strong supporting roles in major films. (And he slays on SNL.)
Even though Adam Driver has only been in the industry for a decade, he has an impressive filmography -- really, you should stream all of his movies. But time requires we make choices, so here are 13 Adam Driver movies I recommend you stream in this exciting time for the 36-year-old actor.
J. Edgar
I'm starting with this 2011 Clint Eastwood movie because it marks Adam Driver's feature film debut. Leonardo DiCaprio has the starring role as J. Edgar Hoover but the movie includes a subplot about the real-life Lindbergh baby kidnapping. Driver plays Walter Lyle, based on the real gasoline attendant who was given a questionable bill from a man later identified as Bruno Richard Hauptmann, who was convicted in the kidnapping. It's a small role but in a very high profile prestigious film and put Adam Driver on the cinematic map. You can stream J. Edgar on Amazon (opens in new tab), Vudu, YouTube, iTunes, or Google Play to rent starting from about $3.
His Noah Baumbach Movies
Adam Driver has been in four of director Noah Baumbach's movies so far, and it's clearly been a very successful partnership. He started in 2013 with the black-and-white indie dramedy Frances Ha, playing Lev Shapiro opposite star/co-writer Greta Gerwig as the titular Frances Halladay. Driver returned to work with Baumbach in 2014's While We're Young, which stars Ben Stiller and Naomi Watts. In 2017, Adam Driver had a supporting role in The Meyerowitz Stories. And now we have Marriage Story, with Driver in the co-lead role of Charlie Barber opposite Scarlett Johansson as Nicole Barber. Their performances in the raw divorce drama have earned them rave reviews. You can stream Frances Ha (opens in new tab), While We're Young (opens in new tab), The Meyerowitz Stories (opens in new tab), and Marriage Story (opens in new tab) now on Netflix.
Lincoln
As with J. Edgar, in Lincoln, Adam Driver got to play a real-life figure in a major movie from a major director. In Steven Spielberg's 2012 movie, Driver played telegraph operator Captain Samuel Beckwith. He was "Grant's Shadow" for Ulysses S. Grant in real life, but he's Lincoln's telegraph operator in the Spielberg movie. Once again, Driver got to play a small but important role in a historical movie, working with the greats like Daniel Day-Lewis. You can stream Lincoln now on Netflix (opens in new tab).
Hungry Hearts
Five years before Marriage Story, Adam Driver co-starred in a very different relationship drama in Hungry Hearts. Driver plays Jude opposite Alba Rohrwacher as Mina in a movie that starts with their awkward meeting in the bathroom and becomes a dark drama with some harrowing commentary on motherhood. Driver and Rohrwacher both won the Volpi Cup for Best Actor and Actress at the Venice Film Festival for their performances in this movie. You can stream Hungry Hearts now with a Hulu subscription (opens in new tab) or rent it for about $4 from Amazon, iTunes, and the usual streaming suspects.
His Jim Jarmusch Movies
Adam Driver and writer/director Jim Jarmusch were pretty much made for each other. So far, they've only made two movies together, but since they are Jarmusch's two most recent films, there's no saying what could be next. Their collaboration started with the 2016 drama Paterson, starring Adam Driver in the title role, which covered one week in the life of a bus driver in Paterson, New Jersey. Driver and Jarmusch returned for the horror-comedy The Dead Don't Die, which just came out earlier in 2019. This time, Driver co-stars with Bill Murray, Tilda Swinton, Chloe Sevigny, Steve Buscemi, Danny Glover, and plenty of other crazy cats. You can stream both Paterson and The Dead Don't Die to rent or buy on Amazon (opens in new tab), YouTube, iTunes, etc.
Midnight Special
I can't say enough about this movie. I assume you've already seen it, but if you haven't seen it since it came out in 2016, it's worth watching again. Adam Driver doesn't have the lead role in the sci-fi film written and directed by Jeff Nichols. He's lower on the call sheet behind Michael Shannon, Joel Edgerton, and Kirsten Dunst. But his relatively small role as NSA communications analyst Paul Sevier is still important and just a bonus in this slow-burn supernatural thriller. Also, may I put in a request for Adam Driver and Michael Shannon to make more movies together? Thanks in advance. Stream Midnight Special on Cinemax's Max Go or to rent/buy at Amazon, etc.
BlacKkKlansman
Adam Driver earned his first Oscar nomination for playing Detective Flip Zimmerman, opposite John David Washington's Detective Ron Stallworth, in Spike Lee's 2018 movie about infiltrating the local Ku Klux Klan. The movie had six Academy Award nominations, including Best Picture, Best Adapted Screenplay, and Best Director -- which was actually a first somehow for Spike Lee. Driver's nomination was for Best Supporting Actor. He didn't win, but he has another chance for a nod or win with Marriage Story. Stream BlacKkKlansman on Amazon (opens in new tab), Vudu, etc. to buy starting around $7.
Inside Llewyn Davis
Before they were both cast in the new Star Wars trilogies, Adam Driver and Oscar Isaac both starred in this 2013 dramedy from the Coen Brothers. Oscar Isaac has the lead titular role, with Driver in the smaller role of Al Cody. But I mean, look -- he gets to wear a cowboy hat and perform with Justin Timberlake! That's how you know you've arrived. You can stream Inside Llewyn Davis for rent at Amazon (opens in new tab), Vudu, etc.
The Report
In this new drama, which just released in late November 2019 on Amazon Prime, Adam Driver once again plays a key historical figure. Here, he's Daniel J. Jones, the Senate staffer who led the investigation into the CIA's use of torture after the September 11 attacks. The star-studded movie is led by Driver but also features Annette Bening, Maura Tierney, Jon Hamm, Ted Levine, Michael C. Hall, Tim Blake Nelson, and Corey Stoll. The Report had a limited theatrical release before arriving on Amazon Prime Video (opens in new tab), where you can and should stream it now.
Logan Lucky
Daniel Craig is the one who steals scenes in Logan Lucky, but Adam Driver co-leads with Channing Tatum as brothers Jimmy and Clyde Logan. Driver is bar owner Clyde, who lost the lower part of one arm while serving in Iraq. Director Steven Soderbergh's heist comedy got great reviews, and fans seemed to like it too, although it didn't make much at the box office. Logan Lucky isn't on Netflix at the moment, but you can rent it through Amazon (opens in new tab), Yoube, Google Play, or Vudu.
Tracks
Tracks is such a special movie -- a spare Australian indie drama following Mia Wasikowska as Robyn Davidson to chronicle her nine-month journey across the Aussie desert by camel. Adam Driver plays Rick Smolan, the National Geographic photographer who accompanied her on the journey from Alice Springs to the Indian Ocean. Wasikowska was nominated for several awards for her performance and Mandy Walker was honored for the sweeping cinematography. Stream Tracks for about $4 on Amazon (opens in new tab), iTunes, or Vudu.
The F Word (or What If?)
"I just had sex. I'm about to each NACHOS. It's the greatest moment of my life!" Yes, that is a line from Kylo Ren to Harry Potter -- or Adam Driver to Daniel Radcliffe, who play best friends in this 2013 romantic comedy co-starring Zoe Kazan. Driver has shown he can do both comedy and drama with ease, but I do wish he did even more comedy. His delivery is perfect. This movie is called The F Word in some places and What If? in others, which can make it difficult to track down. But it's available to stream for about $3 to Amazon (opens in new tab) or iTunes, Vudu, etc.
Silence
It seems like every movie The Irishman's Martin Scorsese makes is described as a "passion project," but that's certainly the case for Silence. The 2016 historical drama -- based on the 1966 novel by Shusaku Endo -- made almost no money and was apparently brutal to film for stars Adam Driver and Andrew Garfield. Garfield told Stephen Colbert he and Driver both felt emaciated preparing for their roles as two 17th-century Jesuit priests who traveled to Japan to find their missing mentor. Apparently Driver lost 50 pounds for the role. I can't imagine where he found 50 pounds on his frame to lose! Anyway, you can stream the 2-hour 41-minute movie for rent on Amazon (opens in new tab) and the usual streaming places.
If you're looking for other recommendations, I post streaming suggestions every Monday and you can check out these past features:
• 5 Excellent Keanu Reeves Roles Worth Streaming On Netflix And Amazon
• 5 Sci-Fi TV Shows To Watch On Netflix: Our Streaming Recommendations
• 5 Documentary Series To Watch On Netflix: Our Streaming Recommendations
• 5 British TV Comedies On Netflix You Should Bloody Well Watch: Our Streaming Recommendations
• 3%, Occupied, Harlots, and Other Streaming Recommendations
• 5 Robert Downey Jr. Movies To Love 3000 On Netflix
• 5 Chris Evans Movies Worth Streaming On Netflix And Amazon
• 5 Ryan Reynolds Roles Worth Streaming On Netflix And Amazon
• 5 Will Smith Movies Worth Streaming Right Now On Netflix And Beyond
• 5 Refreshingly Non-Toxic Reality TV Shows Worth Streaming On Netflix
• 5 Joaquin Phoenix Movies Worth Streaming On Netflix And Amazon Ahead Of Joker
• 5 Stripper Movies Worth Streaming In Honor Of Jennifer Lopez's Hustlers
• The 5 Best Space Movies To Stream In Honor Of Brad Pitt's Ad Astra
• 11 Unbelievable True Crime Series Worth Streaming On Netflix
• 8 Movies With 100 Percent Ratings Worth Streaming Before Netflix's The Irishman
• 7 Paul Rudd Movies Worth Streaming On Netflix Before Living With Yourself
• 8 Movies With Twist Endings Worth Streaming On Netflix After Fractured
• Where To Stream Firefly And 10 Other Great Shows Cancelled After One Season
• Whodunit? 7 Murder Mysteries Worth Streaming On Netflix
• 12 Royal TV Shows Like Netflix's The Crown: Our Jolly Good Streaming Recommendations
• 11 Best Gangster Movies Worth Streaming Along With Netflix's The Irishman
• 11 Best Tom Cruise Action Movies Worth Streaming As We Wait For Top Gun: Maverick
What is your favorite performance from Adam Driver so far?
Your Daily Blend of Entertainment News
Gina grew up in Massachusetts and California in her own version of The Parent Trap. She went to three different middle schools, four high schools, and three universities -- including half a year in Perth, Western Australia. She currently lives in a small town in Maine, the kind Stephen King regularly sets terrible things in, so this may be the last you hear from her.
Your Daily Blend of Entertainment News
Thank you for signing up to CinemaBlend. You will receive a verification email shortly.
There was a problem. Please refresh the page and try again.