11 Best Tom Cruise Action Movies Worth Streaming As We Wait For Top Gun: Maverick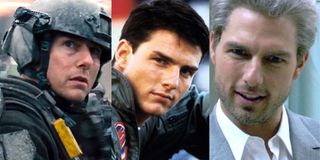 Top Gun: Maverick is one of the most highly anticipated releases of 2020. Tom Cruise is returning as Maverick for the sequel to 1986's Top Gun, his first major action movie. Cruise is now 57-years-old and Jack Reacher author Lee Child just argued he's too old for action movies and should transition into a character actor. Phooey, I say!
Tom Cruise has actually shown a lot of range over his career -- from Born on the Fourth of July to his shockingly good cameo in Tropic Thunder -- and I would love to see him back in more dramatic or comedic roles. But there's no slowing the man down as an action star. In this day and age, 57 isn't even old for an action hero -- just ask Sylvester Stallone, Arnold Schwarzenegger, or Cruise's own peers like Robert Downey Jr. and Keanu Reeves.
Tom Cruise still has several action movies ahead of him beyond Top Gun: Maverick, which hits theaters on June 26, 2020. He also has at least two more Mission: Impossible movies after the success of 2018's amazing Fallout. As we wait for more, here are 11 action movies worth streaming to see why Tom Cruise should never lose that need for speed.
Top Gun
Gotta start at the top with Top Gun. It's hard to overstate how big a deal this movie was when it came out in 1986. The movie was reportedly made on a $15 million budget and grossed $353.8 million worldwide from a fairly even split between the domestic (U.S./Canada) box office and the international markets, per Box Office Mojo. That's what you call a pretty profit. It's amazing that a sequel hasn't happened before now, but the stakes are pretty high to live up to the original. Here's more of what we know so far about Top Gun 2.
Stream Top Gun to rent or buy on Amazon, YouTube, Google Play, iTunes, or Vudu. As of December 2019, it is not available on Netflix.
Days of Thunder
Tom Cruise's need for speed continued on the ground with this race car driving film. The 1990 action movie marked the first of three flicks for Cruise and his now ex-wife Nicole Kidman. Is it a great movie? Eh. Not really, but it did well at the box office -- and Quentin Tarantino apparently said it was his favorite big budget racing movie. I wonder if he'd still say the same after Ford V Ferrari.
Stream Days of Thunder now with a Hulu subscription, or pay to rent/buy it through Amazon, YouTube, Google Play, iTunes, Vudu, etc.
Mission: Impossible
When Tom Cruise showed up as Ethan Hunt in this 1996 movie, there was no guarantee it would be a hit. Certainly no guarantee it would launch a franchise that somehow keeps getting better. Talk about an impossible mission! There was already an original Mission: Impossible TV series and a sequel series. You could've fairly asked "Do we need a movie?" Turns out, yes! Several! The first Mission: Impossible made $457.7 million off a reported $80 million production budget. After that, we got M:I movies of varying quality, but Fallout is arguably the best in years, if not ever. At this point, it's exciting to know Cruise and director Christopher McQuarrie have more to come.
Stream the first Mission: Impossible movie to rent/buy on Amazon Prime, YouTube, Google Play, or Vudu. Fallout is available now on Hulu.
Minority Report
Every so often, Tom Cruise dabbles in action sci-fi, including for this 2002 thriller. The script was very loosely based on Philip K. Dick's story "The Minority Report" and directed by Steven Spielberg, who would direct Cruise in another sci-fi action movie below. Minority Report is definitely a thinking person's action thriller with some murder mystery twists. It also has a great star-studded cast -- from the great Max von Sydow to Colin Farrell and Samantha Morton.
Stream Minority Report with a Philo subscription, or pay to rent/buy on Amazon and the usual suspects named above.
The Last Samurai
Tom Cruise in a samurai movie? Yep, and it works. This 2003 movie directed by Edward Zwick was inspired by a little-known era in history, the 1877 Satsuma Rebellion in Japan. The Last Samurai got good reviews from fans and critics and made a solid amount of money worldwide. It also introduced Ken Watanabe to the wider world, and he earned an Oscar nomination for his supporting role in this movie.
Stream The Last Samurai free (with ads) on Vudu.
Collateral
Collateral felt like something brand new from Tom Cruise. A different look, a different type, a different kind of action thriller. He's not like Tom Hanks, he's OK with being the bad guy sometimes. This time, he was a hitman in Michael Mann's movie. Cruise prepared for his role by assassinating co-workers by Post-It, which just sounds loopy and I love it. Jamie Foxx was the one nominated for an Oscar, but Cruise is the backbone of the 2004 movie.
Stream Collateral for rent/purchase at Amazon, Google Play, YouTube, etc.
War of the Worlds
Steven Spielberg and Tom Cruise reunited for another sci-fi movie in 2005's War of the Worlds. The movie, narrated by Morgan Freeman, was very loosely based on H.G. Wells' The War of the Worlds. The film got decent reviews from critics and slightly lower scores from fans, and I have to say I'm with the fans -- at least today. I just rewatched this one on HBO and it's not Mummy-bad but I can't say I loved it.
Stream War of the Worlds now on HBO.
Jack Reacher
Tom Cruise's Jack Reacher franchise stalled out after the second one, but I still like the movies. OK, maybe he doesn't look like the character Lee Child wrote. Frankly, I don't care. The 2012 Jack Reacher movie was written and directed by Christopher McQuarrie, and the guy really does know how to make a good movie -- especially a good Tom Cruise movie. The 2016 sequel was inferior and I'm willing to say it's because it lacked McQuarrie. I wouldn't say it was bad, just disappointing and mostly a waste of Cobie Smulders. Hey, at least Cruise taught her how to do stunts!
Stream the first Jack Reacher movie on TNT, or for rent/buy on Amazon and the usual suspects.
Oblivion
Was this movie overlooked? The 2013 post-apocalyptic sci-fi movie only did OK at the box office after getting OK reviews from critics and only slightly more positive scores from fans. I'm not here to say it's a classic, but why not revisit it almost seven years later and see what you think of the movie It co-stars Olga Kurylenko, Morgan Freeman, Nikolaj Coster-Waldau, Andrea Riseborough, and Melissa Leo.
Stream Oblivion on Amazon and the usual places; it's not on Netflix at the moment but it might return.
The Mummy
No, I'm not saying this is one of Tom Cruise's best action movies. But I do think it's worth streaming to appreciate how rare it is for a Cruise film to go wrong. When this reboot of The Mummy franchise came out in 2017, it was pretty much panned across the board. It was supposed to be the first movie in Universal's Dark Universe franchise. Oops. It's unusual for Tom Cruise to have an action flop (although Knight and Day knows the feeling). And even though the international box office did sort of save The Mummy -- it only made $80M Stateside but $329M overseas -- the production budget was rumored to be near $200 million. At least The Mummy gave Tom Cruise a win for Worst Actor at the Razzies. That's something, right?
Stream The Mummy to rent/buy on Amazon and the usual suspects.
Edge of Tomorrow
OK, now this is how you make a great action movie! Tom Cruise returned to the sci-fi genre for this Doug Liman movie co-starring the perfection called Emily Blunt. I'm willing to give Christopher McQuarrie credit for just about anything and everything, so maybe this movie succeeds as well as it does because he co-wrote the script. Some people weren't happy with the ending, and how it differs from the source material, but I personally love this movie and I'm eager for the sequel, said to be titled Live Die Repeat and Repeat.
Stream Edge of Tomorrow to rent/buy for the usual fees at the usual places named above. Netflix really needs to get this one back, and maybe it will someday.
If you're looking for more streaming recommendations, I post a feature each Monday and you can check out these past suggestions:
• 5 Excellent Keanu Reeves Roles Worth Streaming On Netflix And Amazon
• 5 Sci-Fi TV Shows To Watch On Netflix: Our Streaming Recommendations
• 5 Documentary Series To Watch On Netflix: Our Streaming Recommendations
• 5 British TV Comedies On Netflix You Should Bloody Well Watch: Our Streaming Recommendations
• 3%, Occupied, Harlots, and Other Streaming Recommendations
• 5 Robert Downey Jr. Movies To Love 3000 On Netflix
• 5 Chris Evans Movies Worth Streaming On Netflix And Amazon
• 5 Ryan Reynolds Roles Worth Streaming On Netflix And Amazon
• 5 Will Smith Movies Worth Streaming Right Now On Netflix And Beyond
• 5 Refreshingly Non-Toxic Reality TV Shows Worth Streaming On Netflix
• 5 Joaquin Phoenix Movies Worth Streaming On Netflix And Amazon Ahead Of Joker
• 5 Stripper Movies Worth Streaming In Honor Of Jennifer Lopez's Hustlers
• The 5 Best Space Movies To Stream In Honor Of Brad Pitt's Ad Astra
• 11 Unbelievable True Crime Series Worth Streaming On Netflix
• 8 Movies With 100 Percent Ratings Worth Streaming Before Netflix's The Irishman
• 7 Paul Rudd Movies Worth Streaming On Netflix Before Living With Yourself
• 8 Movies With Twist Endings Worth Streaming On Netflix After Fractured
• Where To Stream Firefly And 10 Other Great Shows Cancelled After One Season
• Whodunit? 7 Murder Mysteries Worth Streaming On Netflix
• 12 Royal TV Shows Like Netflix's The Crown: Our Jolly Good Streaming Recommendations
• 11 Best Gangster Movies Worth Streaming Along With Netflix's The Irishman
• 14 Cool Movies Leaving Netflix Before 2020 Worth Streaming ASAP
Are you looking forward to Top Gun: Maverick? What other Tom Cruise movies should we all stream, action-thriller or otherwise?
Your Daily Blend of Entertainment News
Gina grew up in Massachusetts and California in her own version of The Parent Trap. She went to three different middle schools, four high schools, and three universities -- including half a year in Perth, Western Australia. She currently lives in a small town in Maine, the kind Stephen King regularly sets terrible things in, so this may be the last you hear from her.