Lea Michele Is Already Loving 2017... Totally Naked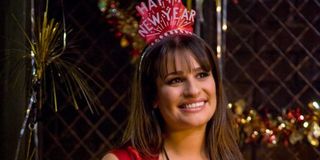 Lea Michele is starting the new year with a completely blank slate... in more ways than one. The actress gave her fans a very intimate look at her body to celebrate the new year.
On day two of 2017, Lea Michele took to Instagram to post her love for the new year so far, along with a nude photo of herself looking up towards a beautiful sunset. The actress, who is famously obsessed with fitness, is reclining on a towel against a gorgeous, forest backdrop in the shot. To keep with the natural landscape, Michele kept the photo PG-13 with a well-placed plant emoji. Check out the all-natural snapshot below.
Thank goodness it's not a cold winter in L.A.! Lea Michele is clearly facing 2017 head on after a pretty mixed-bag 2016. Though the actress reprised her role on Fox's hit anthology series Scream Queens in its second season, she faced some personal heartache at the start of the year when she broke up with her boyfriend of two years. Michele and relationship advisor Michael Paetz split up in February, and Michele spent the rest of 2016 focusing on her fitness.
As her full-body photo shows, Lea Michele's year of fitness has most definitely paid off. The actress opened up about her commitment to staying healthy and working out a couple months back in a cover story for SHAPE. Michele told the fitness magazine that she was spending the year focusing on herself and her body after her split at the beginning of 2016, and that it's helped take her to a healthy and positive place.
Lea Michele didn't completely spend 2016 single, though. The actress reportedly dated One Tree Hill and iZombie star Robert Buckley for a couple months in the middle of the year. The two stars met while filming the upcoming sci-fi TV project Dimension 404, but split up in the summer.
Professionally, Lea Michele is going into 2017 just about as open to new opportunities as her nude photo would suggest. Aside from the sci-fi series, Michele is also preparing to release her second studio album, but beyond that her schedule is pretty clear. She will likely continue her role as the homicidal, ex-sorority girl Hester if Scream Queens is renewed for a third season. But for now, Michele seems to be just taking in the beauty of the moment.
Your Daily Blend of Entertainment News
Your Daily Blend of Entertainment News
Thank you for signing up to CinemaBlend. You will receive a verification email shortly.
There was a problem. Please refresh the page and try again.