The Mentalist's Amanda Righetti Expecting Her First Child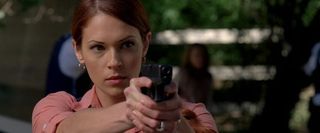 Amanda Righetti spends her days on The Mentalist discussing criminals, football statistics, and some biblical viewpoints. On the show, she's sort of gotten the tough end of the stick with some of her relationships, but outside of her character, her personal life has been much closer to a fairytale. Now, the happily married actress will get to spend the next few months learning mommy facts. The 29-year-old's rep recently came out to confirm the redhead will be up to her ears in diapers in just a few months, when her baby is due.
The actress has been devoted to producer and director Jordon Alan since 2006, when they were married in a beautiful ceremony in Hawaii. According to US Weekly, Righetti is due sometime this winter, which means she's anywhere from a few months to halfway into her pregnancy. Pop Blend will keep you posted as news of the due date and the baby's sex wafts our other way.
Righetti has spent the last four seasons playing Grace Van Pelt on CBS' hit show, The Mentalist. Her character didn't end last season as a pregnant mom-to-be, so it's reasonable to wonder whether producers will try to hide the baby bump, or simply knock Van Pelt up as soon as possible. Either way is O.K. with us—especially since Van Pelt's former love, Rigsby, has his own child care to contend with onscreen. It's looking like there could be some shakeups in the cast's personal lives during Season 5, and we can't wait to see how the show plays things off.
Your Daily Blend of Entertainment News