Twin Brothers From TLC's My Big Fat Gypsy Wedding Dead After Apparent Suicide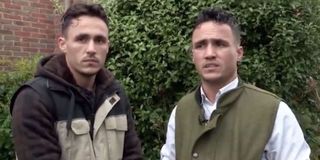 Bill and Joe Smith, the twin brothers who starred in the original British version of the TLC reality show My Big Fat Gypsy Wedding, are dead after an apparent joint suicide. The brothers were found hanging from a tree near a farm in Sevenoaks, Kent, England. They were 32 years old.
Bill and Joe Smith's bodies were found on the morning of Saturday, December 28. Local authorities were called to the Sevenoaks scene, and the brothers' deaths are currently under police investigation. However, it's reported that the authorities don't suspect any foul play with regards to the deaths, and police are largely confident that it was suicide.
The twin brothers both appeared in Season 3 of My Big Fat Gypsy Wedding on the UK's Channel 4 in 2010. (The series later started airing in the U.S. in 2011 on the TLC network, with altered narration.) The series, originally titled Big Fat Gypsy Weddings, followed the journeys and everyday lives of traveler families. Bill and Joe Smith were landscape gardeners, and the reality show even dedicated an episode to their profession, following them during a landscape shift.
In a Facebook tribute (via TMZ), Celebrity Big Brother winner and former My Big Fat Gypsy Wedding co-star Paddy Doherty confirmed the news of Bill and Joe Smith's deaths and shared his heartbreak and grief.
The outpouring of love continued online. In a separate Facebook post, Bill Smith's girlfriend Kristina Delaney shared a moving tribute, though she was still in shock and disbelief over the twins' deaths. Delaney wrote that she told Joe to wait "for time to heal you" and wishes she'd been able to do more for the both of them.
On Twitter, a spokesperson for TLC shared condolences on behalf of the network for Bill and Joe Smith's family, and also included the number of the National Suicide Prevention Lifeline in case anyone needed to call.
According to The Sun, the twins' family had reportedly expressed concern for the brothers, though whether that was concern for prior suicidal thoughts is unclear. Two weeks before their deaths, Bill and Joe Smith recorded an amusing video of themselves dancing and singing at a wedding, doing a rendition of Mariah Carey's "All I Want for Christmas Is You."
Here at CinemaBlend, our thoughts are with Bill and Joe Smith's family and friends during their time of mourning.
Your Daily Blend of Entertainment News