New Legal Filing From Kelly Clarkson Has Some Major Accusations Against Her Ex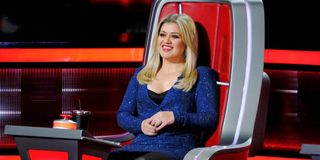 While Kelly Clarkson has returned to filming for The Voice and The Kelly Clarkson Show, the singer has been going through a lot in her personal life. Clarkson herself claimed that the year has been a dumpster fire, and that may be an understatement. In September, Clarkson was sued by Starstruck Management, the management company owned by her former father-in-law Narvel Blackstock. Recently, the American Idol alum made a legal filing of her own that brought to light some pretty major accusations against her soon-to-be ex-husband, Brandon Blackstock.
Per OK! Magazine, Kelly Clarkson has filed a Petition to Determine Controversy with the Labor Commissioner's Office claiming that Brandon Blackstock, who was also her manager, and Starstruck were not only acting illegally as her agents without a proper talent license, but that they defrauded and overcharged her under the verbal agreement (which was reportedly never turned into a written legal contract).
The singer also cited that the management company gave false information and charged "unconscionable fees and compensation." In addition to these accusations against her ex and her management company, Clarkson is asking for all the money she paid them under the agreement to be returned to her. Meanwhile, a legal representative of Starstruck is claiming that this petition has been filed so that Clarkson can avoid paying the company what its teams believe they're owed.
Kelly Clarkson was sued by Starstruck Management for allegedly owing millions of dollars in unpaid commissions from her work on The Voice and her talk show. The filing also accused Clarkson of breaking the verbal agreement, which stipulated that she pay 15% of commissions earned from her work to Starstruck. If Starstruck wins, Clarkson would owe them over $5 million.
In addition to the legal battle with Brandon Blackstock and Starstruck Management, the singer is in the middle of complicated divorce proceedings with Blackstock. Kelly Clarkson's ex is asking for approximately $5 million a year in child and spousal support. However, a judge recently ruled in favor of Clarkson having full physical custody over the pair's two children. While they will remain with Clarkson in Los Angeles, the kids will travel to Blackstock's ranch in Montana on the first, third, and fifth weekends of every month.
Kelly Clarkson is currently coaching on The Voice, which has now switched over to live shows. While she is still hosting her talk show, four staff members recently tested positive for COVID-19, with a few others sent home to quarantine. The singer was also tested, but her results came back negative and it's unclear how The Kelly Clarkson Show will proceed moving forward.
Stay tuned to CinemaBlend for updates on Kelly Clarkson's legal battles. In the meantime, be sure to check out our updated 2021 winter and spring TV premiere schedule for more on what to watch.
Your Daily Blend of Entertainment News
Your Daily Blend of Entertainment News
Thank you for signing up to CinemaBlend. You will receive a verification email shortly.
There was a problem. Please refresh the page and try again.