Ariel Winter Goes Fully Blonde With A Fun Game Of Thrones Reference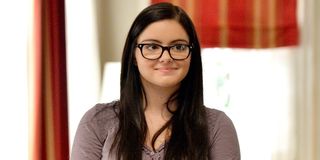 Following the end of Modern Family's 11-season run, series star Ariel Winter no longer needs to maintain her hairstyle and hair color to portray middle child Alex Dunphy. As such, Winter radically altered her hair with immediacy, dying it red and getting it cut in layers in early March. More recently, Winter has opted for another dramatic look by going fully blonde, and adding a fun Game of Thrones reference just in case anyone wasn't aware of who her hair inspiration was.
With Modern Family having wrapped filming and all the shutdowns preventing actors from working per usual, Ariel Winter has taken to experimenting with hair colors, which honestly isn't a bad way to spend some downtime. Winter posted her new look to Instagram. This time around, Winter went in the opposite direction of the fiery red locks she was sporting a few months ago. Not only is the actress now an eye-popping blonde, but she's rather specifically Daenerys Targaryen blonde. You can check out Winter's Game of Thrones-inspired locks below!
Call the dragons! Westeros has a new queen. It sounds like the caption "Winter is coming" is both a nod to the show and to the actress actress, whose last name is obviously Winter. I love a good double entendre, which clearly wouldn't have worked had her Modern Family costar Ty Burrell tried it. (Though just picture him with that hair.) Between the red and the blonde, I guess you could say Ariel Winter may also be going for the full fire and ice references from Game of Thrones author George R.R. Martin's books.
Accompanying the first photo are several different takes showcasing Ariel Winter's new look. The boldness of the hair color and the shorter cut is admirable. The Modern Family alum really seems to like it, too, which is not surprising since it's admittedly a very good look for her.
She isn't the only Modern Family actress to change up her well-known sitcom look for something a bit more daring. Sarah Hyland, who played Winter's onscreen sister Haley Dunphy, recently said so long to her darker locks and opted for a shade of red (or pink, depending on how you see it) instead. Hyland was especially proud of the look because she dyed it herself. That's pretty daring, considering I would personally never go near my own hair in such a way without a professional.
Ariel Winter was very young when she was cast as Alex in Modern Family, and has been fairly open about the challenges of growing up in the public eye and the particularly intense scrutiny she's faced with regards to her weight and appearance. Winter has admitted that the comments about her body still bother her, but that she'd learned how to handle it over the years.
Modern Family might be over, but Ariel Winter's career is sure to explode in the future. Plus, fans of the long-running comedy can still watch all the Season 11 episodes on Hulu right now. For more on what to watch in the coming months, be sure to check out our 2020 summer TV premiere guide.
Your Daily Blend of Entertainment News
Thank you for signing up to CinemaBlend. You will receive a verification email shortly.
There was a problem. Please refresh the page and try again.