Surprise, Taylor Swift's A Brunette Now In New Thank You Post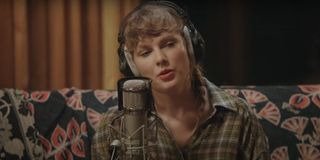 The 2021 iHeartRadio Music Awards had a few treats this past Friday night. We got an Usher medley performance, an alien invasion from Doja Cat, and even a look at Ariana Grande's "eighth" ring. But it was Taylor Swift's brunette hair in her thank you post that managed to surprise folks.
She may have lost out on Female Artist of the Year, but Taylor Swift's folklore took home one of the biggest awards of the night with Best Pop Album. The album and its companion lean considerably more toward folk and alternative rock, which is a sharp contrast to the rest of her mostly pop and country music catalogue. And it seems Swift wasn't quite done switching things up. In her pre-recorded acceptance speech, Swift has much darker brunette hair than ever seen in the past. But hey, maybe it's the lighting of the studio? Check out her full post here:
Taylor Swift's signature blonde, curly hair propelled her into stardom at the age of 16 with her debut self-titled studio album. The look has been diminishing somewhat in recent years. She's been easing into a dirtier blonde color and sheared hairstyle ever since folklore. The new woodsy and natural look for Swift helped match the album's own tone and style. But the recent video seems to suggest that Swift can get darker.
The "Epiphany" singer has commented before on the phenomena of female performers needing to constantly change things in order to stay relevant. In her Netflix documentary Miss Americana, she said:
It doesn't appear, at least to Swifties, that Taylor Swift will follow that fate. Along with the iHeartRadio award for Best Pop Album, the singer-songwriter also won Album of the Year at the Grammys this year. Critics have showered praise on folklore -- which was inspired by and created during the pandemic -- as being the greatest album to come out of the lockdown era.
The 2021 iHeartRadio Music Awards had other surprises besides Taylor Swift's brunette-looking hair. Machine Gun Kelly showed up not only with girlfriend Megan Fox but also a dyed black tongue. It's a wonder whether Swift or Kelly will have a harder time getting their color out.
Fans were doubly excited to get the first glimpse of Ariana Grande as a (dangerous) married woman. She performed alongside The Weeknd, but it was the ring everyone was looking at. Grande wed real estate agent Dalton Gomez earlier this month.
Taylor Swift is reportedly still with her longtime boyfriend, actor Joe Alwyn, who also wrote a few songs under an alias for her hit album. Fans who wish they could see Swift live will have to settle for the documentary concert film folklore: the long pond studio sessions, which is still streaming on Disney+.
Freelance writer. Favs: film history, reality TV, astronomy, French fries.
Your Daily Blend of Entertainment News
Thank you for signing up to CinemaBlend. You will receive a verification email shortly.
There was a problem. Please refresh the page and try again.