10 Sick Movies Worth Streaming When You Feel Like The Living Dead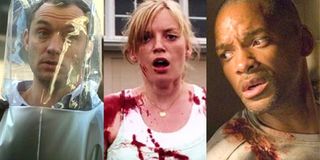 Do you feel like crap too? It's flu season. Not to mention the coronavirus is spreading. On that note, you might be spending some sick days at home. Some people suggest light rom-com movies to watch when you're sick to make you feel better. I feel differently. On Mondays I tend to recommend stuff to stream, and today I'm suggesting you get down with the sickness by streaming these 10 movies about deadly viruses. Go ahead and scare that cold away!
Night Of The Living Dead
If you feel like the living dead, you should join your people by streaming this 1968 George A. Romero classic. Victor Halperin's 1932 movie White Zombie is widely considered the first zombie film, but Night of the Living Dead is the granddaddy of modern zombie movies, whether the walking dead are calling zombies or not. Modern films tend to go for a faster zombie approach -- everyone is in such a rush to die these days! -- but it's worth slowing down to appreciate the leisurely pace of past attacks. Night of the Living Dead can be streamed right now on Tubi, Shudder (opens in new tab), Sling TV (opens in new tab), and Starz (opens in new tab).
Contagion
Director Steven Soderbergh's star-studded 2011 virus movie is currently enjoying a huge streaming boost "thanks" to the coronavirus. Contagion's virus also spread from China, and even though there are major differences (and the movie is fiction) the movie is pretty helpful with its general reminder to stop touching your damn face every few seconds. (That reminder was for me. I do that all the time, and every time I do it I can hear Kate Winslet's character shaming me. I'm sorry, Dr. Mears!) I love everything about this movie from the soundtrack to the heartbreaking story -- to shaking my head at Jude Law's smarmy blogger to loving Matt Damon's #1 dad. It shouldn't take a virus for anyone to appreciate this movie. And that ending prom dance! I tear up every time. Stream Contagion with a Hulu subscription or pay to rent/buy it at Amazon, FandangoNOW, Vudu, YouTube, iTunes, Google Play, or wherever you pay for such things.
Outbreak
Before Contagion came along to scare us into not touching anything, there was Outbreak to scare us into not wanting to breathe. The 1995 virus outbreak film stars Dustin Hoffman, Kevin Spacey (back when we all loved him), Cuba Gooding J., Morgan Freeman, Donald Sutherland, Rene Russo, and -- somehow I forgot this -- Patrick Dempsey. It's another heartbreaker of a movie with a plot just realistic enough to get you scared it could happen in real life. Netflix does not have this movie as of February 2020 -- or most of the others I put on here, to be honest -- but you can pay a couple of bucks to stream Outbreak on Amazon, iTunes, etc.
28 Days Later
Danny Boyle made one of the all-time great virus movies and it works so well because it's low-budget and low-tech. It's not splashy or filled with major stars. The realism just adds to the dread and heartbreak. This was Cillian Murphy's breakout role, but it also put Bond star Naomie Harris on the map. And don't forget Brendan Gleeson as another standout dad or Christopher Eccleston in his chilling military role. (The military often ends up on the wrong side of history in these movies.) The cast is relatively small, since it's the end of the world, and we come to care about all of them. I didn't love the sequel, 28 Weeks Later, but you can watch that too if you like. I won't drop blood in your eye or anything. Stream 28 Days Later on Hulu, or pay to rent/buy at the usual spots.
World War Z
I remember all the behind-the-scenes issues with Brad Pitt's movie, which was based very loosely on the Max Brooks novel. So when it finally arrived in theaters in 2013 I was prepared for it to be a hot mess. Instead, I thought it was pretty fantastic, and I'm still waiting for more. I love every virus outbreak but there's a special place in my heart for the ones that show the effect around the world -- a globe-trotting film like Contagion or World War Z as opposed to focusing on one location like the raw realism of 28 Days Later. In this case, it allows for harrowing scenes like that one in Jerusalem as the zombies scale the walls. [shivers] Stream World War Z on Hulu with a subscription or pay a few bucks at the usual digital spots.
12 Monkeys
Brad Pitt again! The man does love to go viral. Brad Pitt recently talked about hating his performance in the second half of this movie. The Academy didn't agree, giving him an Oscar nomination as Jeffrey Goines. Bruce Willis is the main star, though, as prisoner James Cole in 2035, sent back in time to try to help stop the virus that will eventually spread and kill off most of humanity. Madeleine Stowe plays his 1990 psychiatrist Dr. Kathryn Railly in a movie that manages to balance time travel, a virus outbreak, and the usual surreal images and off-kilter humor you can expect from a Terry Gilliam film. 12 Monkeys was inspired by Chris Marker's La Jetée, and so was the 12 Monkeys TV series that aired on Syfy. Stream 12 Monkeys on Hulu or for just a couple of bucks to rent at Amazon, etc.
The Omega Man
Richard Matheson's 1954 novel I Am Legend gave us three great virus movies: Vincent Price's The Last Man on Earth in 1964, Charlton Heston's The Omega Man in 1971, and Will Smith's I Am Legend, noted below. Each movie adapted the story a little bit differently for its own time. In The Omega Man, biological warfare is to blame for the plague that wipes out most of humanity. Heston's Neville gives himself an experimental vaccine to survive and battles a cult of plague victims called The Family. Neville thinks he's the only man alive until he meets other survivors, including Lisa, played by the great Rosalind Cash. The movie is a cult classic today and you can stream it to rent/buy at YouTube and the usual places.
I Am Legend
Will Smith's 2007 post-apocalyptic movie is also based on Richard Matheson's novel, like The Omega Man. It also makes its own changes, including seeing the virus' origin as a cure for cancer gone wrong. (This is your fault, Emma Thompson!) This movie scared me more than most. Sometimes I think of it when night is about to fall and I think I'd better get indoors and in the bathtub and keep SILENT or the Darkseekers will get me. I also can't look at photos like the one shown above without melting a little bit and getting close to tears. Oh, sweet Sam. All in all, this is one of Will Smith's best action movies. It's a one man (and one dog) showcase and he carries it easily. I'm mad that Netflix doesn't currently carry I Am Legend, but it might by the time you see this. For now, you'll have to pay a few bucks to rent or buy at Amazon and company.
Dawn Of The Dead
Remakes get a bad name, but there's no disloyalty in pointing out when a movie does a damn good job of reimagining a classic. Zack Snyder's 2004 movie does that damn good job. It carries the same title as George A. Romero's 1978 movie and has some similarities -- including a shopping mall sanctuary and apocalypse pregnancy -- but Snyder's film definitely has its own take. The cast is A+, led by the amazing Sarah Polley, who won me over in The Sweet Hereafter and now directs and produces her own films. Still, I'd love to see her back in a kickass role like nurse Ana. Humor, heart, an awesome soundtrack, this movie has it all. It's not on Netflix as of February 2020, but you can rent/buy at Amazon and the usual spots.
Pontypool
I'm going a little more obscure for this last one. There are plenty of other outbreak movies to watch, but to be honest you've probably seen most of them already. I love re-watching movies I love, but maybe you haven't seen Pontypool yet? It's a 2008 horror film out of Canada set in the titular town in Ontario. Stephen McHattie's character Grant Mazzy is a shock jock radio announcer in a station that tries to navigate through a very creative virus attack that spreads through language. The movie is based on Tony Burgess' novel Pontypool Changes Everything and he adapted his own work for the screenplay. Pontypool isn't available everywhere, but it looks like you can stream it through Shudder (opens in new tab) or for a few bucks at iTunes.
BONUS: Pandemic: How to Prevent an Outbreak
This is a TV series, not a movie, but it's perfectly timed for the coronavirus. Plus, it's on Netflix! Yes, Netflix actually has something. This six-episode series is called Pandemic: How to Prevent an Outbreak and it follows the vaccine debate and doctors around the world trying to treat and cure viruses. It's fascinating and scary and a bit maddening, but definitely worth watching. Stream Pandemic here on Netflix (opens in new tab).
More options: There are so many zombie or other virus films and TV shows you can stream. Obviously Shaun of the Dead is a delight and a great mix of humor and horror. I almost added that one but went for Pontypool instead, so go ahead and BITE ME if you don't like my choice. You can also watch Zombieland or maybe stream the first few seasons of The Walking Dead and stop right when they get to Alexandria so you're spared the slow and painful decline. Netflix also has the new vampire outbreak show V Wars starring Ian Somerhalder. And Netflix also has a TV series following an outbreak in Atlanta called Containment.
If you're looking for more streaming recommendations, there are A LOT of past features you can check out:
• 5 Excellent Keanu Reeves Roles Worth Streaming On Netflix And Amazon
• 5 Sci-Fi TV Shows To Watch On Netflix: Our Streaming Recommendations
• 5 Documentary Series To Watch On Netflix: Our Streaming Recommendations
• 5 British TV Comedies On Netflix You Should Bloody Well Watch: Our Streaming Recommendations
• 3%, Occupied, Harlots, and Other Streaming Recommendations
• 5 Robert Downey Jr. Movies To Love 3000 On Netflix
• 5 Chris Evans Movies Worth Streaming On Netflix And Amazon
• 5 Ryan Reynolds Roles Worth Streaming On Netflix And Amazon
• 5 Will Smith Movies Worth Streaming Right Now On Netflix And Beyond
• 5 Refreshingly Non-Toxic Reality TV Shows Worth Streaming On Netflix
• 5 Joaquin Phoenix Movies Worth Streaming On Netflix And Amazon Ahead Of Joker
• 5 Stripper Movies Worth Streaming In Honor Of Jennifer Lopez's Hustlers
• The 5 Best Space Movies To Stream In Honor Of Brad Pitt's Ad Astra
• 11 Unbelievable True Crime Series Worth Streaming On Netflix
• 8 Movies With 100 Percent Ratings Worth Streaming Before Netflix's The Irishman
• 7 Paul Rudd Movies Worth Streaming On Netflix Before Living With Yourself
• 8 Movies With Twist Endings Worth Streaming On Netflix After Fractured
• Where To Stream Firefly And 10 Other Great Shows Cancelled After One Season
• Whodunit? 7 Murder Mysteries Worth Streaming On Netflix
• 12 Royal TV Shows Like Netflix's The Crown: Our Jolly Good Streaming Recommendations
• 11 Best Gangster Movies Worth Streaming Along With Netflix's The Irishman
• 11 Best Tom Cruise Action Movies Worth Streaming As We Wait For Top Gun: Maverick
• 13 Adam Driver Movies Worth Streaming, Including Netflix's Marriage Story (But Not Star Wars)
• 8 Carrie Fisher Movies Worth Streaming As Star Wars: The Rise Of Skywalker Opens
• 8 TV Shows Worth Streaming On Netflix As You Wait For The Witcher Season 2
• 10 Disney+ Shows Worth Streaming As We Wait For The Mandalorian Season 2
• 10 Best Oscar Nominees Worth Streaming Before 2020 Academy Awards
What sick movies or shows do you watch when you feel lousy? Do you go the light route, like Singin' in the Rain or a Frasier marathon, or feed the cold by going full dark?