8 Carrie Fisher Movies Worth Streaming As Star Wars: The Rise Of Skywalker Opens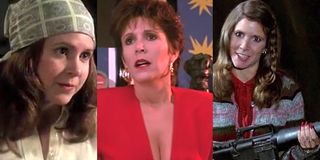 There are few stars in our galaxy as beloved as Carrie Fisher. It was a shock to the world when the Star Wars icon died December 27, 2016 at age 60. But, as Leia's twin brother Luke is heard saying in trailers for Star Wars: The Rise of Skywalker, "No one's ever really gone." Fisher returns as Leia Organa for the final film in the Skywalker Saga, and her filmography lives on forever. While she's best known as Princess Leia -- and for her writing and self-deprecating comedy -- she had hundreds of credits across movies and television. Here are just a few Carrie Fisher movies worth streaming and treasuring as you prepare to say goodbye to the Skywalker family this week.
Shampoo
Carrie Fisher made her movie debut in Shampoo in 1975, her only film role before Star Wars: A New Hope would turn her into Princess Leia forever. The 18-year-old only has a couple of scenes as flirtatious young Lorna Karpf, daughter of Lee Grant and Jack Warden's characters. She has an interesting conversation with Warren Beatty's character George Roundy about whether he's gay or "making it" with her mother, before casually asking if he wants to fuck The language is definitely dated in this scene -- and I mean the other F-word -- but you can already see the star she'd become. You can stream Shampoo free with a Sony Crackle subscription or for a buck on YouTube, or a few bucks on Amazon, Vudu, or Google Play.
The Blues Brothers
The Blues Brothers came out in June 1980, one month after Star Wars: The Empire Strikes Back came out. So, yeah, she was already cemented as Princess Leia forever. But she had a very different small role in this classic comedy, playing Jake Blues' (John Belushi) jilted fiancée, who wants to kill him for leaving her at the altar. Interestingly enough, in real life she got engaged to the other Blues brother, Dan Aykroyd, while making this movie. And then she reportedly jilted him to go back to Paul Simon. Either way, the movie they made together is a cult classic. You can watch her scenes in this clip and/or stream the whole movie with a Sling TV subscription.
Hannah and Her Sisters
Carrie Fisher plays April in Woody Allen's ensemble drama, which needs to be remembered every time people put together lists of Thanksgiving movies. Mia Farrow plays Hannah, with Barbara Hershey as Hannah's sister Lee, and Dianne Wiest as sister Holly. Fisher's April is Holly's friend and fellow actress and caterer, who gets caught up in all of the relationship and career drama of the movie. Wiest won the Best Supporting Actress Oscar for her role, with Michael Caine as Best Supporting Actor, and Allen won for Best Original Screenplay. The 1986 movie came out three years after Star Wars: Return of the Jedi, with Fisher branching into different roles. Hannah and Her Sisters is now available to stream on HBO Go.
Hollywood Vice Squad
The same year as Hannah and Her Sisters, Carrie Fisher made this veeerrrrry different movie. She plays rookie vice cop Betty Melton, who tries to make a name for herself to take down a pornographer using underage talent. The main storyline follows Pauline Stanton, a mother who goes to Hollywood to track down her teen daughter, who went to Hollywood to become a big star and ended up working with a guy preys on young girls by getting them hooked on drugs and turning them into prostitutes. Oh, and the daughter, Lori, is played by Robin Wright in her first feature film role. This may not be the greatest movie, but Hollywood Vice Squad is available for streaming on Tubi and Amazon Prime.
The 'Burbs
I'm obsessed with this movie. It's one of my favorite comedies of the '80s. Two words: Bruce Dern. Carrie Fisher is basically stuck in The Wife role as Carol Peterson, wife of Tom Hanks' Ray Peterson. She's the voice of reason as three husbands in the neighborhood -- played by Hanks, Dern, and Rick Ducommun -- attempt to investigate the mysterious new neighbors in their suburban cul-de-sac. I wish Fisher got to have more of the fun scenes in this movie, but I still love her dynamic opposite Hanks. You can stream The 'Burbs now with Starz or Sling TV subscriptions.
When Harry Met Sally...
This 1989 classic is one of the greatest romantic comedies of all time, thanks mostly to Meg Ryan and Billy Crystal -- and also Nora Ephron's script and Rob Reiner's direction. But don't forget Carrie Fisher as Marie or Bruno Kirby as Jess. They play the respective best friends of Sally and Harry and end up together. The whole ensemble is fantastic and everything about the movie is just timeless. People still imitate that orgasm scene and debate whether men and women can ever just be friends. (I hope your answer is yes.) Stream When Harry Met Sally... now on Showtime or Sling TV.
Postcards From the Edge
This one might be considered cheating because Carrie Fisher isn't actually in the movie. But she wrote the screenplay and it's based on her semi-autobiographical book as an actress and recovering drug addict. Meryl Streep plays this version of her, Suzanne Vale, with Shirley MacLaine as her mother Doris. Of course, in real life the legend Debbie Reynolds was Carrie Fisher's mother and died just one day after her daughter. While the movie is only partly based on Fisher's own experiences, it's a must-watch for anyone who wants to appreciate her wit and candor and just understand her more as a fascinating and very human being. Stream Postcards From the Edge free on Sony Crackle.
Soapdish
This movie behind-the-scenes of a fictional soap opera is such a campy delight, with one of the best comedy casts of the 1990s. Carrie Fisher has the small role of Betsy Faye Sharon, a casting director not afraid to exploit male talent for the daytime drama The Sun Also Sets. She also gets this classic reply to Elisabeth Shue's aspiring star Lori Craven, after Lori introduces herself as an actress. "An actress! Really, how nice for you! I'm Betsy Faye Sharon, and I'm a bitch. Now get out of here." ICONIC. I kind of wish the whole movie centered around her but it mostly follows Sally Field's longtime soap star Celeste Talbert, with amazingly outsized performances from Kevin Kline, Robert Downey Jr., Whoopi Goldberg, Teri Hatcher, and more. You can and should stream Soapdish now with a Hulu subscription.
BONUS: Catastrophe
This British comedy series isn't a movie, but it marks one of Carrie Fisher's final roles and it's a great one. According to The Atlantic, Fisher had dinner with Catastrophe creator/star Sharon Horgan the night before she suffered the heart attack that would end her life. Fisher gave one of her final performances in Catastrophe Season 3, continuing her role as Mia Norris, mother of co-lead Rob Norris (Rob Delaney). Fisher's shining performance earned her a posthumous Emmy nomination for Outstanding Guest Actress in a Comedy Series. Stream Catastrophe now on Amazon Prime Video.
If you're looking for more streaming recommendations, I share suggestions every Monday and there are A LOT of past features you can check out:
• 5 Excellent Keanu Reeves Roles Worth Streaming On Netflix And Amazon
• 5 Sci-Fi TV Shows To Watch On Netflix: Our Streaming Recommendations
• 5 Documentary Series To Watch On Netflix: Our Streaming Recommendations
• 5 British TV Comedies On Netflix You Should Bloody Well Watch: Our Streaming Recommendations
• 3%, Occupied, Harlots, and Other Streaming Recommendations
• 5 Robert Downey Jr. Movies To Love 3000 On Netflix
• 5 Chris Evans Movies Worth Streaming On Netflix And Amazon
• 5 Ryan Reynolds Roles Worth Streaming On Netflix And Amazon
• 5 Will Smith Movies Worth Streaming Right Now On Netflix And Beyond
• 5 Refreshingly Non-Toxic Reality TV Shows Worth Streaming On Netflix
• 5 Joaquin Phoenix Movies Worth Streaming On Netflix And Amazon Ahead Of Joker
• 5 Stripper Movies Worth Streaming In Honor Of Jennifer Lopez's Hustlers
• The 5 Best Space Movies To Stream In Honor Of Brad Pitt's Ad Astra
• 11 Unbelievable True Crime Series Worth Streaming On Netflix
• 8 Movies With 100 Percent Ratings Worth Streaming Before Netflix's The Irishman
• 7 Paul Rudd Movies Worth Streaming On Netflix Before Living With Yourself
• 8 Movies With Twist Endings Worth Streaming On Netflix After Fractured
• Where To Stream Firefly And 10 Other Great Shows Cancelled After One Season
• Whodunit? 7 Murder Mysteries Worth Streaming On Netflix
• 12 Royal TV Shows Like Netflix's The Crown: Our Jolly Good Streaming Recommendations
• 11 Best Gangster Movies Worth Streaming Along With Netflix's The Irishman
• 11 Best Tom Cruise Action Movies Worth Streaming As We Wait For Top Gun: Maverick
• 13 Adam Driver Movies Worth Streaming, Including Netflix's Marriage Story (But Not Star Wars)
What are your favorite Carrie Fisher performances, and where/how can people watch them?
Your Daily Blend of Entertainment News
Gina grew up in Massachusetts and California in her own version of The Parent Trap. She went to three different middle schools, four high schools, and three universities -- including half a year in Perth, Western Australia. She currently lives in a small town in Maine, the kind Stephen King regularly sets terrible things in, so this may be the last you hear from her.