Bella Thorne Just Came Out As Bisexual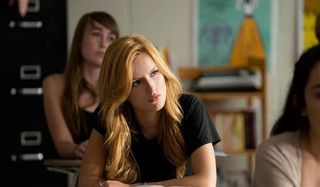 Bella Thorne was just asked a personal question by a fan on Twitter, and not only did she respond but she also confirmed that she is in fact bisexual. The young actress seemed to have no problem coming out to the public yesterday after a curious fan sparked the conversation by asking her if she's bisexual in a tweet. She has received nothing but love and acceptance since coming out.
Thorne's recent confession has sparked an overwhelming amount of support from her fans and the media to which she expressed her gratitude for in a tweet saying:
Fans have been speculating for weeks that Thorne has been dating long-time friend and her older brother's ex-girlfriend Bella Pendergast, as the two have appeared cozier than usual on the actress' social media pages. The rumors began after Thorne split from Faking It star Gregg Sulkin earlier this month and Thorne began sharing photos of her and Pendergast kissing and holding hands.
While the two haven't officially come out as a couple, Thorne's Twitter confession has led many fans to believe that the rumors are true. Thorne isn't the only woman in Hollywood who has recently come out a bisexual, as hiding ones sexual preference from the public is quickly becoming a trend of the past.
Kristen Stewart
Just in the past few months, Twilight actress Kristen Stewart has gone public with on-again off-again girlfriend Alicia Cargile. Stewart came out as bisexual over a year ago, but with how secretive she had been regarding her relationship with Robert Pattinson, it came as a surprise to fans that she has been so open about her current girlfriend. While it's unknown how the two met, Cargile has been working in the TV and film industries for years, first as a personal assistant and currently as a visual effects producer.
Sharon Osbourne
The newly single X Factor judge recently revealed on The Talk that she regrets not exploring her sexuality more and experimenting with women when she was younger. She mentions that it's too late for her to explore this side of herself now, but is it really?
Better late than never Sharon!
Aubrey Plaza
This Mike and Dave Need Wedding Dates comedic actress recently came out as bisexual during an interview with The Advocate in hilarious fashion, claiming she has always felt like she was meant to be an older gay man. Aubrey opened up about how women tend to be attracted to her masculine energy, and how she has no problem with that!
Your Daily Blend of Entertainment News
Thank you for signing up to CinemaBlend. You will receive a verification email shortly.
There was a problem. Please refresh the page and try again.