6 Superhero TV Spinoffs We Want To See In 2021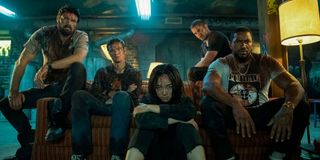 It's truly the age of superheroes. With a new wave of Marvel series set to hit Disney+ next year, The CW adding more series to its ever-growing superhero slate, and HBO Max developing its own DC shows, there is no better time to be a fan of the genre. Now that Agents of S.H.I.E.L.D. has ended and Supergirl and Black Lightning are approaching their own final seasons next year, it's time to look ahead at which superheroes could get their own spinoff TV shows.
While there are plenty of comics characters to choose from, it's probably much easier for a network or streaming service to create superhero spinoff series with a focus on one or more characters with established backstories. To that end, we've come up with a list of six superhero spinoff shows we want to see in 2021. Some have already been confirmed, while others are always a possibility. Let's dive in, shall we?
Legion Of Superheroes, Supergirl Spinoff
First introduced in Supergirl's third season, the Legion of Superheroes is a team that exists in the future, and to which Querl Dox/Brainiac 5 (AKA, Brainy) is a member, alongside Mon-El and his wife, Saturn Girl. While their presence helped save Supergirl after a battle with a Kryptonian villain named Reign, the Legion of Superheroes didn't get all that much to do on the show. However, with Supergirl coming to an end, Brainy could return to the future to rejoin his team or stick around and form a new one with Nia Nal/Dreamer. The team of superheroes is popular in DC Comics and has already had an animated show. I think it's time for them to finally go the live-action route, and they'd be right at home on The CW.
Agents Of S.W.O.R.D., Agents Of S.H.I.E.L.D. Spinoff
The Agents of S.H.I.E.L.D. finale saw Daisy Johnson (whose superhero codename is Quake), and the rest of her team wrap up their time traveling battle against the Chronicoms, an advanced alien species attempting to establish their new home on Earth. While it was bittersweet to watch the agents go on their final mission together, Daisy, her sister Kora, and boyfriend, Agent Daniel Sousa (who was plucked from his original timeline in Season 7) end up on a mission in space.
It was never confirmed whether Daisy is on the mission for S.H.I.E.L.D. or S.W.O.R.D., an agency set up to monitor all extraterrestrial activity. However, it would be pretty amazing if Daisy and Sousa got their own spinoff show about their adventures in space. These two were the couple to watch in Season 7 and I don't think we had enough time with them. Plus, Daisy would be right at home in space, and I'd love to watch her in a spinoff where she finally gets to lead the charge. It's what she deserves.
Nightwing And Starfire, Titans Spinoff
Before Titans became a large ensemble show, Nightwing, Starfire, Raven, and Beast Boy were at the core of the series. However, the former DC Universe show fell away from them to focus on newer characters, and their development and storylines were sidelined. As Titans heads into Season 3, I would love it if Brenton Thwaites' Nightwing and Anna Diop's Starfire left to star in their own spinoff series.
They're both very popular comic book characters with plenty of history and backstory worth tackling. Titans has barely scratched the surface and I think a spinoff is the best way to give them more screen time and attention. A spinoff would provide the chance for more focus on them as individuals and as a romantic couple. I don't think anyone can deny how badass they are together and I think it's about time that they got a show to spotlight their attributes.
Supe College, The Boys Spinoff
The Boys Season 2 got darker, grittier, and more popular than ever on Amazon Prime, so it's no surprise that the streamer's execs are developing a spinoff series. The show, which has yet to get an official title, will be set at a college for superpowered beings run by Vought, the corporation controlling The Seven, the show's elite superhero team. It sounds like a bonkers idea that is described as being akin to The Hunger Games paired with the R-rated darkness of The Boys.
It sounds like we could be getting a show that will balance youthful shenanigans with deadly powers, and that's pretty exciting. What do college classes look like when you've got powers? What kind of trouble do the Supe students get into? More importantly, how evil are they? The Boys spinoff could answer these questions. The series can also expand the world beyond The Seven, as well as offer the audience a nice break from the titular characters while sticking to the same established world.
Silk, Spider-Man Spinoff
There have been seven live-action Spider-Man films to date, and an eighth is on the way with Marvel's untitled Spider-Man: Far From Home sequel. However, a spinoff is currently in development at Sony that will focus on Cindy Moon, a classmate of Peter Parker's who is also bitten by a radioactive spider and becomes the superhero named Silk. Cindy is a relatively new character, having been introduced to Marvel comics in 2014.
The Silk spinoff series, which is expected to be picked up by Amazon, according to Variety, could usher in a new era, and it's pretty exciting to have a superhero series with a leading lady who is also Asian-American. Cindy Moon has already appeared in Spider-Man: Homecoming and it would be fun to see what she's capable of on her own, all while still existing in very familiar territory.
Painkiller, Black Lightning Spinoff
Black Lightning is ending after Season 4, but there are already plans to spinoff Khalil Payne, AKA Painkiller. The character has had a long (and very painful) journey since the first season. After a brief stint working with the show's primary antagonist, Khalil's mind was reprogrammed to kill on command. And, while he's doing okay now, there's no telling what could happen next. The spinoff is expected to have a backdoor pilot in Season 4 of Black Lightning and Khalil is certainly a dynamic enough character to pull off leading his own show. My hope is that the spinoff gets to keep some of the other Black Lightning characters around and that the Painkiller spinoff, if it gets a series order, will flesh out his backstory in an exciting way.
While some of these spinoffs are merely wishful thinking on my part, there's definitely a chance that we could see the Silk, Painkiller and The Boys spinoff series in 2021. Either way, there is much to look forward to in the ever-expanding world of superheroes, including upcoming series like WandaVision on Disney+, Superman & Lois on The CW, and The Suicide Squad spinoff Peacemaker.
Stay tuned to CinemBlend for updates on the superhero front. In the meantime, be sure to check out our 2021 winter and spring TV premiere schedule for more on what to watch in the coming months.
Your Daily Blend of Entertainment News
Your Daily Blend of Entertainment News
Thank you for signing up to CinemaBlend. You will receive a verification email shortly.
There was a problem. Please refresh the page and try again.