Ride Along 2: What We Know So Far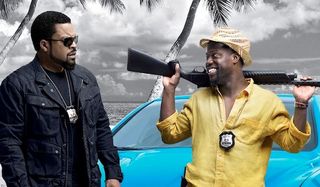 Sure, Kevin Hart and Ice Cube are both big stars, but when their buddy cop comedy Ride Along opened in January of 2014, won the box office race, and became a hit, it took many people by surprise. Earning a solid $134 million domestically ($154 million worldwide) with a modest $25 million budget, the fact that a sequel, oddly enough titled Ride Along 2, is on the way surprised absolutely nobody.
But what is the movie going to be about? Where does the action go down? Who is going to be involved in front of the camera and behind? And, most importantly, will it be as much damn fun as the first movie? As the release date for Ride Along 2 quickly creeps up on us, as we do with many major releases, we've compiled everything we know about the film thus far in one convenient place. So take a moment to peruse our collection of all the information we have about Ride Along 2. And you might as well star off by checking out the trailer.
Now here's everything you could possibly want to know about Ride Along 2. Enjoy!
The Director
Director Tim Story is no stranger to big movies and has all of the tools you'd want from someone at the helm a film like Ride Alone 2. He's guided big studio superhero blockbusters, like 2004's Fantastic Four, as well as the follow up, 2007's Rise of the Silver Surfer. With that experience he should have a nice grasp of the action side of the equation, and with experience directing the likes of Barbershop (which stars Ice Cube), Think Like A Man (which stars Kevin Hart), and the Jimmy Fallon and Queen Latifah team up Taxi, he has ample experience on the comedy side, too.
Then there's the fact that Tim Story directed Ride Along, and if you're trying to replicate the success of the first movie, who better to have at the reins of the second? Not only is he intimately familiar with the material, he already has a grasp of the story, the characters, their motivations, what drives them, and the comedic timing and dynamic between the two leads. He's in a perfect position to balance Hart's manic comedy with Ice Cube's pitch perfect straight man. In short, there's no one else to have sitting in the big chair for Ride Along 2 than Tim Story, and fans of the first film should rest comfortable at night knowing the sequel is in good hands.
The Story
Ride Along follows Ben Barber (Kevin Hart), a fast-talking, video game-obsessed security guard who wants to become a cop. Ben also wants to marry his girlfriend, Angela (Tika Sumpter), but her brother, the hard-nosed, plays-by-his-own-rules detective, James (Ice Cube), doesn't approve and tries to scare off his brother by taking him on the most hellish ride along he can concoct. This, of course, turns into harrowing series of criminal encounters, shootouts, and hostage scenarios through the streets of Atlanta, where Ben ultimately earns James' begrudging respect and approval, and proves his worth to everyone.
Ride Along 2 picks up a few years later. After graduating from the police academy, Ben is now a full-fledged Atlanta cop (god help the residents of the Peach Tree State). But not too much has changed, as he still annoys the hell out of his future brother in law. Though his marriage is imminent, he and James are sent on an important mission to Miami, and the Atlanta environs are swapped out for the tropical paradise of South Florida. Ben and James have to venture to the Sunshine State; team up with the Miami Police Department and a smart, gorgeous detective, Maya Cruz (Olivia Munn); and work a case against a new drug supplier named Antonio Pope (Benjamin Bratt). Ben still needs to prove himself to James and his superiors, keep himself safe, and get back to Atlanta in time to marry his girl. There promises to be fast cars, tense situations, and Ben fucking it all up for everyone and just maybe saving the day.
Kevin Hart
If it feels like you can't throw a rock without hitting Kevin Hart over the last few years, you're not far off. In addition to hit movies like Ride Along and Think Like a Man, the 36-year-old comedian has been everywhere, showing up on TV and on the big screen, and in numerous stand-up comedy specials. Earlier this year, he teamed up with Will Ferrell for the prison comedy Get Hard, and he has become an in-demand host for big awards ceremonies, guiding the likes of the BET Awards and the MTV Video Music Awards - which he hopes will lead to bigger things as an emcee, like hosting the Oscars or Emmys.
And Kevin Hart is definitely not going away anytime soon. His standup career is booming, and he has a number of high-profile movies on the way that will only serve to raise his standing as a movie star. In addition to Ride Along 2, he is also teaming up with everyone's favorite beefy action star, Dwayne "The Rock" Johnson in next year's action comedy Central Intelligence. So, I hope you're a fan, because Hart is going to continue to be everywhere for the foreseeable future.
Ice Cube
After beginning his career as a member of the seminal hip hop group, N.W.A., who had their story told earlier this year in the biopic Straight Outta Compton, where he was played by his own son, Ice Cube has become perhaps one of the most unlikely of movie stars. He started with dramatic roles, like in John Singleton's Boyz n the Hood, Trespass, and Higher Learning, for which he earned an Academy Award nomination, but he then showed that he has lyrical, dramatic, and comedy chops in the Friday films.
Though he has such a natural presence and continues to play the badass so well in dramatic and action movies, and has starred in more adult-oriented comedies, somehow Ice Cube managed to become a huge success in family friendly movies like the Are We There Yet? franchise, among others. This softer side is a definite change from his days spinning stories of street life with N.W.A., though he still finds time to get in the studio and releases new tracks from time to time, when he can fit it into his busy acting, producing, writing, and directing schedule.
Olivia Munn
Though Olivia Munn started out her acting career in low-budget horror flicks and small gigs in movie few people remember, it was her stint as the co-host of geek culture series Attack of the Show that started her ascent. And that ascent has taken a sharp upturn lately with roles in the likes of Magic Mike, The Newsroom, and more. Oh yeah, she's also going to play the first big screen version of the mutant Psylocke in next year's X-Men: Apocalypse, which is sure to be a boon to her career.
We don't know a ton about Munn's role in Ride Along 2, but it sounds like it will be a fairly sizeable part. She plays Maya Cruz, a detective with the Miami Police Department who teams with Ben and James to take down the big baddie. Given Munn's penchant for comedy, as well as her ass kicking abilities (if you've seen those videos of her practicing her Psylocke moves, you know what we're talking about), we hope to see both on full display.
Ken Jeong
You probably know Ken Jeong best as the little naked guy who jumps out of the trunk and latches onto Bradley Cooper in The Hangover, as the batshit-crazy disgraced Spanish teacher Ben Chang in the recently ended sitcom Community - or some similarly outlandish role that have been his bread and butter in recent years. But you know what? He's also a freaking doctor. That's right, he's licensed to practice medicine in the great state of California, and you've seen his wiener. Jeong plays up this fact—that he's a doctor, not that millions of movie fans have seen his penis — in his new ABC sitcom Dr. Ken, where he plays, you guessed it, a doctor.
When Ride Along 2 pulls up to the theater, you'll see Jeong play a character named A.J. We don't know much about him at this point, but considering we see him riding in the back of a police car with Ben and James, it looks like he plays some sort of criminal who shows up to provide some of the actor's trademark comic relief. Perhaps he's a snitch or informant who leads them to the big bad drug dealer, or an undercover officer working the case from the inside. One interesting fact is that there is another actor credited as A.J. on IMDb, a young kid named Andrew Ortega, so we have to wonder what that means. Maybe A.J. has some long-standing connection to one of the lead cops.
Benjamin Bratt
Veteran actor Benjamin Bratt has the unique ability to be funny, charming, and chilling, which are all skills that will likely come in handy in a movie like Ride Along 2. He plays Antonio Pope, the big drug dealer out of Miami that Ben, James, and the rest of the law enforcement officers try to take down. You don't get to be a kingpin without being vicious, so you know there will be scenes where Bratt strikes fear into the heart of his underlings, but he also appears to be a smooth operator, and there will be ample opportunities for laughs facing off against Kevin Hart and Ice Cube.
Over the course of his long career, Bratt has played cops and criminals, gangsters and federal agents, and even lent his voice to a number of animated projects, like Despicable Me and Cloudy with a Chance of Meatballs. He also got to play a superhero, at least vocally, lending his voice to Superman in some recent Justice League animated movies.
Tyrese Gibson
With his recurring role as Roman Pearce, the fast-talking comedy relief of the blockbuster Fast and Furious franchise, former model Tyrese Gibson has now fully left the world of fashion behind for a burgeoning career on the big screen. Starting with guest spots on TV shows like Hangin' With Mr. Cooper and Martin, he's gone on to lead dramas like Baby Boy and Waist Deep. These days he can be seen in all manner of high-octane action flicks, like several installments of the profitable Transformers series, Death Race, and more. Over the years, he's also maintained a music career, belting out sweet and smooth R&B jams on a number of albums that, while maybe not the biggest sellers, definitely have a solid audience. If that's not enough, he also wrote a best-selling book in 2012 called How To Get Out Of Your Own Way. And who knows, maybe one day he'll get to live out his dream of playing Green Lantern.
In Ride Along 2, Tyrese plays D.J., and while we don't know the precise nature of his character, from what we've seen in the trailers, my guess is that he's a cop. We see him and James in a scene that could be straight out of a Fast and Furious movie, where a bunch of street racers gather to party, hang out, and drive much faster than the speed limit. They appear to be in the midst of some sort of undercover sting, which Ben, true to form, interjects himself into with disastrous results.
The Release Date
In the movie industry, the early part of the year, January and February, is usually regarded as a dead zone, a place where studios dump movies that didn't come together quite like they hoped or that just plain suck. To some degree, that's changed over the last few years, thanks in part of the likes of American Sniper, which was a massive hit after going wide in January (though it, admittedly, did premiere before the end of the year for awards season contention). Part of this is likely due to the limited amount of theatrical real estate—there are only so many weekends in a year—and studios have had to test their luck. For instance, the upcoming Power Rangers movie is slated for a January bow.
Ride Alone is one of those movies that found success in this time period, and attempting to replicate the windfall of its predecessor, Ride Along 2 opens on January 15, 2016. With an audience that already exists and that is hungry for more, this could be a nice bit of counter programming. Moviegoers may very well be in the mood for some comedy fun after a long season of blockbusters like Star Wars: The Force Awakens and The Hunger Games, and weighty awards bait. We'll have to wait and see.
Your Daily Blend of Entertainment News
Thank you for signing up to CinemaBlend. You will receive a verification email shortly.
There was a problem. Please refresh the page and try again.