13 Netflix Movies To Watch If You Love Horrors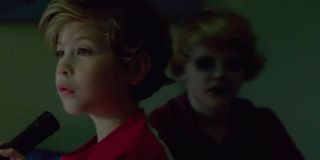 Any die-hard fan of cinematic horrors has their own ways of seeking out as many good scares as possible, which can often require a subscription to every streaming service imaginable. However, when looking back on some of the genre's more acclaimed and popular entries in recent memory, such as zombie survival story #Alive or the satanic satire The Babysitter, there is one place that many of them seem to have in common. In fact, there are plenty more original Netflix movies available that make a strong case for the platform's spooky appeal.
Of course, any thrill seeker knows the many other places on which the genre thrives digitally - such as the all-horror streaming service Shudder; Hulu, which puts the spotlight on content of a spooky variety for its annual "Huluween" celebration; or the endless amount of bloody B-movies you can almost always count on to find at Amazon Prime. Of course, Netflix has more than enough wonderfully weird horror classics available, but, what really helps it stand out as a reliably haunting location is its surprising amount of films in its original line-up that often match, or surpass, the quality in horror you can find on other streaming platforms or even from a theatrical production.
If you do not believe me, than it could mean you have been sleeping on some of Netflix's scariest exclusives, but after watching the original titles I have collected below, sleep may be more difficult to come by. The following 13 Netflix movies (which we found to be an especially appropriate number for the occasion) should amount to the perfect binge for the Halloween season (or any time of year for a true follower of frights), starting with one recent hit that has a little bit of everything you could ask for from a horror film.
The Ritual (2017)
A group of college friends from the UK, haunted by the recent tragedy, reunite for a hiking trip in Sweden - only to find there is something far worse and more frightening to be haunted by lurking in the trees.
Why It Is A Great Netflix Original Horror Movie: The always great Rafe Spall leads the cast of The Ritual, from director David Bruckner (helmer of segments from V/H/S and Southbound and an upcoming Hellraiser reboot), which has the atmosphere of a cabin in the woods B-movie, the tension of a outdoors survival thriller, and other hair-raising elements you should just see for yourself.
Stream The Ritual on Netflix here.
Apostle (2018)
An Englishman (Dan Stevens) wages war on a sinister religious fanatic (Michael Sheen) and his followers in order to rescue his sister from their isolated island commune in 1905.
Why It Is A Great Netflix Original Horror Movie: It may seem odd to see Gareth Evans (creator of modern kung-fu masterpieces The Raid and The Raid 2) directing a horror movie until you realize he helmed "Safe Haven," the most widely acclaimed segment for V/H/S 2, and that Apostle invokes much of the same cultish eeriness and bloody brutality, especially.
Stream Apostle on Netflix here.
Before I Wake (2016)
A married couple (Thomas Jane and Kate Bosworth) adopt an 8-year-old boy (Jacob Tremblay) deathly afraid of falling asleep, which his new parents initially write-off as a childish fear, until his nightmares start to become their reality.
Why It Is A Great Netflix Original Horror Movie: Before making Jacob Tremblay the star of the most heart-wrenching scene in Doctor Sleep, Mike Flanagan made the talented youngster the star of Before I Wake - one of his lesser-known gems that sat in distribution limbo before Netflix acquired it, allowing audiences to bear witness to its visually stunning frights and sparking a fond relationship between the director and the streaming platform.
Stream Before I Wake on Netflix here.
Gerald's Game (2017)
A night of passion and kinky fun for a middle-age husband (Bruce Greenwood) and wife (Carla Gugino) turns into a harrowing fight for survival when things go unexpectedly and horribly wrong.
Why It Is A Great Netflix Original Horror Movie: Before adapting Shirley Jackson's The Haunting of Hill House into a brilliant miniseries family drama and achieving the same with the gothically romantic The Haunting of Bly Manor (centrally inspired by Henry James' The Turn of the Screw) for Netflix, director Mike Flanagan and writing partner Jeff Howard turned the Stephen King novel Gerald's Game into this intense, subversive thriller.
Stream Gerald's Game on Netflix here.
The Perfection (2018)
A former music prodigy (Allison Williams) strikes up a relationship with the new star student (Logan Browning) of her previous cello instructor until an unusual circumstance occurs soon after, revealing shocking hidden truths.
Why It Is A Great Netflix Original Horror Movie: Filmmaker Richard Shepard would direct an episode of Jordan Peele's Twilight Zone reboot a year after helming The Perfection, which is fitting since this gruesome, twisted cautionary tale about the price of ambition feels like something right Rod Serling's alley.
Stream The Perfection on Netflix here.
Cam (2018)
An erotic performer is horrified to learn that her successful live web series has been hijacked by another woman engaging in far more deviant acts for her audience and - even worse - she, somehow, looks exactly like her.
Why It Is A Great Netflix Original Horror Movie: Actress Madeline Brewer has been a bit of Netflix scream queen since appearing in supporting roles on original horror show Hemlock Grove and an episode of Black Mirror, but her chilling dual performance in Cam is essential to why it is the hidden horror gem you owe it to yourself to add to your queue.
Stream Cam on Netflix here.
I Am The Pretty Thing That Lives In The House (2016)
A meek, young woman (Ruth Wilson) is hired as a live-in nurse for a famous, dementia-stricken writer (Paula Prentiss) in her large, New England mansion where she begins to encounter startling apparitions.
Why It Is A Great Netflix Original Horror Movie: You may recognize Osgood Perkins, director of I Am The Pretty Thing That Lives In The House, from helming the 2015 ghost story The Blackcoat's Daughter and the recent fairytale reinterpretation Gretel & Hansel, but what you may not realize is that he is also horror royalty as Anthony Perkins (Norman Bates in Psycho) is his father.
Stream I Am The Pretty Thing That Lives In The House on Netflix here.
In The Tall Grass (2018)
Two siblings (Laysla De Oliveira and Avery Whitted) step into a very large field of very high-growing grass hoping to aid a lost little boy they could hear crying for help, only to fall into an unexplainable and inescapable trap.
Why It Is A Great Netflix Original Horror Movie: Horror royalty also runs amok within the unending, claustrophobic nightmare that is In the Tall Grass, with a menacing performance by The Conjuring and Insidious star Patrick Wilson, direction from Cube and Splice helmer Vincenzo Natali, and inspiration from a novella of the same name by father and son duo Stephen King and Joe Hill.
Stream In the Tall Grass on Netflix here.
Cargo (2017)
A father (Martin Freeman) desperately seeks a safe haven for his infant daughter before he inevitably succumbs to an infection that has already turned most of Australia into flesh-eaters.
Why It Is A Great Netflix Original Horror Movie: Co-directors Ben Howling and Yolanda Ramke expand their acclaimed 2013 short Cargo into this feature-length adaptation that, despite taking place in a post-Apocalyptic zombie fantasy, tells a frighteningly relatable tale that questions how far a parent is willing to go to protect their young, even from themselves.
Stream Cargo on Netflix here.
#Alive (2020)
Young Korean man Oh Joon-woo (Ah-In Yoo) places himself into complete isolation, which turns out to be easier said than done when his apartment and the rest of Seoul is constantly surrounded by ferocious, hungry, reanimated corpses.
Why It Is A Great Netflix Original Horror Movie: Up-and-coming South Korean filmmaker Il Cho makes an impressively exciting and brutal feature-length debut with #Alive which, despite taking place in a post-Apocalyptic zombie fantasy, tells a frighteningly relevant tale that questions how far one is willing to go to survive in the midst of a deadly viral outbreak.
Stream #Alive on Netflix here.
Ravenous (2017)
The few locals who have endured an epidemic turning most of their Quebec village into gruesome, mindless killers venture into the woods in hopes of finding more survivors.
Why It Is A Great Netflix Original Horror Movie: The French-Canadian thriller Ravenous (not to be confused with the 1999 Donner Party-inspired period piece) takes a more unique and subtle approach to the zombie genre than the previous films on our list, resulting in a fascinating and suspenseful drama with brains (literally and figuratively).
Stream Ravenous on Netflix here.
The Babysitter (2017)
A young boy (Judah Lewis) experiences the inevitable heartbreak of crushing on an older woman worse than anyone else could have imagined when he learns the hot, teenage girl hired to watch him (Samara Weaving) is hiding deadly secret.
Why It Is A Great Netflix Original Horror Movie: Despite all of its disturbing moments of gore and classic references to the "satanic panic" of back in the day, McG's The Babysitter (and its 2020 follow-up, The Babysitter: Killer Queen) has a far better chance of making you laugh than many of the previously films on this list, much like the one we have saved for last.
Stream The Babysitter on Netflix here.
Hubie Halloween (2020)
A goofy man-child (Adam Sandler), considered the local joke-mule by his fellow townsfolk, must become a local hero when something strange begins haunting Salem, Massachusetts, on All Hallow's Eve.
Why It Is A Great Netflix Original Horror Movie: Well, to be honest, calling the star-studded, PG-13 comedy Hubie Halloween a "horror" film is a bit of a stretch, but it is a fun, sweet, and spooky story that serves as a good introduction for viewers who are not so ready for anything too graphic just yet.
Stream Hubie Halloween on Netflix here.
What do you think? Are you willing to give this new Netflix original Halloween movie a chance for the sake of scaredy cats, or is Adam Sandler's weird accent in Hubie Halloween even too scary for you? Let us know in the comments and be sure check back for additional information and updates on the best movies you can stream now on Netflix, as well as the most fearful films and TV shows available elsewhere, here on CinemaBlend.
Jason has been writing since he was able to pick up a washable marker, with which he wrote his debut illustrated children's story, later transitioning to a short-lived comic book series and (very) amateur filmmaking before finally settling on pursuing a career in writing about movies in lieu of making them. Look for his name in just about any article related to Batman.
Your Daily Blend of Entertainment News
Thank you for signing up to CinemaBlend. You will receive a verification email shortly.
There was a problem. Please refresh the page and try again.