JoJo Siwa Will Be Part Of Dancing With The Stars' First Same-Sex Pairing, And Twitter Is Here For It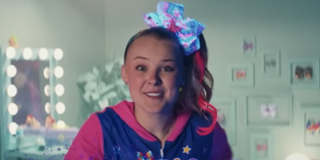 Dancing With The Stars fans, we finally have some news about the upcoming season, and it's some history-making news, too. We've been waiting for casting announcements for what seems like forever, and with the debut of Season 30 around the corner on September 20, it seemed like we were going to have to find out some information soon. Well, ABC just announced the first two celebrities that will compete in Season 30: gold medal-winning Olympic gymnast Suni Lee and Dance Moms' JoJo Siwa, who will deliver a DWTS first.
JoJo Siwa, who recently came out as LGBTQ, will be paired with a female professional, marking a historical first for the ABC series. Needless to say, people are excited about this news, like one Twitter user who said:
Kristen Maldonado, host of the Pop Culture Planet podcast, is also excited about JoJo Siwa joining Dancing With The Stars, and is already predicting that she'll make it far into the competition. Maldonado noted on Twitter:
When JoJo Siwa herself shared the news on Twitter, she had many fans share comments of support. One noted that she is validating a lot of girls with the announcement of the same-sex pairing, saying:
Another fan shared support under JoJo Siwa's post, noting that she'll do great in the competition:
Caryn Sterling, whose Twitter profile notes that she is JoJo Siwa's manager, is also excited for Siwa's opportunity to show the world you can love who you love and dance with who you want to dance with.
JoJo Siwa herself is certainly excited to be a part of Season 30 of the dance competition series. During the TCA panel for DWTS' upcoming season (when ABC made the casting announcements), Siwa commented that she considers it special to share an uplifting message with others. TCA member Max Gao shared Siwa's comments on Twitter:
People are also excited about Suni Lee joining the cast of Season 30, of course, with some people being convinced to watch this coming season because of her casting even if she's not making history quite like JoJo Siwa. One user noted:
Suni Lee will have a busy fall, as she just started her freshman year at Auburn University after the 2021 Tokyo Olympics. Talk about pressure! And JoJo Siwa has a movie releasing on September 3 on Paramount+ called The J Team. But these two will be kept plenty busy at the dance studios for the competition series.
We'll have to wait until Season 30 of Dancing With The Stars debuts to see how JoJo Siwa and Suni Lee fare in the competition for the coveted mirrorball trophy. The remaining thirteen celebrities will be revealed on Wednesday, September 8 on Good Morning America, and we already know that Tyra Banks will return as host of the show. The ballroom opens on September 20 at 8 p.m. ET, but until then you can check out our fall 2021 TV schedule to plan your other TV watching experiences.
Your Daily Blend of Entertainment News
Thank you for signing up to CinemaBlend. You will receive a verification email shortly.
There was a problem. Please refresh the page and try again.