How To Watch Elf Streaming - December 2020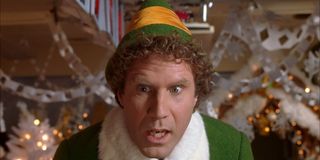 CinemaBlend participates in affiliate programs with various companies. We may earn a commission when you click on or make purchases via links.
Ever since its release in October 2003, the Will Ferrell holiday spectacle that is Elf has become one of the most beloved and sought after Christmas movies of the 21st Century. And pretty much ever since then (or at least since the inception of services like Netflix) people have been wondering where they can watch Elf streaming around this time every year. And with the movie popping up on places like Starz, Free Form, Showtime, and other streamers over the years, keeping up with Buddy the Elf is no easy task.
All that being said, here is where you can watch Elf streaming…
Where Is Elf Streaming?
So, where is Elf streaming this year? Well, you can currently watch Jon Favreau's 2003 timeless story of Buddy the Elf finding his father (and true love) on Starz. You can watch the movie on the Starz website or through the premium channel's add-on option on Amazon. Amazon offers a 7-day trial of Starz if you haven't signed up already.
If you end up streaming Elf on Starz, don't forget to check out all of the great bonus titles related to Elf. In addition to the movie, you can enjoy a collection of deleted scenes, a mini-documentary about how the stop-motion animation was produced, a behind-the-scenes feature with Will Ferrell, another one on the creation of the film's sets, and even "Buddy's Sing & Cheer Along," a sing-a-long version of the movie.
Is Elf On Netflix?
When people go to stream any given movie, the question always comes up — "Is it on Netflix?" And while there have been times over the past few years where you've been able to catch Elf and other great Christmas movies (hello, Love Actually) on Netflix, the movie is currently not available on the streaming giant. You will have to go to Starz to catch up with Buddy the Elf this year.
How To Rent Or Buy Elf
There are some out there who don't want to fork out the cash for another streaming service (and who can blame them?), used up their free trials, or would rather rent or own the movie. If you want to go the rental or digital purchase route this holiday season, you can head over to Amazon and choose your preferred option. The online retailer also offers Blu-ray and DVD copies (and VHS) of Elf, if physical media is your thing. Rent or purchase Elf on digital here. Purchase the DVD or Blu-ray here.
That should be more than enough to set you on your way to watching Elf with the whole family this holiday season. If you still want more on Will Ferrell's Christmas movie, check out these behind-the-scenes facts we previously put together here at CinemaBlend.
Your Daily Blend of Entertainment News
Philip grew up in Louisiana (not New Orleans) before moving to St. Louis after graduating from Louisiana State University-Shreveport. When he's not writing about movies or television, Philip can be found being chased by his three kids, telling his dogs to stop barking at the mailman, or yelling about professional wrestling to his wife. If the stars properly align, he will talk about For Love Of The Game being the best baseball movie of all time.