Julia Stiles Is Pregnant With Her First Kid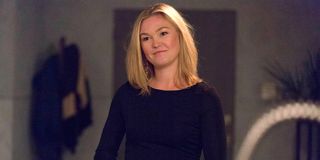 Congratulations are in order for actress Julia Stiles, who has confirmed she and her fiancé Preston J. Cook are expecting their first child. The 36-year-old movie star seems to prefer keeping personal family moments private. However, in a recent interview, she acknowledged it was becoming tough to keep the pregnancy news to herself because she is showing. Nevertheless, she beamed as she talked about her "little baby."
On Monday, June 12, Julia Stiles paid a visit to ITV's This Morning in the United Kingdom for a sit-down chat with Holly Willoughby and Phillip Schofield. The Save the Last Dance and 10 Things I Hate about You actress kept the focus on her latest work, the 10-episode thriller miniseries Riviera. However, when Schofield congratulated her on her pregnancy, she thanked him for the kind words and confirmed her baby news.
Julia Stiles and Preston J. Cook met in 2015 during the filming of Blackway, which Cook was working on as a production assistant. The pair became engaged later that year, when Cook proposed to Stiles on Christmas Eve during a family vacation in Isla Grande, Colombia. Stiles later said on Live! with Kelly she was not expecting a proposal on the vacation because it was a family trip, so she had told herself not to ruin the vacation by focusing on a possible yet uncertain proposal. However, Stiles had an idea Cook might want to marry her because he had brought up how Stiles prefers gold jewelry over platinum or silver jewelry, a topic that had given Stiles pause. She went on to say she is "so happy and so in love." Although Stiles did not announce the engagement via social media, she did post a photo of her and Cook to social media with the caption "Best Christmas Ever!"
Julia Stiles has also suggested she and Preston J. Cook are not in any rush to walk down the aisle at this point. But it makes sense. Both Stiles and Cook are super busy with work these days. Cook has been working behind the camera on the production teams for movies such as the upcoming War of the Planet of the Apes and the remake of Overboard, the classic 1987 romantic comedy with Goldie Hawn and Kurt Russell. Plus, Cook is the second camera assistant on Hard Powder, a forthcoming film with Liam Neeson and Emmy Rossum.
As for Julia Stiles, besides preparing to become a new mom, she is busy promoting her starring turn in Riviera as well as her co-starring role in Trouble, which features Anjelica Huston and Bill Pullman. So, with all of these career activities going on, it is no wonder Stiles and Cook are waiting to marry. Besides, with parenthood on the horizon, they probably have a lot on their minds.
There is no word yet whether Julia Stiles and Preston J. Cook are having a boy or a girl. We will have to stay tuned to see. For now, we wish the growing family all the happiness in the world.
Your Daily Blend of Entertainment News