What To Watch On Netflix During Black History Month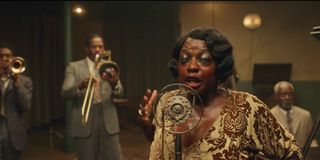 CinemaBlend participates in affiliate programs with various companies. We may earn a commission when you click on or make purchases via links.
One way to celebrate Black History Month is to immerse yourself into the multifaceted world of Black Cinema. These films can teach, enlighten, inspire, and reflect a country's past and present. Streaming services, like Netflix, have made it much easier to watch films about, created by, and starring Black talent. In recent years, Netflix has been one of the leading companies producing and hosting highly acclaimed Black films, like Dolemite Is My Name, Da 5 Bloods, and Ma Rainey's Black Bottom.
For this list, I wanted to highlight a diverse collection of Black films and TV shows that are available to view on Netflix. Many of these movies and shows are ones that you've heard of, but a few may be new to you. Let's look at some of the best Black-centered content on Netflix.
Da 5 Bloods (2020)
Spike Lee directed the war drama Da 5 Bloods. It's a movie about four Black Vietnam War veterans returning to Vietnam to find the remains of one of their fallen brothers and to obtain buried gold. Da 5 Bloods's cast includes Delroy Lindo, Jonathan Majors, Clarke Peters, Norm Lewis, Isiah Whitlock Jr., and Chadwick Boseman.
Spike Lee has quite a few movies on Netflix worth watching during Black History Month, but I chose Da 5 Bloods to highlight because its subjects, Black soldiers, are not often seen and discussed in American cinema. We have plenty of war epics, movies that showcase the effects of War, like PTSD, and the bonds of brotherhood films, but we rarely see these types of stories told through the eyes of Black protagonists. Da 5 Bloods is a drama that not only gives life to these fictional characters but makes time to honor real Black historical heroes. Delroy Lindo also gives one of the best performances of 2020 in Da 5 Bloods, that alone makes it worth including on your Black History Month to-watch list.
Stream it on Netflix here (opens in new tab).
See You Yesterday (2019)
See You Yesterday follows two black teen science prodigies who discover how to time travel. They first plan to use their discovery to win a science award, but a tragedy strikes and it becomes a much bigger tool in these teen's lives. Eden Duncan-Smith and Dante Crichlow play the main characters CJ and Sebastian.
See You Yesterday is a powerful Black Lives Matter sci-fi drama. The focus of the film is how an unarmed young black man, CJ's brother Calvin (Stro) is murdered. She spends the rest of the movie trying to prevent his death. The shooting of an unarmed young Black man makes See You Yesterday tragically relevant in today's society. Through the unpredictable variables that come with time-traveling, the film is able to demonstrate the helplessness that one can feel when these stories of young Black men fatally wounded by the police continue to happen, even when variables change.
Stream it on Netflix here (opens in new tab).
Dolemite Is My Name (2019)
Dolemite is My Name stars Eddie Murphy as Rudy Ray Moore. It follows Moore's journey to make the film Dolemite and his early days as a comedian. Dolemite Is My Name's cast also includes Da'Vine Joy Randolph, Mike Epps, Craig Robinson, Wesley Snipes,Titus Burgess, and Keegan-Michael Key.
Dolemite is My Name is the celebration of Rudy Ray Moore's dream, and how Black culture and blaxploitation films helped give him a niche audience. In many ways, Dolemite is My Name is a film about hope and the American dream. If you continue to fight for something you want, you can achieve it. It's also a celebration of the importance of how this Black audience allowed him to achieve fame.
Stream it on Netflix here (opens in new tab).
Ma Rainey's Black Bottom (2020)
Based on August Wilson's play of the same name Ma Rainey's Black Bottom tells the story of real-life blues singer Ma Rainey and her band. It focuses on one day in Chicago in 1920 during a recording. Viola Davis plays the title role and Chadwick Boseman plays her band member Levee Green, who dreams of his own musical success.
Ma Rainey's Black Bottom deals with such issues as discrimination, black trauma, exploitation, and religion. Not only does this film offer one of Chadwick Boseman's best performances but it also gives a little insight into Ma Rainey as the "Mother of the Blues," and it's a reminder of why August Wilson's plays continue to find new life and audiences in various forms. They're riveting and speak to the soul. Ma Rainey's Black Bottom is truly a fascinating look at Black artists on many different levels (the playwright who wrote it, Ma Rainey and her band, and the actors bringing all this together).
Stream it on Netflix here (opens in new tab).
I Am Not Your Negro (2016)
I Am Not Your Negro is an essayist documentary based around a letter author James Baldwin wrote in 1979 about his next book project, "Remember This House." It was supposed to be about the lives and assassination of Medger Evers, Malcolm X, and Martin Luther King J. The documentary is a look at America's history of racism and oppression, and how America's history of violence, oppression, and racism towards Black Americans has not completely gone away. Samuel L. Jackson narrates I Am Not Your Negro.
I Am Not Your Negro is a powerful documentary that highlights James Baldwin as a visionary, revolutionary, and master wordsmith. It also forces America to take a look at its brutal history and how some elements of oppression remain relevant today. Black History Month is partly used as a way to reflect on the past and see ways that the country can still grow and improve, and I Am Not Your Negro helps start those discussions.
Stream it on Netflix here (opens in new tab).
Girlfriends (2000-2008)
Girlfriends is a sitcom that follows the lives of four best friends, played by Tracee Ellis Ross, Golden Brooks, Persia White, and Jill Marie Jones.
In 2020, Netflix started buying the rights to more Black sitcoms, and Girlfriends is one of the shows acquired in September 2020. Girlfriends is worth watching because it shows four very different Black women and the struggles they face. It also highlights the importance of their relationship with one another. Girlfriends is a series that goes beyond stereotypes and one-note characters, and it offered (at the time) a different portrait of friendship and life as a Black single woman.
Stream it on Netflix here (opens in new tab).
Moonlight (2016)
Moonlight is Barry Jenkins' film about different stages in Chiron's (adult version played by Trevante Rhodes) life. Chiron is a gay man living in Liberty City during the crack epidemic. Moonlight's cast also includes Andre Holland, Mahershala Ali, Janelle Monae, Naomie Harris, Ashton Sanders, and Jharrel Jerome.
In 2017, Moonlight became the first film with an all-Black cast and LGBTQ-related movie to win the Academy Award for best picture. Moonlight is revolutionary not only because of its award wins, but because it goes against stereotypes of "thug-life," male masculinity, sexuality, and urban life. It's also a film about identity and what that means for Chiron, but others can connect with his struggles and search for belonging.
Stream it on Netflix here (opens in new tab).
Loving (2016)
Loving is a film based on the true-life story of Richard and Mildred Loving and how their marriage resulted in Loving v. Virginia, the Supreme Court case that legalized interracial marriage. Joel Edgerton and Ruth Negga play Richard and Mildred Loving.
Black History Month is all about highlighting true-life events that shaped the lives of Black people and the world. Loving v. Virginia was a case that changed the lives of many by making it legal for people to marry whoever they wanted without facing legal ramifications. Loving is about the love between Richard and Mildred. It's also a courtroom drama that emphasizes how one person's story can impact the entire world.
Stream it on Netflix here (opens in new tab).
When They See Us (2019)
When They See Us is a mini-series directed by Ava DuVernay. It tells the true-life story of the Central Park Five, five Black and Latino teens who were accused and tried for raping a woman in Central Park. They were later acquitted of all charges after the real rapist confessed to the crime.
When They See Us is a powerful mini-series that takes a look at how the justice system sometimes fails. It shows a very painful moment in history that should not be forgotten, but instead, act as a reminder of how the justice system needs to do everything in its power to make sure something like this never happens again. When They See Us cast includes Jharrel Jerome, Vera Farmiga, John Leguizamo, and Niecy Nash.
Stream it on Netflix here (opens in new tab).
13th (2016)
13th is a documentary by Ava DuVernay about the American prison system. It goes through the history of the prison system and how mass incarceration especially affects men of color.
13th makes you take a different look at incarceration and the prison system in general. Even if you have your mind made up about prisons, this film is worth watching, especially during Black History Month, to get a different perspective and history surrounding the prison system and its relation to race.
Stream it on Netflix here (opens in new tab).
Pose (2018-Present)
Pose is Ryan Murphy's TV series that focuses on the New York ballroom drag scene. Most of the main characters are transgender and African-American and Latino LGBTQ members. Pose stars MJ Rodriguez, Dominique Jackson, Billy Porter, Ryan Jamaal Swain, and Indya Moore.
Pose is one of Ryan Murphy's best series and it features stories that aren't often shown in popular culture. It's also one of the few series on the air that stars transgender actors and a cast that consists of mostly people of color and members of the LGBTQ community. Pose is an important show to watch during Black History Month because it gives a voice to a marginalized group.
Stream it on Netflix here (opens in new tab).
Canvas (2020)
Canvas is a short animated film about an artist who stops painting because of his wife's death. Through his granddaughter, he starts to paint again.
With the release of Soul, and it being Black History Month, now is the perfect time to watch more animated films with Black animation. Canvas is a simple concept animated very well. It's heartwarming and visually stunning.
Stream it on Netflix here (opens in new tab).
These are only a few films currently available to stream on Netflix that showcase Black talent and stories. One thing Netflix has done well in the last couple of years is to continue to diversify its content, and appeal to many different races, genders, sexualities, and a variety of film and TV lovers. Netflix will be adding more Black stories in the coming months, so make sure to monitor our Netflix release list for future Black films.
Spent most of my life in various parts of Illinois, including attending college in Evanston. I have been a life long lover of pop culture, especially television, turned that passion into writing about all things entertainment related. When I'm not writing about pop culture, I can be found channeling Gordon Ramsay by kicking people out the kitchen.
Your Daily Blend of Entertainment News
Thank you for signing up to CinemaBlend. You will receive a verification email shortly.
There was a problem. Please refresh the page and try again.