Shaun The Sheep 2 Is Definitely Happening, Here's What We Know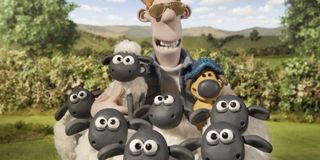 Who could have anticipated that Shaun the Sheep, a stop-motion animated movie based on the British Wallace and Gromit spinoff series, would prove to be one of the most successful releases for StudioCanal this year? But that's where we are. As a result, the studio announced on Monday that Shaun the Sheep 2 is in development.
The news comes from Variety, which points out that the film, financed, distributed, and sold by StudioCanal, surpassed the $100 million milestone at the global box office on September 14. This number includes the $21 million from the U.K., $18 million from the U.S. after the domestic release in August, $12 million from Germany, $6.7 million from France, and $5.7 million from Australia and New Zealand. With its theatrical release starting in February, Shaun the Sheep opened in 70 countries.
The first feature film adaptation of this property saw Shaun — who, based on the title, you probably guessed is a sheep — deciding to take the day off and have some fun. Unfortunately, this causes the farmer to be taken away to the Big City. Banding together with Bitzer and his Flock of sheep, Shaun sets out to bring him home, while avoiding the city's animal catcher. The film was co-directed and co-written by Mark Burton and Richard Starzak, and the voice cast includes the talents of Justin Fletcher (Shaun, Timmy), John Sparkes (The Farmer, Blitzer), and Omid Djalili (Trumper).
Watch the trailer below.
Shaun the Sheep's success was a pleansant surprise for the studio. It gathered surprisingly positive reviews, and with a budget of under $25 million, it was quite profitable. StudioCanal chair Olivier Courson said:
Universal has been dominating the box office this year with Fifty Shades of Grey, Furious 7, and Jurassic World leading the pack, and StudioCanal will take a piece of that pie. StudioCanal financed the studio's upcoming Tom Hardy film, Legend, in which the actor portrays twin gangster brothers Reggie and Ronnie Kray, who dominated the underworld scene in London during the '60s. Early reviews from the Toronto International Film Festival, where the film premiered, weren't overwhelmingly positive by any means, but two Tom Hardys are certainly a big draw for audiences. Get a sneak peek of Legend below.
The film was recently pushed out of its October 2 slot for a new limited release on November 20. The film will go wide on December 11.
Your Daily Blend of Entertainment News
Thank you for signing up to CinemaBlend. You will receive a verification email shortly.
There was a problem. Please refresh the page and try again.