Two New Editors for Universal's Wolf Man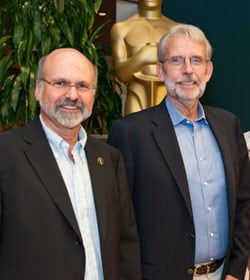 Universal's upcoming The Wolfman re-imagining has been bogged down for the past three years by countless production setbacks, constantly changing release dates, a new director, and most recently the loss of their composer Danny Elfman. What else could happen with Wolfman that hasn't already happened?
They could bring in two new editors, that's what. The relentless news excavators over at /film dug up this news out of the gutter of a Variety article not even about the movie. It looks like Mark Goldblatt, action editor extraordinaire, and Walter Murch, the man who literally wrote the book on editing, will come on to Joe Johnston's movie and try to clean it up a bit.
A Goldblatt/Murch pairing is certainly an interesting one, with Goldblatt working such action pieces as Armageddon, Bad Boys 1 & 2, and both Terminator films, and Murch handling slightly more dramatic pieces like Cold Mountain and The English Patient. The team should be able to produce a nice mixture of action and emotion while moving us smoothly through the story.
But to me this is just another hurdle this film will have to cross and I fully expect there to be problems in the process. With everything that has gone wrong in the production process for The Wolfman, it's a damn wonder just how it's made it this far. Here's hoping it won't get pushed back a fifth time because of this.
Your Daily Blend of Entertainment News