Dolemite To Be Remade For Some Reason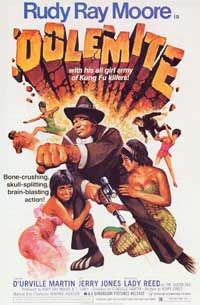 If you ever wondered how direct-to-DVD junk gets off the ground, now is your chance to be in on the ground floor. The Hollywood Reporter says the Fallout Entertainment is going to remake a blaxploitation movie that the average joe has never heard of, Dolemite. The original was released in 1975 and starred actor/comedian Rudy Ray Moore. The character, Dolemite, was based on Moore's stand-up routine and the original movie is generously referred to as a "cult classic" by those involved in the remake. I don't think I want to be brainwashed by this cult, I'll stick to Scientology or the Mormons.
Fallout Entertainment President Bill Fisher will direct this gem himself. The original plot was about an ex-con who uses kung-fu babes and others to regain control of his nightclub in Los Angeles. Fisher promises that "(We are) giving enough respect to the original and building on it. We are going to use some of the original one liners. (Moore's) eminently quotable." Yes, I was just at a party and people were quoting Rudy Ray Moore all night long. In fact, let's all think of our favorite Rudy Ray Moore quote right now……. Boy, I can't stop at just one with that guy.
Fisher was previously the director of an actual cult film Tapeheads but hasn't done much since then. The two scriptwriters, Jeff Hause and David Hines, wrote the Jim Carrey 1985 vampire movie, Once Bitten, and something called Bachelor Man in 2003. There are no credits in between which makes you wonder how they earned a living during the intervening 18 years. Casting is not set but Moore, who will executive produce, may have a role along with other rappers and comedians who don't have any sense of shame. Look for this at a Blockbuster near you some decade.
Your Daily Blend of Entertainment News
Thank you for signing up to CinemaBlend. You will receive a verification email shortly.
There was a problem. Please refresh the page and try again.